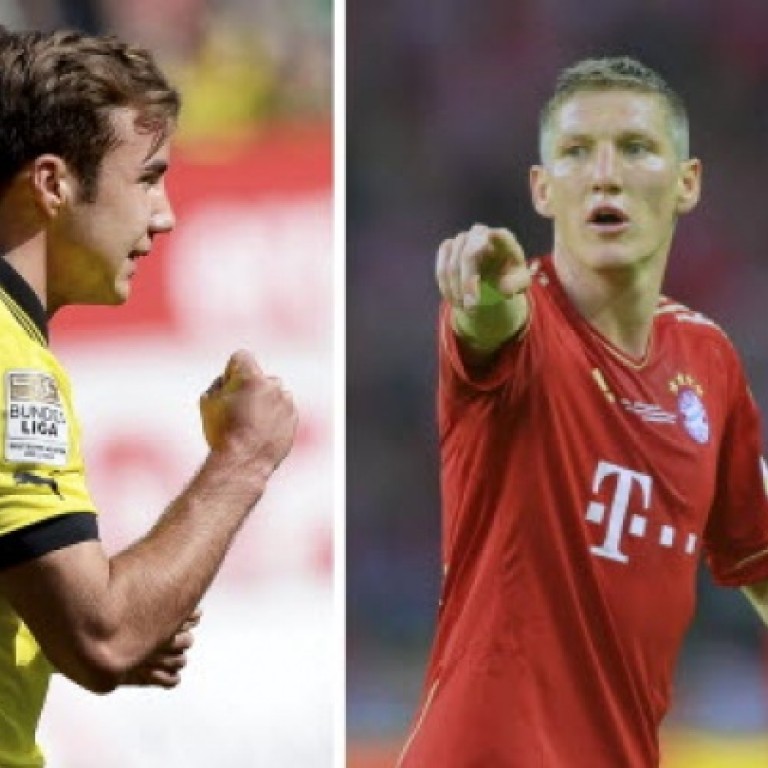 Bayern, Dortmund eye Champions League glory
The home of English football will reverberate to the roar of German voices on Saturday when Bayern Munich and Borussia Dortmund collide at Wembley Stadium in the first all-Bundesliga final in Champions League history.
It is only two years since Barcelona confirmed their status as Europe's pre-eminent side by outclassing Manchester United in the same arena to win the 2011 tournament, but the way that Bayern and Dortmund have torn through this season's competition suggests a new continental order is asserting itself.
Bayern left Barca in ruins with an incredible 7-0 aggregate win in the semi-finals, while Dortmund's 4-1 defeat of Real Madrid in the same round left the football world open-mouthed in amazement.
Irrespective of the result, it is certain to be a monumental evening for German football, but the two sides approach the game driven by very different motivations.
For Bayern, the game represents an opportunity to make amends for painful final defeats in 2010 and, in particular, last year, when a heart-breaking penalty shoot-out loss to Chelsea was played out before a crowd of horrified and disbelieving fans at their own Allianz Arena.
Dortmund, the 1997 champions, yearn to inflict further misery upon Bayern, who have gravely undermined their opponents' attempts to establish themselves as creditable long-term rivals by snatching away star playmaker Mario Goetze in a sensational US$47.8 million transfer.
A hamstring injury to Goetze has reduced the risk of diplomatic embarrassment on Saturday, but Bayern are also believed to lead the race for Dortmund's Polish striker Robert Lewandowski, who put Madrid to the sword with an extraordinary four-goal haul in the first leg of their semi-final.
Goalkeeper Roman Weidenfeller has tried to downplay the significance of Goetze's injury by pointing to the last year German Cup final, when Dortmund thrashed Bayern 5-2 in his absence.
"It goes without saying that with him we have a different quality," he said. "But everything shouldn't rest on him. In the DFB-Pokal final last year, Mario also didn't play."
After losing five times in a row to Dortmund during the Ruhr club's back-to-back Bundesliga title successes in 2011 and last year, Bayern have redressed the balance this season, avoiding defeat in all four of their most recent contests en route to a nigh-on flawless triumph in the German title race.
Saturday's game will be the 101st competitive meeting between the sides and after seven encounters over the last two seasons, Bayern manager Jupp Heynckes believes there is little scope for sleight of hand.
"Both teams know each other very well, both trainers are fully informed about the opponent, so there are no secrets," he said.
Heynckes can become only the fourth coach to win the competition with two different clubs, having previously led Madrid to their eighth Champions League title in 1998.
It will, however, be the 68-year-old's final match in the dug-out.
He has announced his retirement after former Barcelona coach Pep Guardiola was appointed to succeed him, despite a phenomenal campaign that could end with Bayern claiming their first ever treble of league, German Cup and Champions League honours.
""We've taken a massive stride towards perfection, and we're aiming for a perfect performance in the final," said midfielder Bastian Schweinsteiger, whose side will tackle Stuttgart in the German Cup final on June 1. "If we play to our potential, it's very hard for anyone to win against us."
Nine years after almost going bust, Dortmund hope to repeat their shock 1997 success, when a young Lars Ricken, now the club's youth team co-ordinator, came off the bench to seal a 3-1 win over Juventus at Munich's Olympiastadion with an audacious 25-yard chip.
Juergen Klopp's side have charmed neutrals with their breathless counter-attacking football over the last three seasons and the likeable 45-year-old Dortmund manager hopes their rise has not left the impartial observer unmoved.
"We are a club, not a company, but it depends on which kind of story the neutral fan wants to hear," he told British newspaper The Guardian.
"If he respects the story of Bayern, and how much they have won since the 1970s, he can support them. But if he wants the new story, the special story, it must be Dortmund."
Aside from Goetze's confirmed absence, Dortmund also have concerns over the fitness of former Bayern centre-back Mats Hummels, who injured his ankle in Saturday's 2-1 loss to Hoffenheim.
Bayern are missing long-term injury victims Holger Badstuber and Toni Kroos, but unlike 12 months ago, when they were without Badstuber, David Alaba and Luiz Gustavo due to suspension against Chelsea, they are otherwise at full strength.