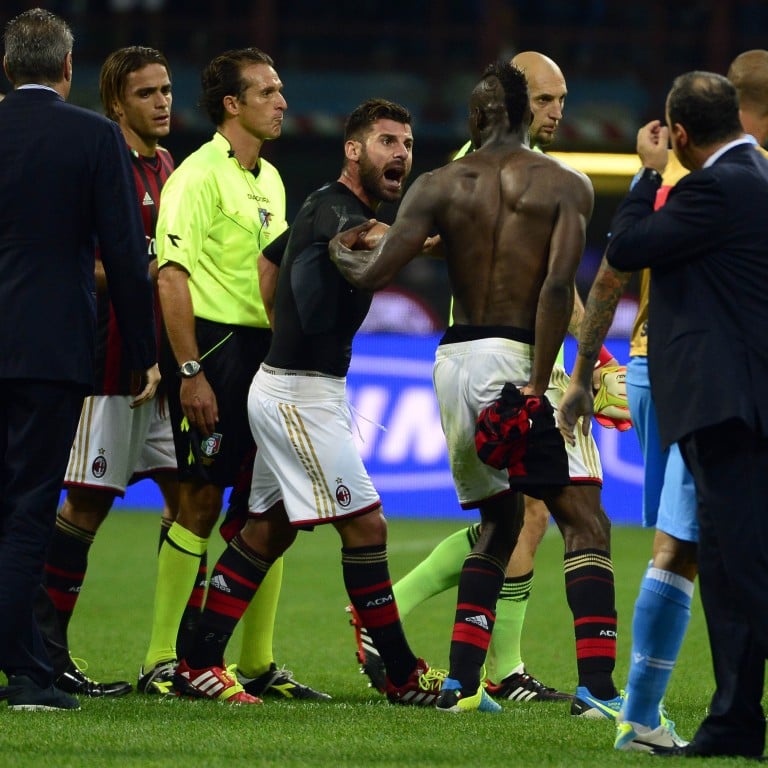 Opinion
The Rational Ref
by William Lai
The Rational Ref
by William Lai
Despite what we see most weeks on our TV screens, nobody has ever had the right to question decisions by the match referees
Players have never had the right to challenge referees' decisions but increasingly we are seeing too many players having too many words with too many match officials.
Players, captains and coaches attempt to justify themselves by claiming: "I'm only asking a question" when in fact they are being disruptive and antagonistic simply because the referee's decision has gone against them.
In contrast, we never see questions of a decision in their team's favour. So why do players mistakenly believe they have the right to question match officials?
Watch any number of high-profile televised matches and there will always be players questioning decisions that go against their team. In fact, it is nigh on impossible to find any match where a referee is not questioned.
Wayne Rooney is a typical example of someone who challenges decisions and who hasn't learned how to stop. Last week's Manchester derby saw a riled Rooney continually challenging referee Howard Webb. Webb managed the match well and correctly cautioned Rooney for his argumentative demeanour. There was lots of foul language spewing out, too, but as everyone knows a deaf ear is usually turned to this.
Supporters of Rooney defend him by saying he is merely being competitive, passionate and feisty. Even so, this does not give him the right to question match officials.
Mario Balotelli of AC Milan is another example. The ill-disciplined Italian has received a three-match ban for arguing with Serie A officials. In the match against Napoli, Balotelli received a yellow card, his second of the match, for approaching and challenging referee Luca Banti after the final whistle. In addition to the automatic one-match ban, there is an additional two-match ban because he was "directing insulting and intimidating expressions to the referee at the time of the sending-off".
Milan coach Massimiliano Allegri has decided not to appeal against the three-match ban and instead chose to publicly criticise Balotelli.
"Mario is 23 years old, he is no longer a child. To be a champion you have to have the right behaviour because you are an example to all those who are watching you. Mario has made a mistake, penalising the team, the club and the supporters and he must change this behaviour," said Allegri.
So why are players, captains and coaches continuing to question and argue with match officials? Even Ryan Giggs, who was an assistant coach at the Manchester derby, vented his frustrations at fourth official Michael Oliver. It appears everyone believes they have the right to have a go.
The rules state: "The decisions of the referee regarding facts connected with play, including whether or not a goal is scored and the result of the match, are final."
Furthermore: "The referee may only change a decision on realising that it is incorrect or, at his discretion, on the advice of an assistant referee or the fourth official, provided that he has not restarted play or terminated the match."
It does not matter whether it is a player, a captain or a coach who questions a referee. They have no right or special privilege - even captains.
Players know that if they question referees, they are buying time for themselves and also believe they are applying psychological pressure on the official. It is a misplaced belief that psychological pressure will influence the referee to give future decisions in the complainant's favour.
In fact, some believe the exact opposite. Allegri reckons Balotelli's attitude will influence referees in Serie A to become reluctant in giving free kicks or decisions to the player.
"Mario should help the referees to protect him. The referees have left him [unprotected] because they can be influenced by negative attitudes," Allegri said.
The truth is that experienced referees will do their utmost to remain impartial. This is why it is probably best for players, captains and coaches to accept the decisions and get on with the game.
Referees make decisions based on what they can see, and so will call it as they see it. Individuals who complain during a match are doing themselves no favours because, as Allegri alluded, professional players are supposed to be role models and set good examples of behaviour.
As a referee, I reserve the right to question the fact that professional soccer players are good role models.
A final note: Last weekend, the grass of Hong Kong Stadium looked and performed well during the South China-Kitchee league encounter. The 3,500 was the highest domestic crowd this season. Compare this to the HKFA website which, according to chief executive Mark Sutcliffe, receives over 700,000 daily hits. This represents a fantastic amount of interest in the HKFA and if these numbers can somehow translate to match attendance figures, then the future will be bright. The HKFA's revamped website is a great improvement on the previous version, despite some teething problems.
This article appeared in the South China Morning Post print edition as: Players and officials talk way too much