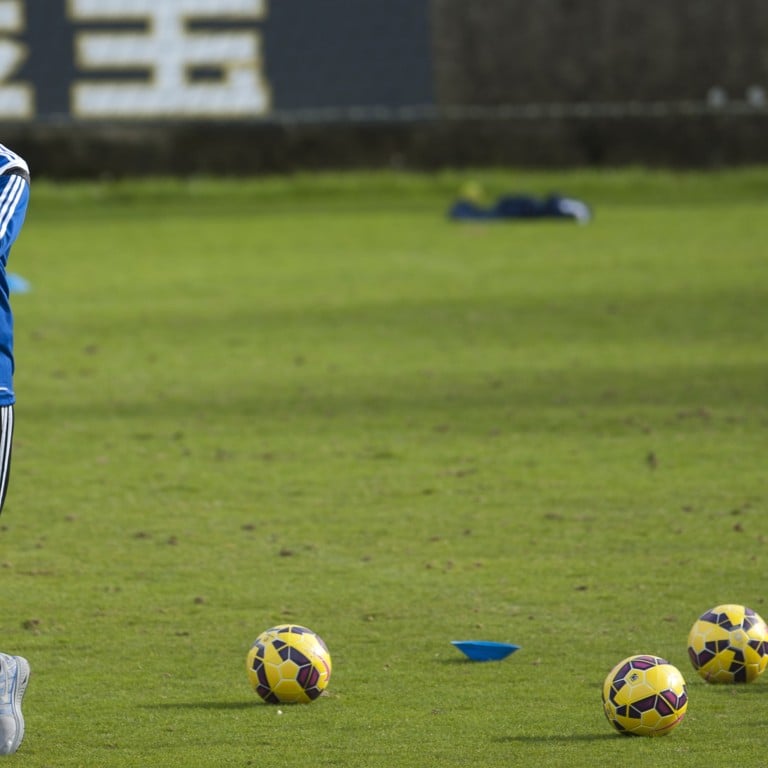 Opinion
The Rational Ref
by William Lai
The Rational Ref
by William Lai
Bickering over colour just trivial
In Hong Kong's lower divisions, teams can become childish and petty when choosing the hue of a ball to use on match day
Bright shiny yellow balls abound in the English Premier League after replacing the standard white ones, which will not be seen again until spring. The official reason is to combat the dark, gloomy conditions of the cold, wintery months in Britain.
This rationale appears odd and pear-shaped.
The newly introduced yellow and purple Nike Ordem Hi-Vis ball, rather than white, maximises its visibility in darker conditions, according to Rafael Ortega, the company's global product manager. If this is really true, then why are matches played in darker conditions? And why isn't yellow and purple the standard ball colour to begin with?
Traditionally, white became the standard colour because everyone used whatever the ball manufacturers produced. Later, in the evolution of the soccer ball, black patches were included to help players see the spin on the ball.
These days, much like soccer boots, balls are available in an array of snazzy colours. Even Ortega gives the marketing hype that its white Ordem ball, with special purple markings, took more than six years to develop.
"It is the first fuse-welded ball. It consists of 12 fuse-welded panels in a three-layer casing system, and a poly-blend wrapped, free-floating carbon latex bladder. The graphic pattern creates a flickering effect as the ball rotates," he said.
"Studies have shown that 70 per cent of matches played from October to February are under heavy cloud, rain and/or in the dark and under floodlights. So with the dark background of the crowds, the green grass and the bright perimeter boards we asked, 'How do you make this ball stand out in this environment?' The colour that contrasts best was yellow."
However, modern stadiums have the best floodlights to brighten up all areas on and off the pitch. If yellow is truly the best colour to spot on the pitch, then there should be an even bigger case for demanding that all pitch markings and goal posts must be yellow, and not white. Furthermore, in snowy conditions it was usual in the past to see orange match balls, which contrast better than yellow against snow.
Therefore, as with multi-coloured soccer boots, the choice of ball colour is predominantly a marketing gimmick and an opportunity to sell more merchandise.
In Hong Kong, the Premier League uses white Ordem balls. All teams know what brand they will be playing with and are not required to provide their own balls. Unfortunately, in the lower divisions and other competitions, there is no official match ball and this can lead to bickering and one-upmanship.
Balls presented to referees are usually different colours, disparate brands and in varying conditions of decay.
So how does a referee choose? By following the rules, which state that so long as the ball is spherical and within the parameters set for the size, weight and pressure, it is playable. There is nothing that states one ball is better than another based on colour, brand or material.
The bickering starts when players turn up their noses at their competitor's ball and attempt to out-psyche their opponents. "It's bright pink; it's too bouncy; there's not enough air; it doesn't feel right; call that a ball?" are the tried and tested methods.
At the Hong Kong Football Club, the home side provide balls. Visiting teams know the home team train and practice regularly with their own balls, so if they are unfamiliar with the brand they will attempt to offset the disadvantage.
After the usual complaints, the next response is to kick as many balls out into the surrounding racecourse. It is a bizarre ritual that happens almost every time.
HKFC's solution is to bring a whole bagful. Conversely, if HKFC teams are dissatisfied with their opponent's ball, they will kick it out of the park and then get the referee to use their balls.
The best solution is for competition organisers to designate one brand of ball for use in their leagues. This will cut down on the number of odd-looking balls, as well as the childish bickering at the start of matches.
Let's just play ball.
This article appeared in the South China Morning Post print edition as: Bickering over colour just trivial