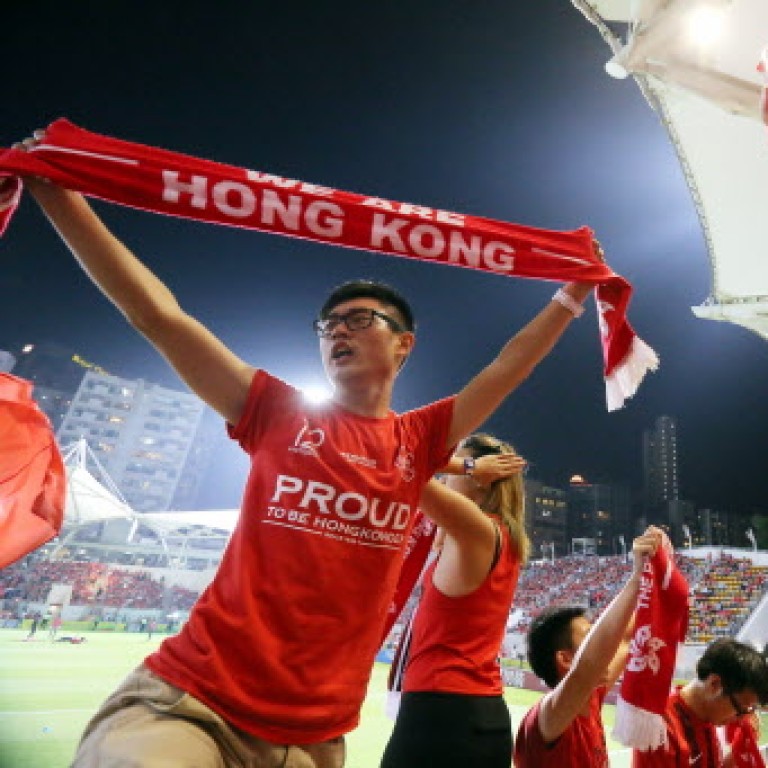 Keep politics out of sport? Heaven forbid, as Hong Kong v China showed
Should Hong Kong football fans have imagined that the game against China was just a pleasant kickabout between 22 fit young fellows devoid of any socio-political or historic context?
At the risk of this being my last column, wow, how wrong could we be? Politics and sport are inseparable – from the original Olympics, through medieval jousts, to Mong Kok Stadium on Tuesday night.
Maybe there was a brief time in Victorian Britain's public schools – when organised games were chiefly intended to tire out boys so they wouldn't interfere with themselves or each other – when the 'Corinthian spirit' really existed.
But there was certainly no such thing at Corinth's Isthmian Games, which like all the Greek tournaments was invaluable for spreading propaganda and gaining jingoistic bragging rights. (And many believe the apostle Paul went to the games in an effort to try to convince some of the thousands of fans attending from all over the region to swap their Poseidon replica shirt for one with 'Christ' printed on the back).
Should Hong Kong football fans forget the last 150 – or more accurately the last 18 – years and imagine that a game against China is just a pleasant kickabout between 22 fit young fellows devoid of any socio-political or historic context? Of course they shouldn't, and of course they didn't.
I found the display of political unity at Tuesday's game stirring, albeit I do not have the same stake in the future of Hong Kong as someone born and raised here (though with Britain seemingly determined to become a vassal state of China, the lion and unicorn on our passports will probably soon be replaced with the PRC emblem anyway).
Fans queued up peacefully for hours beforehand, highlighting the absurdity of the over-the-top police presence of 1,200 officers around the stadium: one for every five fans if figures were accurate.
In context, reports online say there were only 1,300 police for the River-Boca derby in September, one of the most heated games in the world – and whose previous edition had been abandoned when players were attacked with pepper spray. (Admittedly, their model is probably not one to follow given the regular "shameful scenes" at the Superclasico, but the capacity of Estadio Monumental in Buenos Aires is 65,645, somewhat larger than Mong Kok's 6,000-odd).
The few hundred China fans were ferried from the current border at the Shenzhen River to the old one on Boundary Street, where they entered via a separate entrance – to loud boos, jeers and middle fingers from the Hong Kong support.
As they flew China's red flag and sang Communist Party songs, local supporters responded by holding up signs saying 'Hong Kong is Not China' and declaring, as they did throughout, 'We are Hong Kong' – both in English, pointedly.
Without conducting a survey, many fans seemed to me to be a similar demographic as those who took to the streets during Occupy, a year on.
One teenage girl (in the video above) told the Post she only began following the team this year, in response to the China FA's derisive posters which warned against Hong Kong's 'black-skin, yellow-skin, white-skin' team. Another said he'd display the 'Hong Kong is not China' sign he'd been handed as "it reflects the views of many Hongkongers".
If sociology students here are not already working on papers examining the movement of disaffected youth from the flyovers of Admiralty in 2014 to Mong Kok's football terraces in 2015, they should be. Keep politics out of sport? Heaven forbid.
Meanwhile, back to the football. Former HK international Tim Bredbury phones in with a very good point: could the rekindled passion for the national team – and the rivalry with China – reignite long-mooted moves to get a HK team into the Chinese league structure?
The prospect of regular games in Beijing and Shanghai, 'derbies' against Guangzhou and Shenzhen and big names playing at a new 50,000-seat stadium in Kai Tak is hugely appealing, and Tuesday showed what tremendous atmospheres we might expect.
But I understand that – though inevitable someday – it remains a non-runner in the short term, partly due to logistical difficulties involved and partly because the HKFA rightly wants to focus on revitalising its own Premier League.
Local relations with the China FA also don't exactly seem to be at a high point after the poster issue and related controversies, while a further impediment as always would be the boneheads in government who have no clue about the value of sport in society – oops, back on politics again …