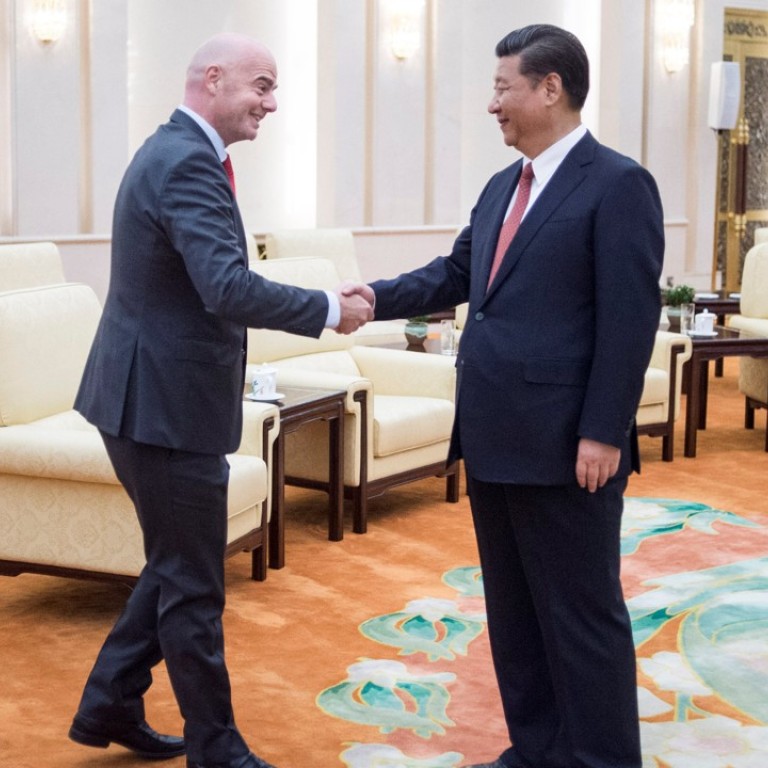 China unlikely to pinch football's World Cup 2022 from crisis-hit Qatar – but it can't be ruled out after Xi Jinping's meeting with Fifa chief
Sources at Qatar's organising committee insist it's 'business as usual', but if the crisis in the Gulf escalates, China would surely be willing and able to step in at short notice
Fifa president Gianni Infantino was greeted in China this week with the pomp and circumstance of an official state visit, even afforded the honour of being allowed to lean uncomfortably towards president Xi Jinping in the overstuffed chairs of Beijing's Great Hall of the People.
China's state media gave the meeting massive prominence – although to be fair, any time Xi opens his mouth it dominates their headlines.
Official reports parroted "avid football fan" Xi's bland remarks about "promoting the philosophy of football among the whole society".
But Fifa's announcement
carried a notable paragraph
unreported by state media: "the Chinese president expressed his hope, and the dream of many Chinese people, that the country would have the opportunity to host a World Cup."
Given Xi's famous proclamation that China must qualify for, host and eventually win the tournament, it would have been odd indeed had he not mentioned it.
It seems inevitable that the World Cup is on its way to China, either in 2030 or 2034; 2026 is in theory off limits because Qatar will host in 2022, and Fifa doesn't want the same confederation – in this case Asia – to host successive tournaments.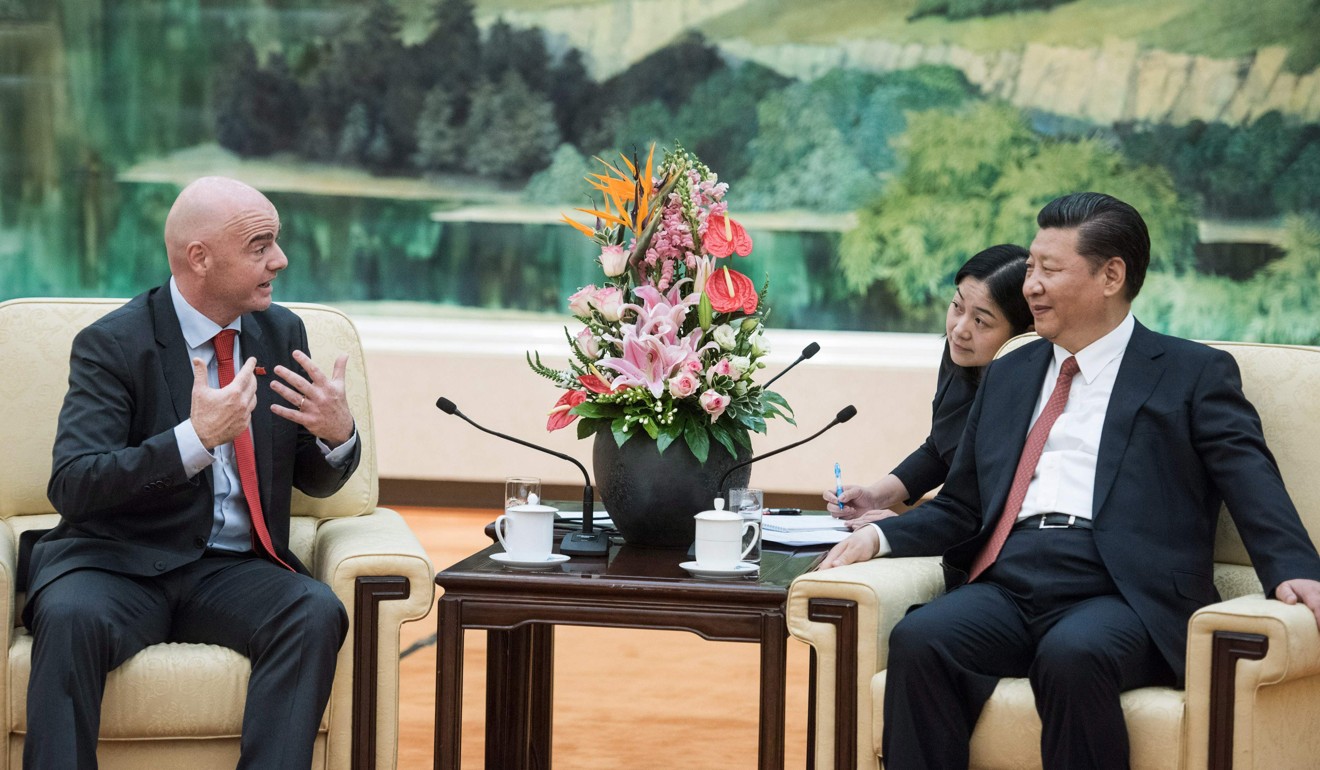 But away from the official platitudes about "reform and development" and the "Chinese dream", surely a more interesting matter would have been discussed behind closed doors by Infantino and Xi: whether China would step in if Qatar is stripped of 2022 because of the diplomatic crisis in the Middle East.
Fifa, abandoned by many of its sponsors in the wake of the corruption crisis that brought down Infantino's predecessor Sepp Blatter, is increasingly reliant on sponsorship from Chinese firms, with Wanda, Hisense and most recently Vivo all coming on board.
After Chinese Football Association general secretary
Zhang Jian was elected
to Fifa's council in May, the country has a powerful voice on the organisation's key decision-making body; Infantino also visited CFA headquarters to meet Zhang and CFA president Cai Zhenhua.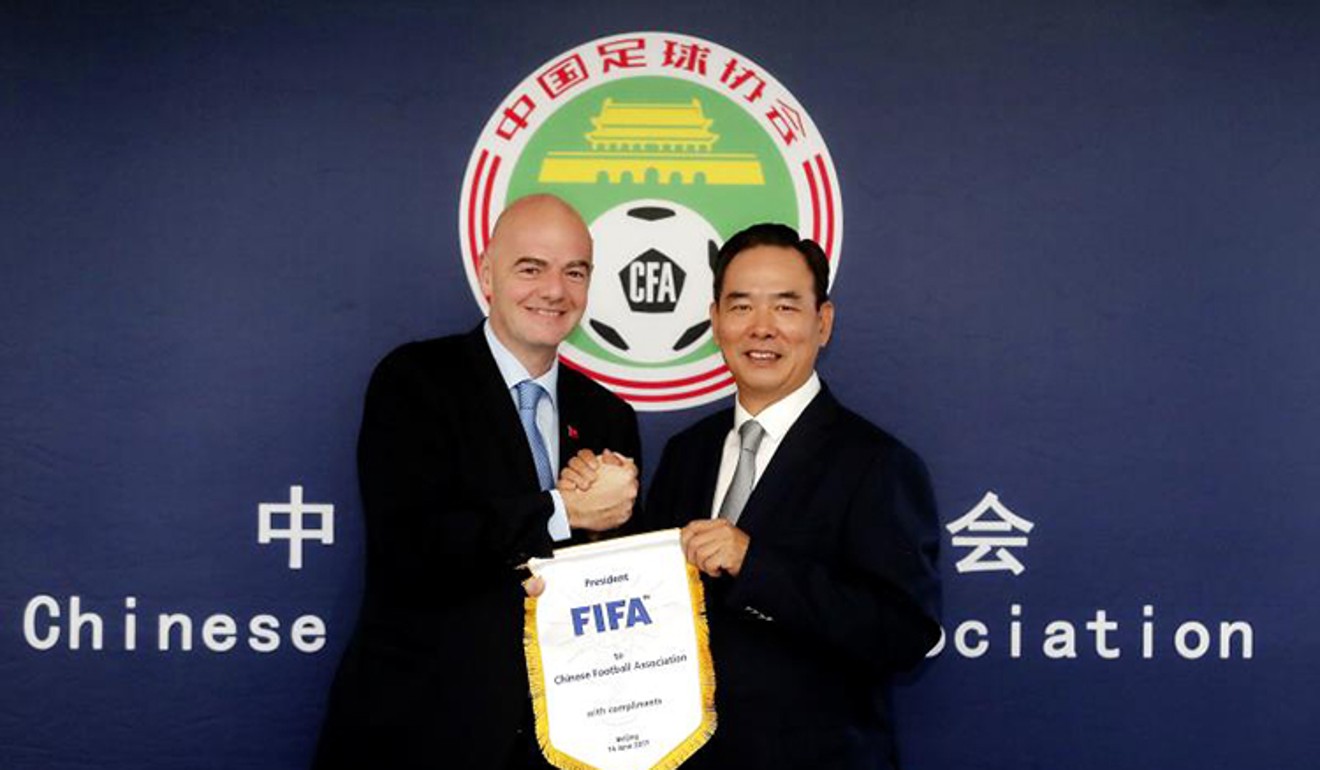 But could China really snatch World Cup 2022?
The official line from Qatar 2022's organising body is that it is not even discussing the possibility of losing the tournament.
"Our point of view is that it's genuinely business as usual," a source at the Supreme Committee for Legacy and Delivery insisted. "There's been no impact on construction [from the blockade] and we don't foresee any major impact.
"The land border has been closed, but we've always built in contingencies for receiving construction materials and the majority come through sea ports anyway.
"If there was any delay, the projects have plan B and plan C ... there's still five years to go and the politicians and governments will deal with it, we just have to let it play out."
Richard Thompson, editor of Middle East Economic Digest, concurred:
"It is very unlikely that China or any other nation will take over the delivery of the 2022 World Cup, and I think the statements coming out of Fifa and Doha confirm this," he said.
"Qatar is contracted by Fifa to deliver the event and has been investing hugely to build the infrastructure and stadiums needed. I suspect that the legal ramifications of removing the tournament from Qatar would make such action unlikely, even if Fifa wanted to. It would probably require clear evidence of Qatar's failure to meet key delivery deadlines, or invoking force majeure clauses to remove the event from Qatar, and with the tournament still five years away, we are nowhere near that."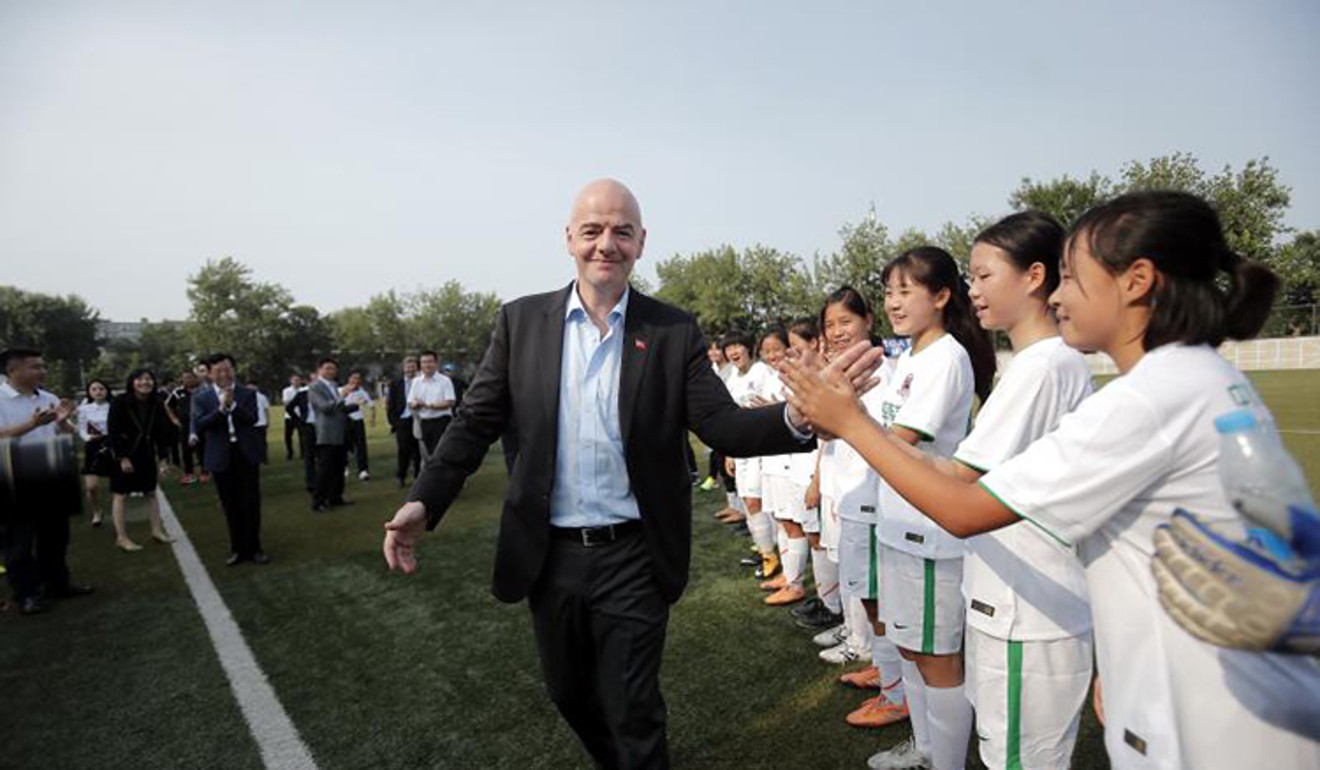 But given controversies over alleged corruption surrounding the awarding of the tournament to Qatar, exploitative labour practices and the necessity of disrupting the European season to host it in winter, few would care if the crisis escalated and Fifa did pull the plug.
And there's no doubt China could step in at short notice, with more than 20 stadiums with capacities greater than 50,000, an extensive high-speed rail network to transport fans, experience in hosting large-scale events, and an ability to quickly and effectively mobilise vast state resources without concern for public opinion.
Most of those stadiums are not purpose-built for football – China might be pleased to purge some of the country's vast excess steel and cement capacity by quickly building new venues. It would also give the GDP numbers, a government obsession, a helpful boost.
Another issue could be possible loss of face on the pitch, since China's team would struggle to get out of the group stages, despite the no doubt favourable draw it would receive.
But the state would surely relish the soft power impact of being seen as a "saviour" of the tournament, and broadcasting images around the world of gleaming new cities, 5,000 years of history, smiling ethnic minorities, lovable pandas, etc.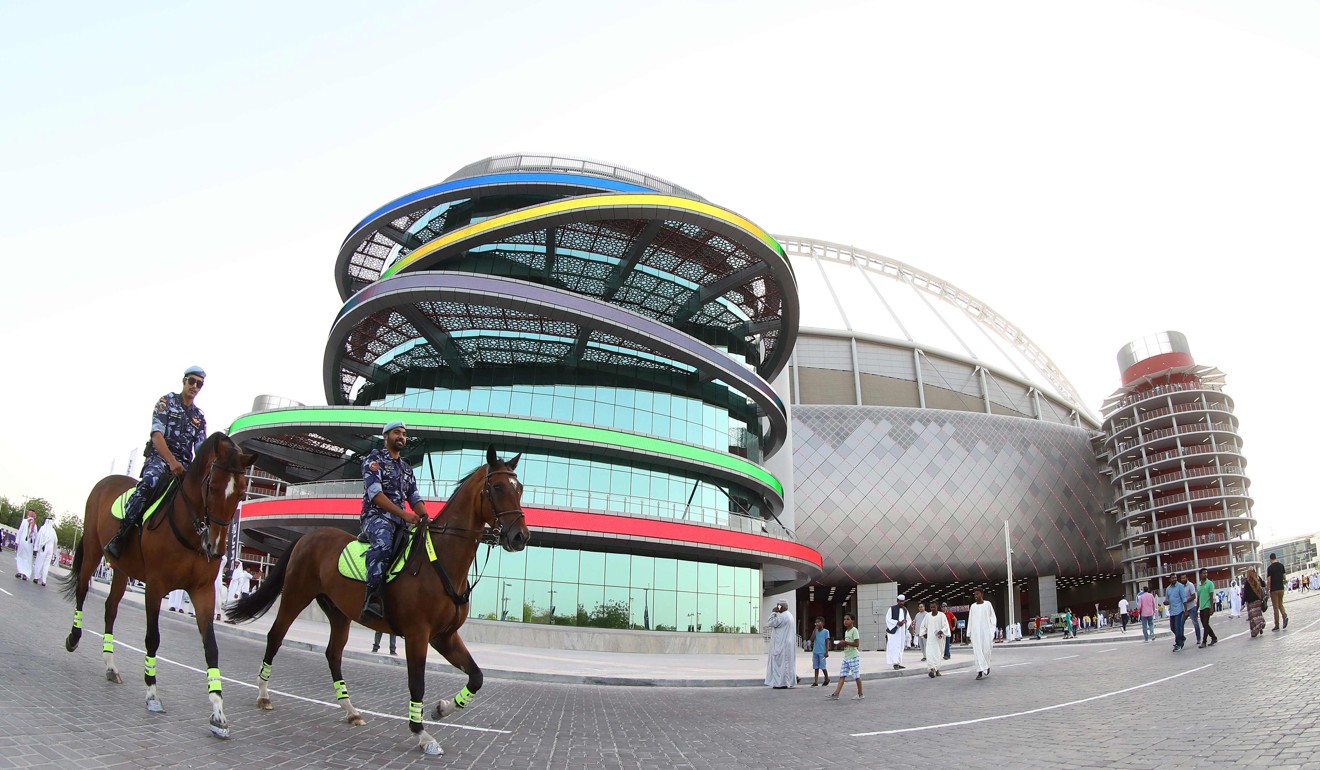 Xi's reign should, in theory, end in 2022 so he might also like to preside over a World Cup before stepping down – although there is plenty of speculation that he will continue after his second term.
On the other hand, China could be wary of offending Qatar, which it has been courting for Xi's other grand project, One Belt One Road, and which supplies a lot of China's natural gas. Chinese companies are also heavily involved in Qatar's major infrastructure plans – including building one of the stadiums for 2022, with more World Cup-related collaborations mooted. It's perhaps notable that the diplomatic crisis seems to have been given little coverage on the mainland.
Infantino insisted before meeting Xi that he was confident Qatar 2022 would go ahead as planned and said Fifa didn't "interfere in geopolitics" – a claim as laughable as China's proclamation that it never interferes in other countries' internal affairs.
But if the crisis is prolonged, or if, say, the leader of the free world exacerbates it with an ill-judged late-night tweet, Infantino surely knows after his Great Hall of the People summit that Xi and China are ready and waiting.
This article appeared in the South China Morning Post print edition as: qatar crisis a china boost?