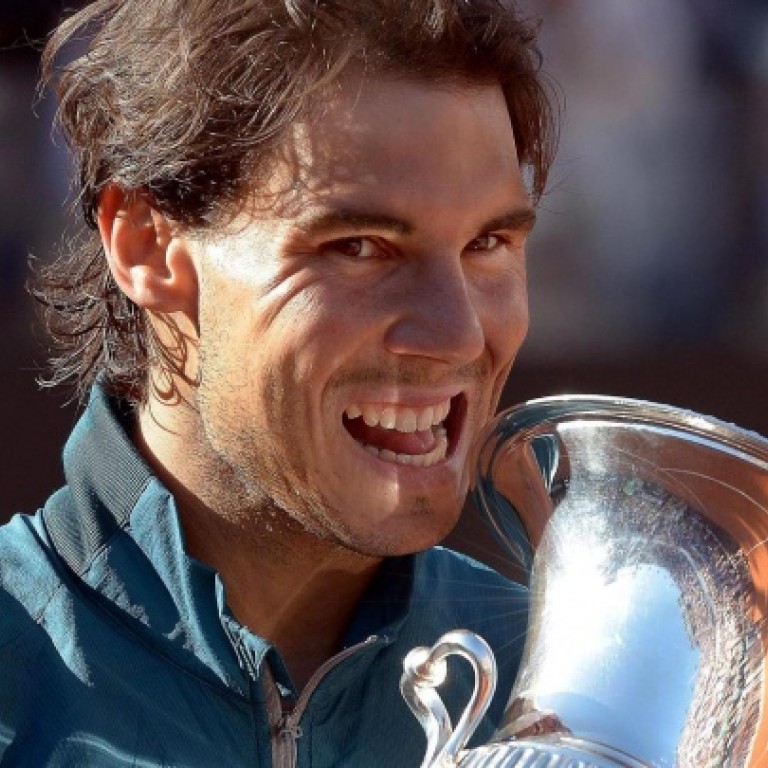 Rafael Nadal and Serena Williams on fire ahead of French Open
The Spaniard blows away Federer in the Rome men's final while Serena demolishes Azarenka
Rafael Nadal and Serena Williams fired warning shots to their French Open rivals with comprehensive victories over Roger Federer and Victoria Azarenka respectively in Rome.
Nadal has produced some blistering tennis since returning from a seven-month injury absence and his seventh victory in nine years on the red clay of Rome left his Swiss rival in no doubt as to the Spaniard's prospects of lifting an eighth French Open title.
"Now he is the favourite for the French Open," said Federer.
While it was Federer's first final this year, it was Nadal's eighth, having swept aside Tomas Berdych a day after the big-serving Czech stunned world number one Novak Djokovic in the quarters.
It set up Federer and Nadal's 30th meeting, but with 19 defeats against the Spaniard - 12 of which had already come on clay - the Swiss was playing catch-up from the third game before falling to a 6-1, 6-3 loss.
The manner of Nadal's win, and the level of his performances last week, leave no doubt as to who will be the man to beat in Paris.
But he warned that form was no guarantee against an early upset in Paris.
"Maybe it is enough, but what can I tell you? If I play like this and I arrive at Roland Garros and somebody beats me, I will shake his hand," said Nadal, who has won six titles in eight tournaments since his return to the tour in February.
"When you play and win many titles in a row like I am doing, then you are doing things well. I could reach Roland Garros and lose in the first round - this is the sport, and this is tennis."
Djokovic blamed a "loss of concentration" for his defeat to Berdych, but remained upbeat ahead of the French Open
"It is not the result I was hoping for but I am positive. I will take some time off and get ready for Paris, which is the most important event of the year for me," said Djokovic, who lost to Nadal in last year's final after multiple rain delays forced a Monday conclusion.
"I know I can play well on clay."
While Djokovic's exit arguably eased Nadal's path to victory, Federer, on the day, was no match on the Spaniard's preferred surface.
"He played very aggressively from the start, he didn't make too many mistakes and had a good match overall," said Federer."
Federer's disappointment was palpable. But the Swiss, whose sole win in Paris came in 2009, said it was only logical his rival had returned to the sport in prime condition.
"He is not going to come back 20 per cent fit, he was only going to come back when he was 100 per cent healthy ... and now he is the favourite for the French Open," he added.
While Federer and Djokovic stand in Nadal's way, Williams is likely to face her stiffest challenge from Azarenka and defending French Open champion Maria Sharapova.
After world number two Sharapova withdrew with a fever before her quarter-final with Italy's Sara Errani, Williams cruised to the final where Azarenka, after sweeping Errani aside in the semis, suffered the same treatment in a largely one-sided affair.
It was Williams' fourth title this season, the 51st of her career and left her feeling confident she can avenge her shock first-round loss in Paris last year to Frenchwoman Virginie Razzano.
"I've won every grand slam there is to win, even if only once. But for me I don't feel any pressure any more," Williams said after her 6-1, 6-3 win.
"She definitely showed some more incredible tennis today ... she's been playing her best tennis for the past year and a half or so," said Azarenka.
Although it was Williams' second Rome title after 2002, she is determined to make sure her approach to Paris, one of her favourite cities, is different this time around after her failure in last year's tournament.
"It's definitely different. It has to be," she said. "I was feeling excellent last year and didn't do great. This year I'm more cautious.
"I want to work hard and stay focused and win every point hard and not slack at all."
This article appeared in the South China Morning Post print edition as: Nadal and Williams in hot form ahead of French Open