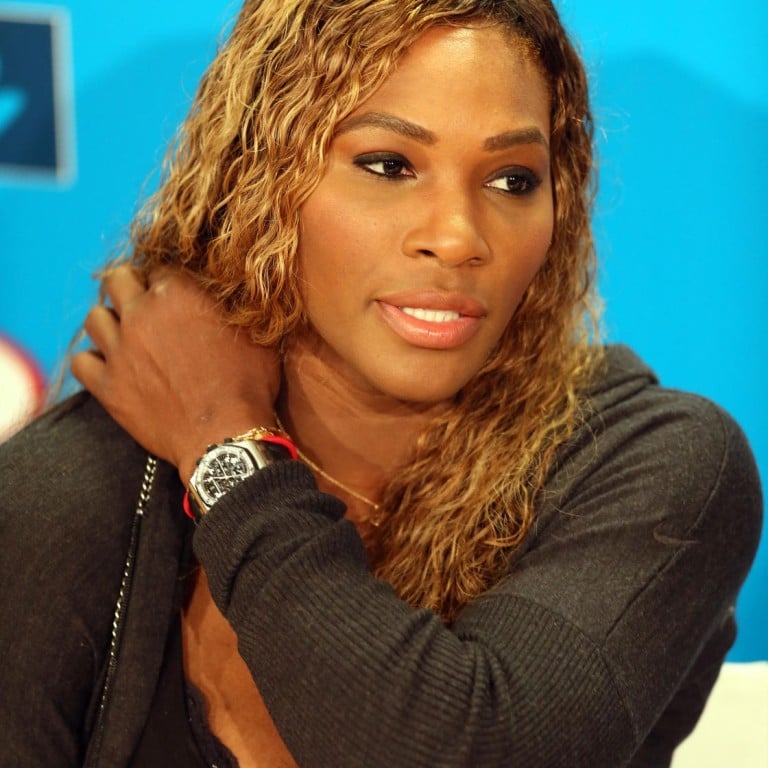 Joining 18 grand-slam club in Serena's sights
American, who is in formidable form, hopes to match Evert and Navratilova
Serena Williams said yesterday that matching Chris Evert and Martina Navratilova's 18 grand slam titles was in her sights and insisted she can cope with the searing heat expected at the Australian Open.
The 32-year-old enters the opening grand slam of the season this week in formidable form, losing just five matches last year and winning the Brisbane International last weekend.
She is gunning for a sixth Australian Open crown, which would move her alongside Evert and Navratilova, and further underline her reputation as one of the greatest women players yet seen.
Ahead of Melbourne, Navratilova said she expected Williams to match the record this month and go on to surpass Steffi Graf's 22 titles to become the most successful grand slam champion in the Open era.
Williams said it would be an honour to be in the same company as Evert and Navratilova, but she was taking nothing for granted after an injury-hit campaign last year ended with defeat to young fellow American Sloane Stephens in the quarter-finals.
"It would mean a lot to be on the same level as such great players as Chris Evert and Martina Navratilova," she said.
"I still have a lot of work to do. I obviously want to be able to reach that level, but I'm not there yet. Hopefully I'll get there."
The top seed, who opens her campaign against Australia's Ashleigh Barty, is in such hot form that her French coach Patrick Mouratoglou on Thursday said she could pull off the exceptional achievement of sweeping all four grand slams in 2014.
"It's happened just a few times in the history of tennis - but she can do it and the goal is to do the best possible in all four grand slams," he said.
Williams completed a non-calendar grand slam in 2003 and last year won the French Open and the US Open.
To keep the dream alive, Williams will have to deal with some extreme weather with temperatures set to soar above 40 degrees Celsius early this week.
She said she was not looking forward to the heat, but added that she could cope.
"I've been training my whole life in the heat. I think I'm pretty used to it," said the Florida-based American.
"I mean, obviously the heat in Melbourne is just completely different than any other heat. But it's okay. I just got to be ready to play under any circumstances."
Williams' preparations had been perfect, she said, with victory over world No 2 and defending Australian Open champion Victoria Azarenka in Brisbane, then court time and acclimatisation in Melbourne last week.
"Right now, I feel pretty good. Felt pretty good at the end of last year," she said.
"I think it was great preparation. Brisbane is a great tournament to play to get prepared for Melbourne.
And also I think it's a good time to have a week to train in Melbourne before the tournament actually begins."
She should have little trouble dispatching Barty in her opener, but said she never took anything for granted.
"She's extremely talented. She moves well. She plays well. She serves well. She has good returns. I saw her play a little bit at Brisbane. I was actually super impressed with her game," she said of the 153rd-ranked player in the world.
"I think it will be a great opportunity for us both. I take every match as it comes and see how it goes. I try not to put too much pressure on myself."
Williams is seeded to face Italy's seventh seed Sara Errani in the quarters before a potential semi-final clash with fourth-seeded Li Na of China, who lost in the final last year.
This article appeared in the South China Morning Post print edition as: Joining 18 grand-slam club in Serena's sights