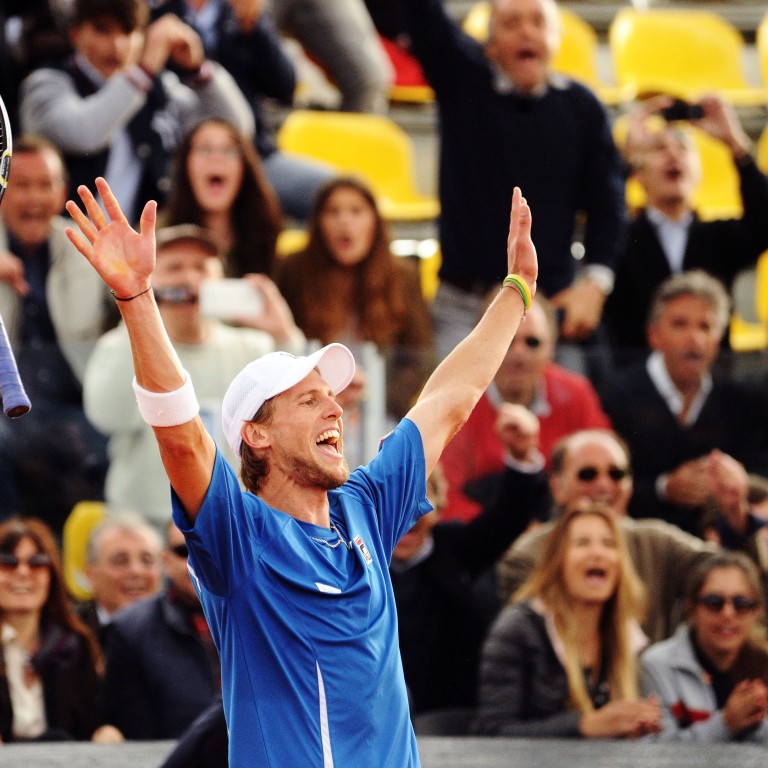 Italy dash Great Britain's dreams of Davis Cup last four berth
Fabio Fognini stuns Andy Murray to hand victory to hosts who last appeared in semi-finals in 1998
Italy foiled Great Britain's dream of a first Davis Cup semi-final appearance in 33 years with a battling 3-2 quarter-final win in Naples on Sunday.
The British were in control, leading 2-1 going into Sunday's closing two reverse singles.
But Italy's world number 13 Fabio Fognini stunned Andy Murray 6-3, 6-3, 6-4 to level the tie at 2-2, with Andreas Seppi securing the decisive last point with a 6-4, 6-3, 6-4 victory over James Ward.
Murray and Colin Fleming had put Britain in command on Saturday with a 6-3, 6-2, 3-6, 7-5 win over Simone Bolelli and Fognini in the doubles.
The Scot had beaten Seppi 6-4, 7-5, 6-3 to level the tie in a rain-delayed singles after Fognini had got the first point on the board for the hosts with a 6-4, 2-6, 6-4, 6-1 win over Ward on Friday.
The Italians, who last appeared in the semi-finals in 1998, will now face either Kazakhstan or Switzerland away in the September 12-14 semi-final.
Murray's defeat to Fognini was the Scot's first Davis Cup singles loss since 2005.
It came three days after he suffered a stomach bug and against a player who has won all three of his titles on clay within the last nine months.
After the rubber Murray said: "He played very well today, that's for sure. He's a very good player especially on this surface.
"I knew it would be a tough one, but unfortunately I wasn't quite able to play well enough."
He appeared to lack sharpness throughout but said fatigue had not been an issue: "I thought I did okay. I guess the third set was the closest one in terms of scoreline.
"I did okay physically. Not the best, but I've definitely been worse in situations like that."
Murray started well, breaking the Italian number one in the first game of the first set.
But Fognini responded in positive fashion and had Murray on the ropes throughout most of the encounter on red clay.
The Italian broke back twice in the first set and twice again in the second to heap the pressure on Murray.
In the second set alone, Murray had 21 unforced errors and only six winners to 11 for his Italian opponent.
The Scot was struggling with his serve and with a partisan Neapolitan crowd on his back throughout, never really found his rhythm.
Fognini broke Murray once again during a slightly closer third set and as the Scot served to stay in the match in the final game Fognini pounced to earn three match points at 0-40.
Murray saved two, but netted a forehand to hand Fognini his 12th win in 13 Davis Cup clay-court rubbers.
It left Ward needing to beat Seppi in a concluding rubber postponed in the first set while the Italian led 5-4.
On their return Seppi, 127 places above Ward in the rankings, clinched the first set, going on wrap up victory serving out the tie at the first time of asking.
Italy reach the last four for the first time in 16 years when they went on to finish runners-up to Sweden.