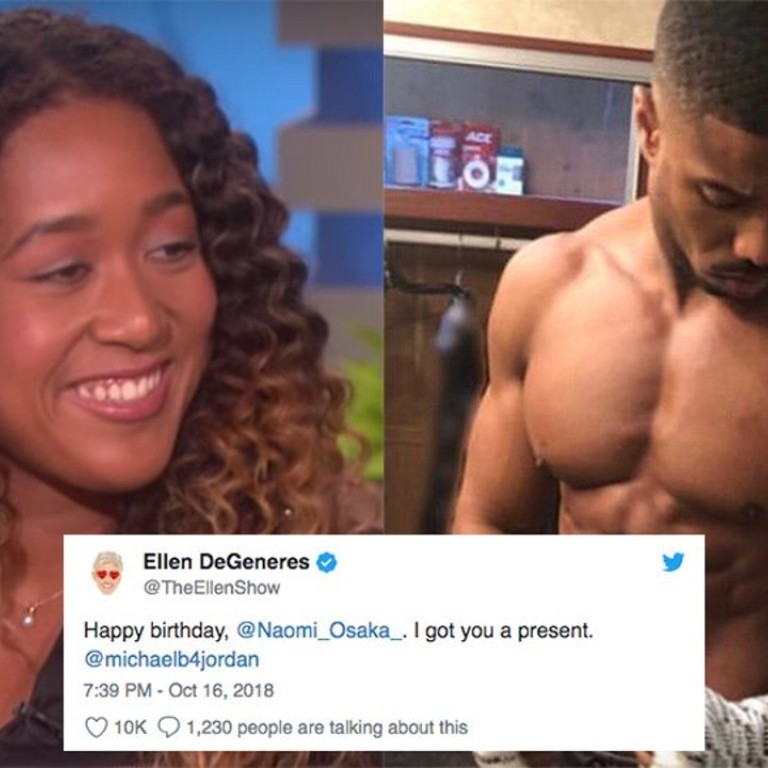 Naomi Osaka accepts Creed 2 premiere 'date' with Michael B Jordan thanks to Ellen DeGeneres as GQ Japan unveils her as cover star
Talk show host Ellen DeGeneres plays matchmaker again between the tennis star and Hollywood actor as birthday present for the US Open champion
Osaka unveiled as latest cover star of GQ Japan for magazine's December issue as she prepares for her debut WTA Finals in Singapore
As birthday presents go, getting invited to a Hollywood film premiere by your celebrity crush must be high up there, and for Naomi Osaka it was a reality.
It all started for the US Open champion – who turned 21 this week in Singapore while preparing for her first WTA Finals – when she received a pleasant surprise in the form of a topless picture of Creed II and Black Panther star Michael B Jordan from talk show host Ellen DeGeneres.
Osaka jokingly asked DeGeneres to block her on Twitter in response.
The comedian's message was a nod to Osaka's appearance on The Ellen Show last month, where she had pushed the sheepish Japanese player to name her celebrity crush after her shock triumph.
While on air, DeGeneres had quickly messaged Jordan, who sent her a video message back to pass on to Osaka, congratulating her on her big win in New York.
Asked at the Hong Kong Open a couple of weeks ago whether she had been in touch with Jordan since, Osaka laughed.
"There's a video that everyone on the internet watched, even if he did I wouldn't tell you," she told reporters at her press conference. "But no."
That all changed this week, though, when Jordan stepped in to Osaka and DeGeneres' ongoing conversation on Twitter.
"This one is better and more recent. LOL," he wrote, attaching another picture of his ripped torso. "Happy Belated Bday Naomi. But seriously I want to invite you to the Creed 2 premiere as a bday present."
DeGeneres' follow-up was succinct. "You're welcome, Naomi," she wrote.
"What is going on???" Osaka responded. "Thanks for the bday wishes, if you're serious I would totally want to go."
We'll have to wait and see if Osaka takes up Jordan's offer to join him on the red carpet for the premiere of Creed II, which is released on November 21 in the US.
Osaka later took some time out from training to speak to the WTA in Singapore about the surreal interaction on Twitter.
"So I saw the tweet this morning, but I didn't respond because I was thinking if I don't respond then it means I haven't seen it yet," Osaka, the early favourite for the WTA Finals title, said.
"But I did respond like maybe an hour ago. I think if he's like actually serious and inviting me then I might go. I think it would be really fun."
As if Osaka's 2018 couldn't get any better, she was also unveiled as GQ Japan's latest cover star on Friday.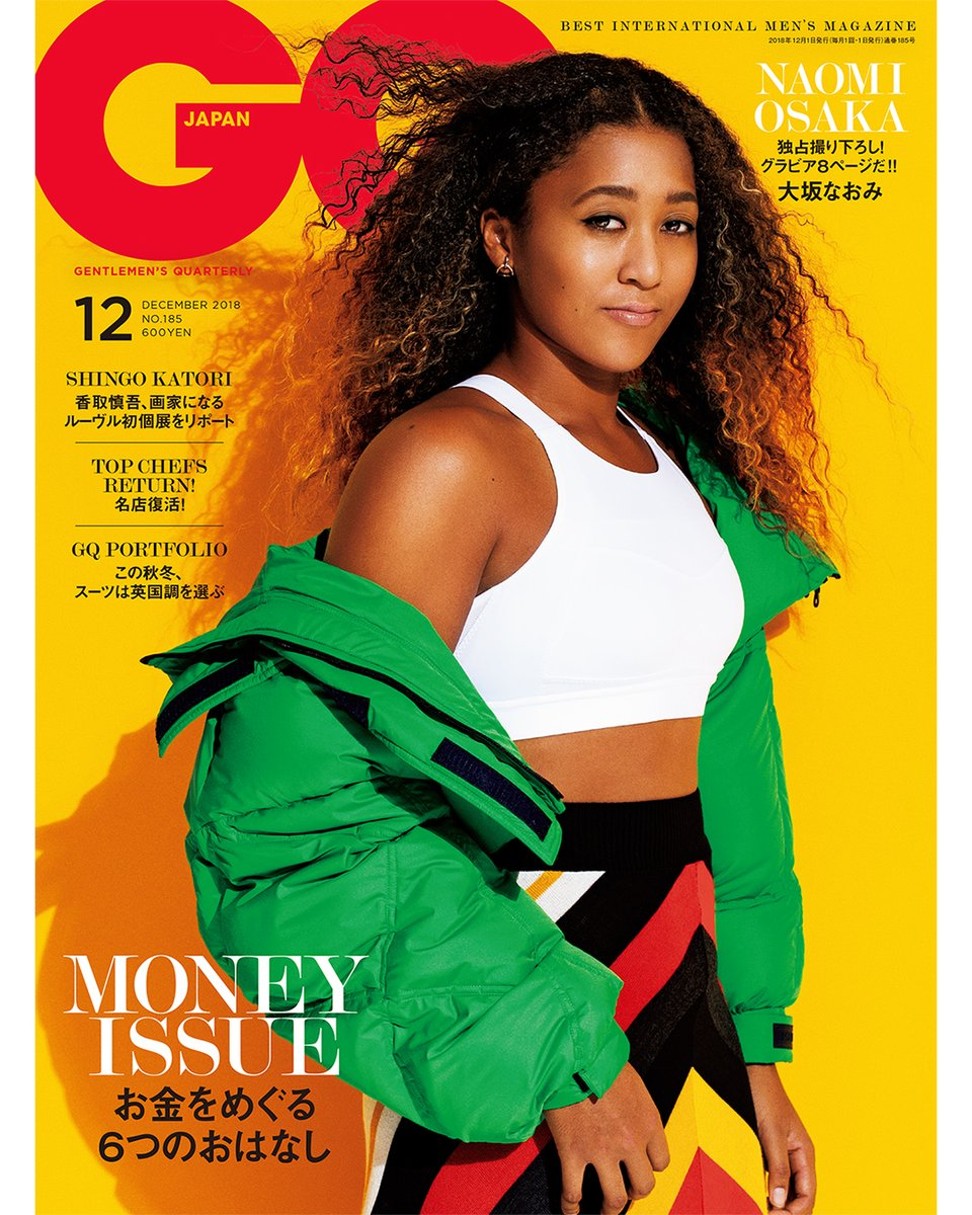 The magazine posted a tweet on Friday revealing the cover image of its December issue, which is released on October 25 and features an "exclusive fashion shoot and interview" over eight pages with Osaka.
"So honoured and excited to be on the cover," Osaka wrote on Twitter. "One of the best shoots I've ever done."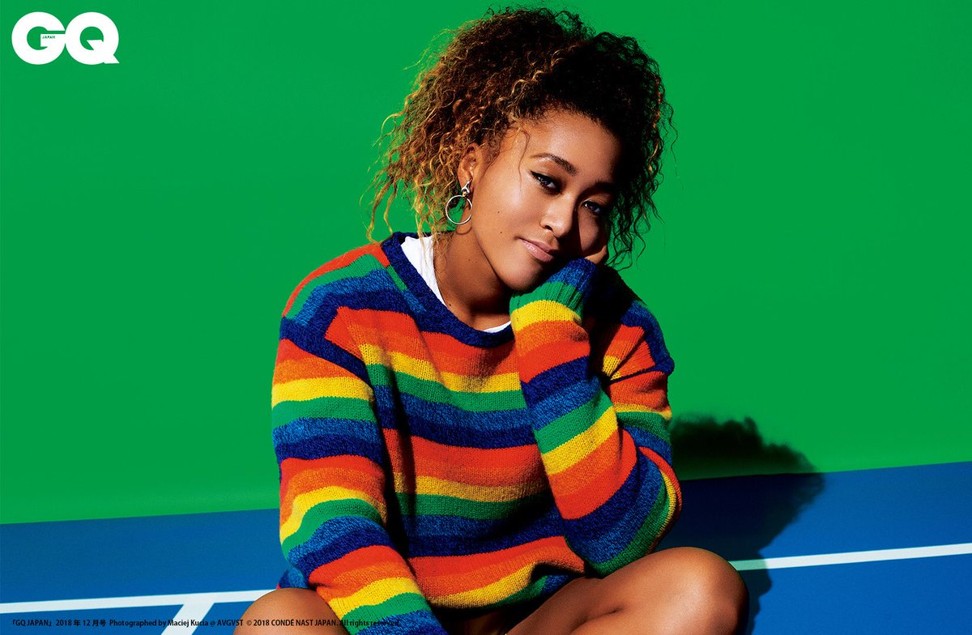 She conducted the interview last month when she was back in Tokyo for her home tournament, the Pan Pacific Open.
Osaka is set to sign a bumper new deal with sportswear giant Adidas, having become one of the hottest properties in women's tennis.
She was also unveiled as a brand ambassador for Japanese car manufacturer Nissan in September.