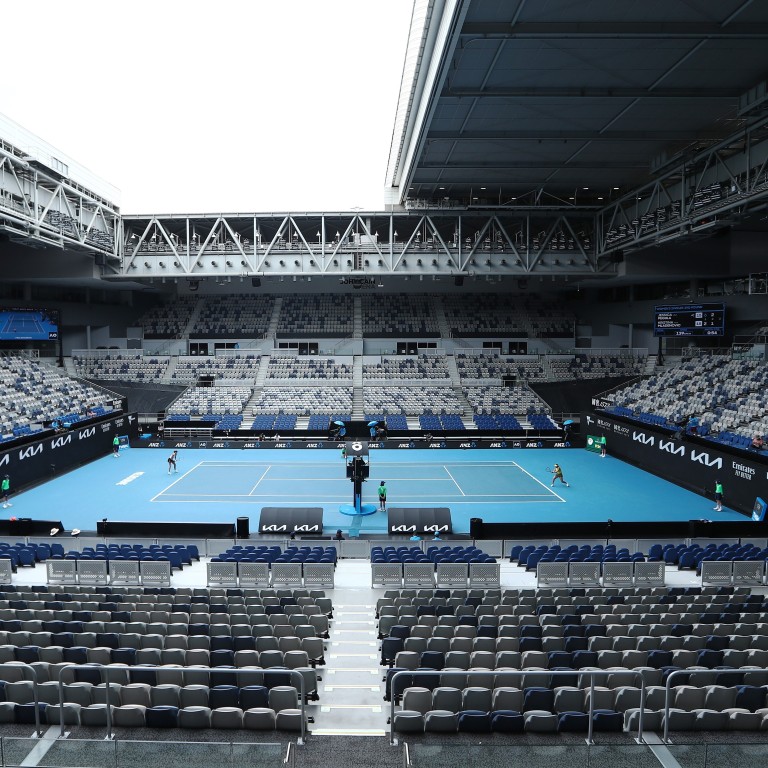 Australian Open plays on through Covid-19 lockdown but should fans return?
Tennis fans sent home as Victoria goes into statewide lockdown with some locals upset tennis gets exemption
Sport deemed essential work so make it as safe as possible by playing in bubble and letting athletes decide if they want to be there
The Australian Open was meant to provide the answer for sport in these Covid-19 times. Instead it has just presented more questions.
Questions such as is sport essential and at what cost?
As of midnight Friday, the state of Victoria was put into a hard lockdown after a spate of cases from the Holiday Inn hotel near Melbourne airport.
The tennis will carry on, with the athletes deemed essential workers.
"Large and small professional sport events, they will function essentially as a workplace," Victorian premier Daniel Andrews said. "But they will not function as an entertainment event, because there will be no crowds. And the workforce will be the minimum that is needed in order for that to be Covid-safe and safe in lots of other contexts."
There were crowds – indeed the Australian Open was seen by some as a path for other sporting events to follow in bringing fans back – but no more until at least later in the week.
Fans were sent home with the message on the screens at Melbourne Park telling them that they had to leave by 11.30pm on Friday as state restrictions in Victoria required them to be home by 11.59pm to start their five days indoors.
Critics asked whether the virus only comes alive after midnight, just as they asked why with the whole state locked down tennis players (and those staff essential to the tournament) are exempt.
Australian sports broadcaster Titus O'Reily summed that up with a tweet: "To be exempt from the lockdown you will need to carry a special permit that looks like this," he wrote, with a picture of a tennis racquet.
There is an understandable degree of bitterness from some Victorians though Tennis Australia head Craig Tiley pointed out that the players will be subject to the same restrictions as everyone else outside their matches,
"Play will continue and players will compete in a bubble form not dissimilar to what they've been doing right throughout the year," Tiley told the media. "Those who will be allowed on site will be players and their direct support teams as well as those staff members who are unable to do their work from home.
"They come on site, remain on site. When they are finished on site they go in transport to their place of residence and they stay in their place of residence until they come back on site."
Serena Williams described it as "rough" for the players but agreed it was the right thing to do.
The whole tournament has been rough so far from complaints about quarantine when the players arrived to then several Covid-19 events since.
An early positive test saw 47 players locked down then a hotel positive saw some 500 players and staff locked down – several of whom have struggled at the tournament since –before the latest cluster and subsequent statewide lockdown.
It's strange to think the crowds could return to Melbourne Park for the business end of the tournament once the lockdown is over.
No fans would be the safest and if that is the cost for safe sport then we should get used to it, as head of the EU's ECDC health agency, Andrea Ammo, warned on Friday, Covid-19 could be around forever.
If sport is deemed essential – and there is a strong argument for that – then we have already seen the best practices for it to take place.
We saw it with the Chinese Basketball Association, Chinese Super League and NBA last season, which all took place inside a bubble at a centralised location. Those bubbles worked, with no Covid-19 positive tests between them – a stark contrast to this season's NBA outside the bubble. A bubble would also have been fairer on all the tennis players in Melbourne.
Even bubbles are not without risk. We have just seen the FIBA Asia Cup basketball qualifiers in Doha, Qatar, called off days after Taiwan and then Malaysia had refused to travel.
Qatar had become a hub for Asian sports such as last season's AFC Champions League and it was expected that this seasons would be held there too.
Now who knows?
There are decisions to be made beyond where and when it can take place. On the sporting side, Hong Kong Premier League champions Kitchee and the four Chinese Super League sides might send weakened teams. Their domestic seasons should be in full swing and the travel restrictions will affect players returning.
That is if the players even want to go.
Hong Kong badminton players refused to travel to Europe for the upcoming World Tour start, while their table tennis counterparts refused to go to Qatar earlier this month.
They were accused of "using Covid as an excuse" by World Table Tennis but have swiftly been proved right.
The Australian Open can basically continue as a bubble from now on by keeping the fans away and the players in their hotels outside of their matches. That, rather than half measures such as half capacity crowds, is the path for sport to follow.