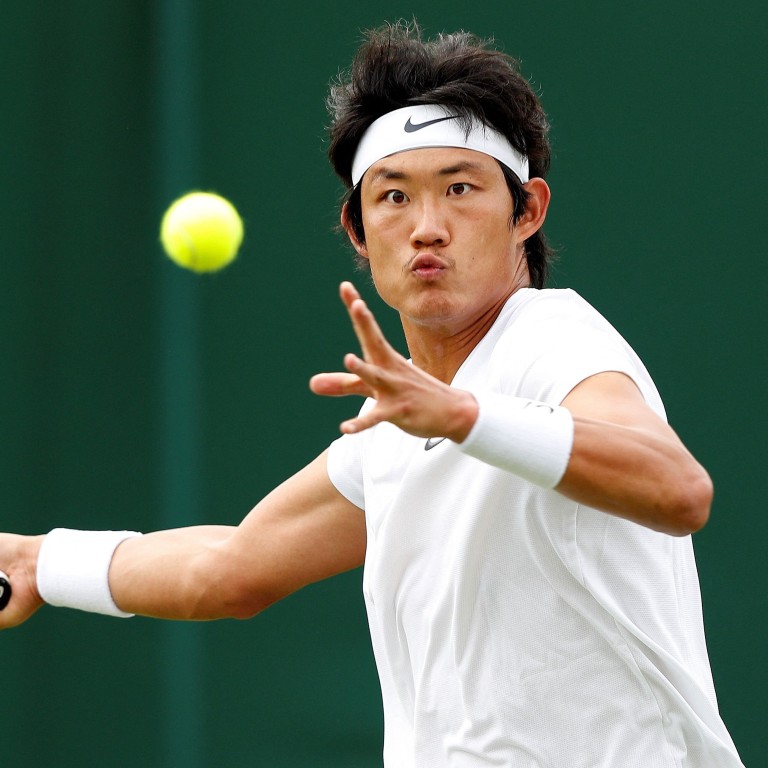 Wimbledon 2021: China's Zhang Zhizhen makes history but not second round
Chinese men's No 1 loses epic five-setter to France's Antoine Hoang in grand slam debut
Zhu Lin into women's singles second round against 13th seed Elise Mertens after beating Germany's Mona Barthel
China's No 1 men's tennis player Zhang Zhizhen said his story was just beginning ahead of playing fellow Wimbledon qualifier Antoine Hoang in their first round match and he was right, at least in some ways.
After being rained off on the first day of play, Zhang – making his slam debut and becoming the first Chinese man to play at Wimbledon in the Open era – did not get off to the greatest of starts, losing the first three games before making history with a first game on the board.
In the end – three hours and 41 minutes with another prolonged rain delay in between – the Shanghainese 24-year-old had taken the Frenchman all the way to five sets but he did not make the history he wanted.
No Chinese man had made the first round of Wimbledon and of those other three to appear at another slam – all of them at the Australian Open – none had made it past the first round at. That record has not changed.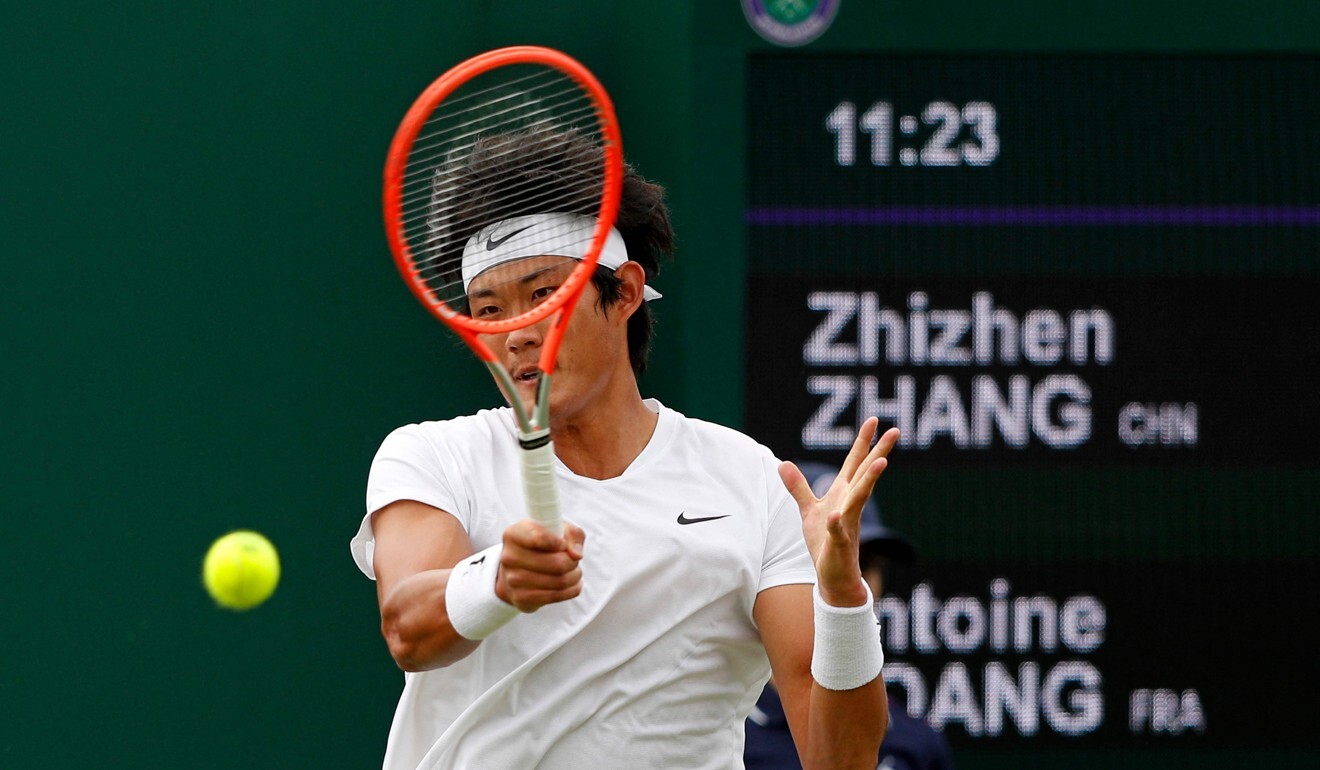 Hoang, appearing in seventh grand slam match stood firm over five sets to win – 6-4, 6-7, 7-6, 3-6, 2-6 – on court six of The All-England Club.
It ended with Zhang hitting the net to hand Hoang the win, but it was a topsy-turvy tie.
Despite a fantastic passing shot to save deuce in the fifth game of the first set, Zhang dropped a break point and soon found himself 4-1 down to the 25-year-old who had won their previous career meeting but he would go on to win the first set.
Zhang won the next game, showing off his powerful serve in the process, and then broke Hoang before serving out out make it 4-4.
Another break followed and Zhang served for the set, another ace and some good play at the net winning his first at SW19 in 40 minutes.
The second set went with serve until a tiebreak that Hoang won to level the sets at 1-1 before an epic third set.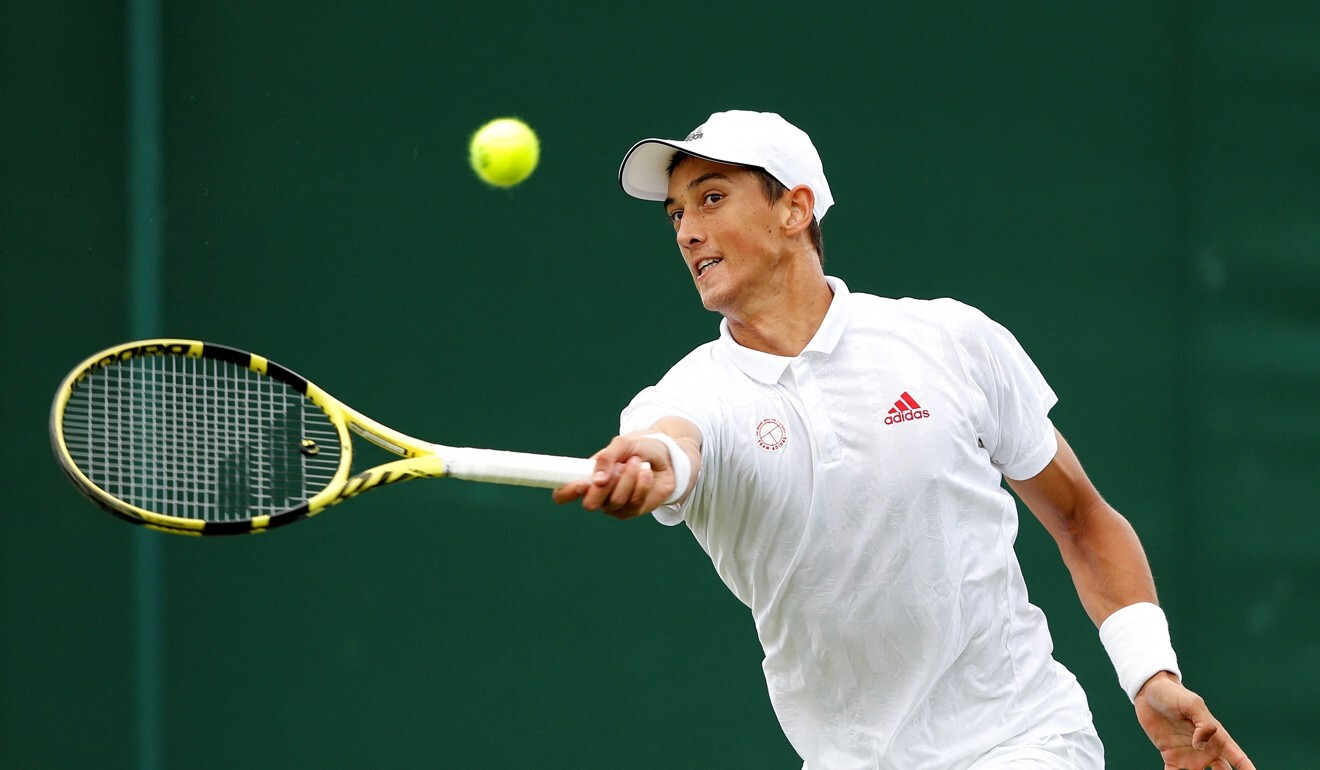 Zhang lost his first service game of the third and was then down 2-0 before winning Hoang's service game and dropping his own to make it 3-1. The Chinese No 1 rallied with a lovely passing shot to take it back to 3-3 in third set.
It then stayed on serve until 6-6 and another tiebreak. Zhang won this one despite losing a challenge to make it 1-1 and Hoang going 2-1 ahead. Another monster serve and a deft volley helped it to 3-3 and while Hoang led again at 4-3 it was Zhang who took the tiebreak 7-5.
Play was suspended in the fourth set with 2 hours and 45 minutes on the clock and Hoang 3-0 up in the fourth set.
Once the rain covers were called out, the break lasted almost three hours before the players were warming up to resume – in a battle to finish before the daylight went.
Zhang won the first game back to give his fans hope, but it was soon 4-1 and games went with serve to end the set 6-3 looking for a decider.
It started well for Zhang, who served for 1-0 but he dropped his second service game and Hoang dug in the fourth after being dragged deuce.
Zhang gave up three break points at 3-1 down in that final set. He survived only the first two to go 4-1 down and in need of a miracle.
He would drag it back to 5-2 and saving one match point but Hoang would win out.
Meanwhile, Zhu Lin made much shorter work of Germany's Mona Barthel in the women's singles, winning their first round match after going a set behind – 6-7, 6-3, 6-3.
The Chinese 27-year-old faces No 13 seed Elise Mertens of Belgium in the second round.