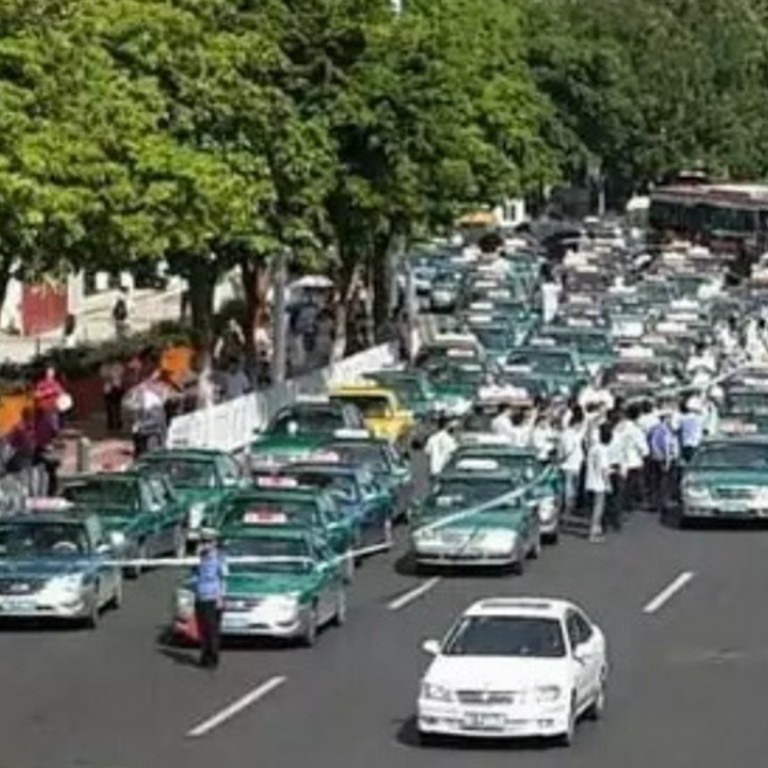 Guangzhou loses 100,000 drivers as China's Didi Kuaidi, Uber and rival car-hailing apps pressured to ditch non-local plates
Local authorities claim drivers have been heading to other cities to skirt a quota on newly issued registration plates, which has added to inner-city congestion
Ride-hailing apps in China like market leader Didi Kuaidi and San Francisco-based Uber have cancelled over 100,000 driver accounts in Guangzhou over the last month due to pressure from local authorities over those operating with non-local licence plates, among other issues, reports claim.
The sprawling metropolis in southern China's Guangdong province is known to rank among most of the apps' top-three busiest cities.
Guangzhou's Transportation Committee said Tuesday it summoned representatives of the six main apps – also including China's Ucar, Yidao Yongche, aayongche and ihavecar – to meetings on December 16, January 7 and this Monday, the government-run Nanfang Daily reported.
During the meetings, those in attendance were ordered to dismiss any drivers who did not conform to recently issued regulations for ride-sharing apps, the paper added.
The report stated that over 100,000 driver accounts had thus been disqualified from the industry since December.
Some 70 per cent worked for Didi Kuaidi, and most did not have a local licence plate, it added.
When quizzed on the subject by the South China Morning Post, a representative for the app said:
"Didi Kuaidi had already dismissed the accounts of drivers with no local licence plate in Guangzhou. Actually, Didi had only a few drivers with such plates."
Early in the 2012, Guangzhou started limiting how many new licence plates it issued. But as the quota does not apply to cars from other provinces, people began circumnavigating the rule by heading to other cities to obtain their registration plate.
This has added to congestion in inner-city areas, the report said, quoting local authorities.
According to official data, 13.3 per cent of all vehicles driving in Guangzhou's downtown area last May hailed from other cities in the province.
According a report by Guangzhou's Yangcheng Evening Post in September, Didi Kuaidi had about 300,000 drivers working for it in the city. Over 30 per cent used vehicles with out-of-state plates.
After suffering a tumultuous 2015 when a backlash against such apps spread across China and many countries, all six ride-hailing app operators appeared unwilling to further rock the boat.
They all agreed to abide by the local regulations for ride-sharing apps and reject any drivers with vehicles not bearing a local licence plate, the Nanfang Daily reported.
Most of the apps were unavailable for comment as of mid-afternoon Wednesday on whether they expected their services to be affected by the cancellation of so many driver accounts.
Some customers who use the apps now believe it will be harder to order a car in the city, especially during rush hour.
"In my experience of hailing a Didi or Uber car, many of them don't have local plates," said Guangzhou resident Tang Ying.
At present, the app operators must set up fixed offices wherever they operate on the mainland. They also need to submit information about their drivers, including their identification card numbers, contact numbers and conversations with clients to authorities if and when requested.
Moreover, China's central government released guidelines for how the apps should operate last year and gave them a limited period within which to comply.