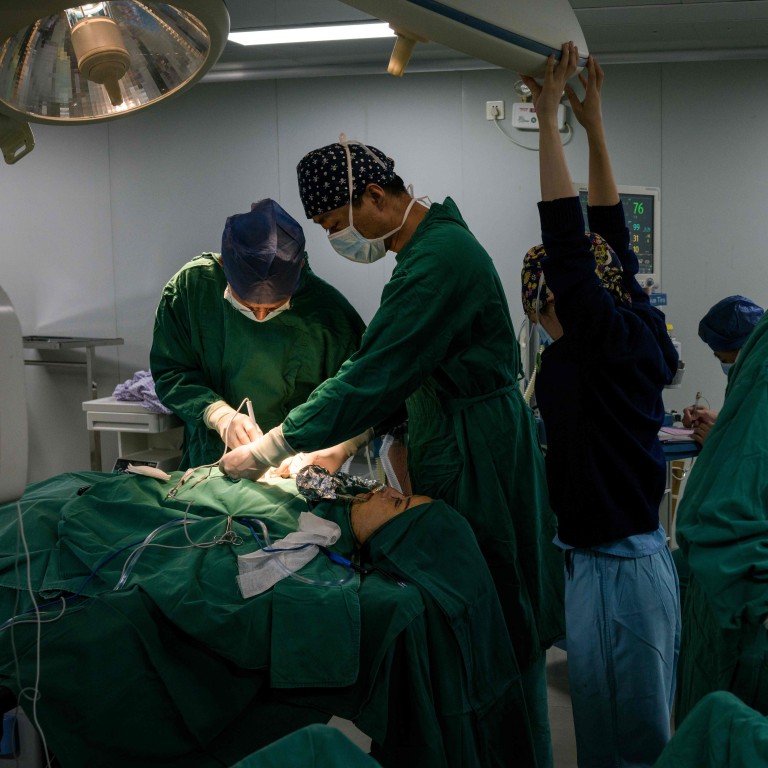 Investors rush to grab a slice of Chinese plastic surgery app So-Young on Nasdaq debut
So-Young started in Beijing in 2014 as a marketplace app that connect clinics with patients and as a community for people interested in cosmetic procedures
China is one of the fastest-growing medical aesthetic services markets in the world
So-Young International, a Chinese marketplace and social networking app for cosmetic surgery, soared in its Nasdaq trading debut on Thursday as investors rushed to grab a slice of Chinese people's growing desire to go under the knife to look good.
Shares of the five-year-old So-Young surged as much as 44 per cent during the first day of trading, before settling at US$18.2 by the market close, 32 per cent higher than an initial price of $13.8. The company now has a market value of $1.8 billion.
So-Young started in Beijing in 2014 as a marketplace app that connect clinics with patients and as a community for people interested in cosmetic procedures to share their knowledge and experience. Users can post texts, photos and videos of their experience, watch explanatory videos and live-streaming content featuring clinics and doctors. They can connect and interact with other users or doctors for advice or consultation, and when ready, purchase procedures on the platform.
So-Young's strong debut reflects keen interest in China's booming plastic surgery market, driven by higher disposable income and growing demand from people to surgically enhance their looks. China is one of the fastest-growing medical aesthetic services markets in the world, ranked second in terms of market size in 2017 behind the US. China is expected to become the largest market in the world by 2021, according to a report by Frost & Sullivan commissioned by So-Young, with total industry revenue expected to reach 360.1 billion yuan (US$53.5 billion) by 2023.
Attitudes in the country towards artificial beauty are changing, particularly among the so-called Generation Z of youths under the age of 24, creating a big new market when they become financially mature.
"The younger generation – those born after 1995 – is no stranger to the concept of cosmetic surgery," Jin Xing, 40, founder and CEO of SoYoung, said in an earlier interview. "They can't afford it now, but when they have a job or qualify for a credit card that allows for instalments, they will be unstoppable."
So-Young accounted for one third of China's cosmetic treatment booked online last year, facilitating transactions worth 2.1 billion yuan, according to Frost & Sullivan. Its website soyoung.com recorded average monthly unique views of 10.3 million last year, while its mobile app has 1.4 million active users on it, according to the company's prospectus.
By charging clinics and doctors a fee for advertising and listing their services as well as the transactions, So-Young brought in US$89.8 million of revenue and is already profitable with net income of US$8 million for 2018, according to its prospectus.
However, some analysts question whether So-Young will be able to maintain the relationship between clinics and patients on its own platform.
"We are concerned about the company's sustainability because service providers can easily circumvent So-Young once they have acquired their customers," Zhen Zhou Toh, an analyst with Aequitas Research, wrote in a note on independent research platform Smartkarma.
So-Young is not the only one cashing in on China's pursuit of beauty either.
Apart from smaller plastic surgery platforms such as Gengmei and Yuemei, So-Young is also facing competition from platform companies carrying various services, such as food delivery giant Meituan, which in January announced partnerships with several cosmetic treatment clinics.
So-Young counts Chinese tech giant Tencent Holdings as one of its backers, with the internet giant investing US$3 million through its wholly-owned subsidiary Chinese Rose Investment. Tencent also backs Gengmei and Meituan.
This article appeared in the South China Morning Post print edition as: Cosmetic surgery app has strong debut on Nasdaq