Tencent
Get more with myNEWS
A personalised news feed of stories that matter to you
Learn more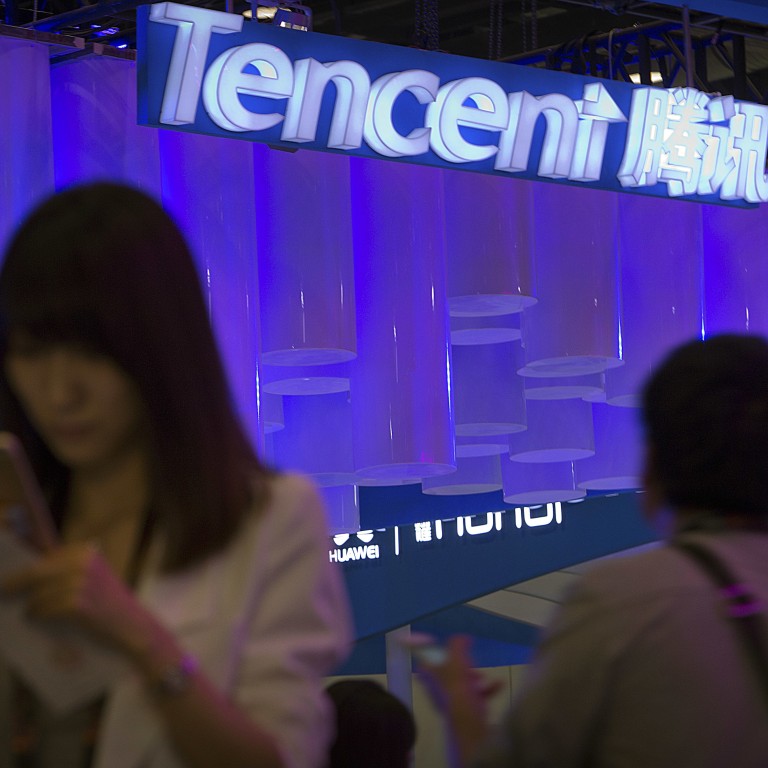 Tencent posts better-than-expected US$3.9 billion first-quarter profit as fintech services grow
Revenue rose 16 per cent to 85.5 billion yuan, missing analysts' estimates
Profit received a boost from an 11 billion yuan gain from its investee companies
Tencent Holdings, operator of China's biggest video games and social media businesses, beat estimates to record a 17 per cent year-on-year increase in first-quarter net profit, helped by investment gains.
Hong Kong-listed Tencent posted a net profit of 27.2 billion yuan (US$3.9 billion) in the quarter ended March 31, up from 23.3 billion yuan in the same period last year and ahead of the 19.4 billion yuan consensus from analysts compiled by Bloomberg.
Revenue grew 16 per cent to 85.5 billion yuan, compared with 73.5 billion yuan a year ago, but fell short of the 88.7 billion yuan consensus analysts' estimate.
"We sustained healthy user engagement across our key platforms, with notable growth in the number of short videos uploaded and shared by users on QQ and Weixin (WeChat)," said Tencent chairman and chief executive Pony Ma Huateng in a statement released after the close of trading on Wednesday.
"Our payment, other fintech services and cloud business, while still at an early stage of expansion, are now generating substantial revenues … We believe that we are building solid foundations for future growth in both the consumer and industrial internet domains."
The latest quarterly financial results have come after a roller-coaster year for the Shenzhen-based company in 2018. The internet giant's shares rose to an all-time high in January last year, powered by its money-minting video games business and ubiquitous WeChat super app, before a much-chronicled government crackdown on content and video gaming wiped out almost half of the company's value in October.
Facing regulatory risks and maturing consumer businesses, Tencent announced last year that its growth engine for the next decade would be the industrial internet, serving businesses in addition to the millions of consumers that are now has on the company's platform.
Shares of Tencent have recovered early this year from an October 2018 low of HK$252.20. Its share price was unchanged at HK$374 on Wednesday amid the gloomy market sentiment caused by the US-China trade war.
Tencent should be relatively sheltered from a trade war fallout, according to Norman Hui, an analyst with Zhongtai International Securities. The rising geopolitical tension with the US, however, could cause uncertainties around foreign video game approvals in China, Hui said.
The company said it recorded an 11 billion yuan gain in the first quarter from the increased valuation, as well as capital activities, of certain investee companies in industries such as financial services, online games and education.
While Tencent's online and mobile games operation remained its biggest revenue contributor, first-quarter sales growth was primarily driven by payment and other financial technology (fintech) services as well as advertising and digital content services like music and streaming video, according to the company.
Value-added services, which includes games and social media businesses, made up 57 per cent of Tencent's first-quarter revenue, with sales of 48.9 billion yuan as revenue from live broadcast services and streaming video subscriptions grew. Monthly active users on WeChat, known as Weixin in mainland China, reached 1.1 billion at the end of March.
Tencent's overall video games business, which accounts for a third of total revenue, slipped 1 per cent year on year to 28.5 billion yuan in the first quarter. The company reported a 3 per cent decline in mobile games revenue to 21.2 billion yuan because of fewer new titles released, while personal computer games recorded 13.8 billion yuan in revenue, down 2 per cent.
Fintech and business services, a segment that Tencent has decided to report for the first time, accounted for 25 per cent of total revenue with sales of 21.8 billion yuan. This segment grew on the back of increased demand for payments and cloud computing services in the first quarter.
Online advertising contributed 16 per cent, with 13.4 billion yuan in revenue, driven by WeChat Moments, mini programs and QQ's entertainment news feed Kan Dian. Other services made up 2 per cent, with a 1.3 billion yuan.
Regulatory delays and a government crackdown on content have blocked Tencent from making money from the mobile version of international hit battle royale game PlayerUnknown's Battlegrounds (PUBG). This led Tencent, which is PUBG's sole distributor in China, to close that title last week and launch Game for Peace, which has similar game play and allows users to migrate their data from PUBG automatically.
The company received a licence for Game for Peace from regulators last month, which means users can buy skins and other in-game items immediately. The new game, which pays tribute to the People's Liberation Army Air Force in defending China's territory, took in US$14 million within 72 hours of its release.
While the newly released Game for Peace has unlocked a new monetisation opportunity for Tencent's games business, investors will likely need to wait until the second or third quarter to see substantial revenue growth in that segment, said Hui.
"What's more important is that [the launch of Game for Peace ] sheds light on how Tencent's future games can be modified to win approval from the authorities," he said.
In March, Tencent said it will step up investments in cloud computing for industries. Cloud computing will be the vehicle on which data analytics, artificial intelligence and security systems can be customised for industries such as retail, financial services, transport, health care and education, according to the company.
That sharpened focus on cloud computing would intensify Tencent's rivalry with Alibaba Group Holding, whose subsidiary Alibaba Cloud is the largest public cloud services provider in China. New York-traded Alibaba is the parent company of the South China Morning Post.
This article appeared in the South China Morning Post print edition as: Tencent profit beats forecast with 17pc growth