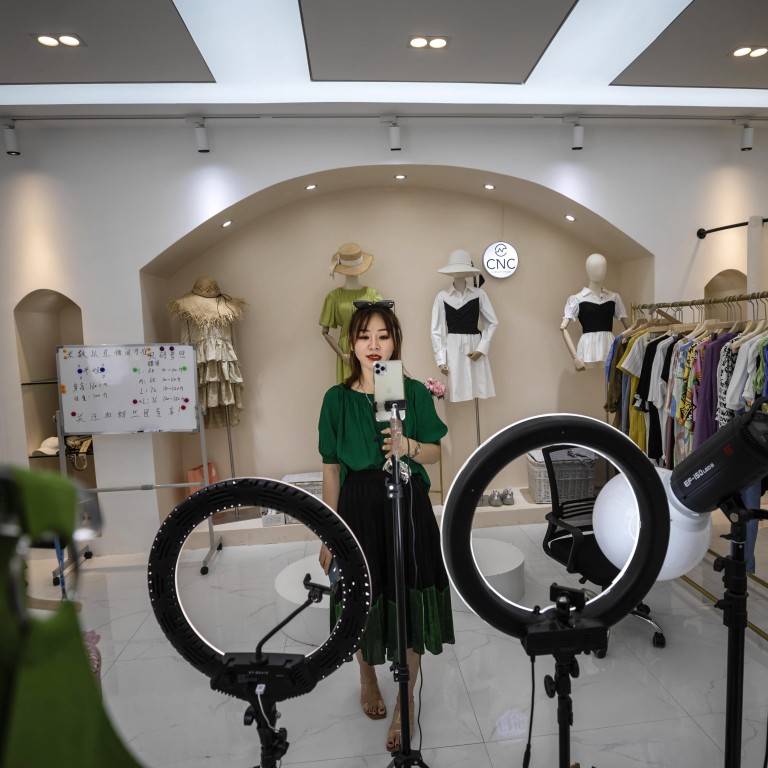 China's advertising industry issues code of conduct for live streaming e-commerce
Live-streamers are advised to cooperate with platforms to censor and manage their interactive sessions with users, according to the notice
The move towards regulation comes after China's consumer rights watchdog received a surge of complaints
China will introduce a code of conduct for its booming live-streaming e-commerce industry in the first step towards regulating a new marketing tool that has been widely adopted by offline merchants as a way to recover from lost sales due to the coronavirus pandemic.
The China Advertising Association (CAA) issued a notice last week recommending content censorship and real-name user registration for live-streamed shopping promotions.
Similar to conventional luxury and beauty brand ambassadors, live streamers endorse third party products and services for a fee. The CAA code of conduct, which will be introduced on July 1, requires live streamers to adhere to laws and ensure that information conveyed about the products is truthful. Statements that deceive or mislead consumers about products and services are prohibited.
Live-streamers are advised to cooperate with platforms to censor and manage their interactive sessions with users, according to the notice. Operators of live-streaming e-commerce sites must operate under the supervision of legal authorities and provide necessary data and information upon request.
The code of conduct is the first dedicated to the booming live-streaming shopping industry. Those in breach may be publicly criticised by the CAA and asked to rectify their behaviour. In cases where laws or government regulations are broken, the association will ask relevant authorities to investigate.
Earlier this month, another industry body, the Professional Committee of Media Shopping of China General Chamber of Commerce, also drafted a set of industry standards as well as guidelines for live-streaming shopping, outlining codes of conduct for product quality and practitioner qualifications.
The public consultation phase on the two documents closes on Tuesday and they are expected to be finalised before the end of this year.
The move towards regulation comes after the country's consumer rights watchdog, the China Consumer Association (CCA), received a surge of complaints about product quality, fake delivery orders, and a lack of after-sales service after the explosive growth of live-streaming e-commerce amid the pandemic.
"While live-streaming e-commerce, currently the hottest sector in the internet industry, has made an immense contribution in boosting consumption, it has also become a breeding ground for misconduct such as making up fake sales figures," said Dingding Zhang, an internet industry commentator and former head of Beijing-based research firm Sootoo Institute.
Zhang said he anticipated that stricter regulations will be introduced to oversee live-streaming e-commerce, noting that such laws always lag behind the rapid development of new industries.
Live-streamed shopping campaigns have been credited with helping China's retail sector in the wake of the coronavirus pandemic. Thanks to the contribution of live-streaming, JD.com, the country's second-largest e-commerce platform, reported that its sales during a nearly three-week-long midyear shopping festival reached 269.2 billion yuan (US$38 billion), up 33.6 per cent from the same period a year ago.
Alibaba Group's Tmall platform saw its accumulated sales during the same shopping festival from June 1 to June 18 reach 698.2 billion yuan. Alibaba is the parent of the South China Morning Post.
While it takes time before new laws can take effect, the industry may need to rely on self-discipline by bringing together influential organisations in the value chain to set up unified rules and actions, Zhang said.
"Self-disciplinary rules set up by the industry can result in some positive influence on the healthy development of the industry, but the impact would be very limited."
Last week Chinese authorities tightened their grip on the live-streaming sector in general, calling out some of the country's major platforms including Douyu and Huya for their "lowbrow content", imposing penalties ranging from freezing content updates on main channels to suspending new user sign-ups. They also said that some offending livestreamers would be blacklisted.
The value of China's live-streaming market reached 433.8 billion yuan in 2019 and it is expected to double in size this year, according to a report by data analysis firm iiMedia Research in February.