China's gaming sector rebounds after regulatory hit, with over 100 new game-related companies founded each day this year
In 2018 and 2019, more than 28,000 gaming companies went under amid a nine-month freeze on new game licences
But new data shows that in just the first half of 2020, over 22,000 new game-related companies have already been registered
In 2018 and 2019, more than 28,000 such companies went under in China, amid a
nine-month freeze
on new game licences as part of a regulatory review, according to a report by state-run television station CCTV in January.
More than 22,000 new game-related companies have been registered in China in the first half of this year, averaging out to 122 new companies every day, according to data from Tianyancha, a commercial database that compiles public records.
The data shows that the number of companies with the word "game" included in their company or brand names, or company descriptions, grew more than 9 per cent to 260,000 in the first six months of 2020.
The proliferation of new game-related companies may indicate that despite authorities' efforts to keep a tight lid on the market, the country's enormous appetite for video games is still drawing new entrants.
"If you look across the entire market, China's gaming industry has gotten back on its feet," said Liao Xuhua, a gaming analyst at Beijing-based Analysys International.
Liao said that while the number of approved games remains low, with only 583 new games approved in the first half this year, revenue for existing games has soared.
The Chinese gaming market saw a record 25.2 per cent growth in revenue to 73.2 billion yuan (US$10.34 billion) in the first quarter, according to a report released by the Game Publishing Committee of the China Audio-video and Digital Publishing Association, an industry group.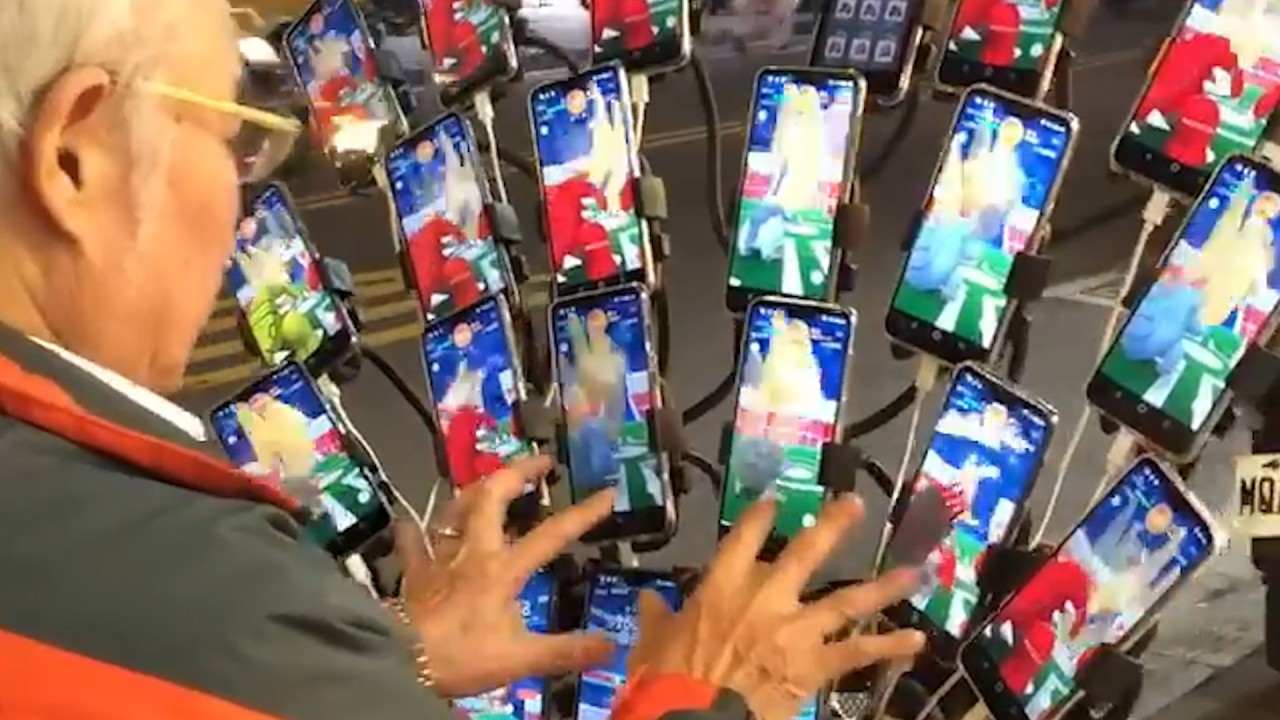 01:22
Taiwanese AR gaming grandpa uses 21 phones to 'catch them all' in Pokemon Go
Taiwanese AR gaming grandpa uses 21 phones to 'catch them all' in Pokemon Go
China is the video game industry's biggest market in Asia and the world, with more than 720 million gamers across mobile, desktop personal computers and console hardware, according to a report by market research firm Niko Partners in May.
The industry has been one of the biggest beneficiaries of the stay-at-home orders issued globally during the Covid-19 pandemic when millions of people were forced to move many of their daily activities online.
However, the new companies flooding the industry are most likely those looking to profit indirectly from the recent boom, such as user acquisition firms and in-game advertisers, rather than actual game developers, Liao said.
"According to our previous research, only about 5 to 10 per cent of these companies have active, actual gaming businesses," the analyst said. "But we are also anticipating continual reshuffling [of the industry]. Although the market as a whole is growing, the industry will eventually eliminate a lot of the smaller players."
This article appeared in the South China Morning Post print edition as: Game sector rebounds after freeze on licences