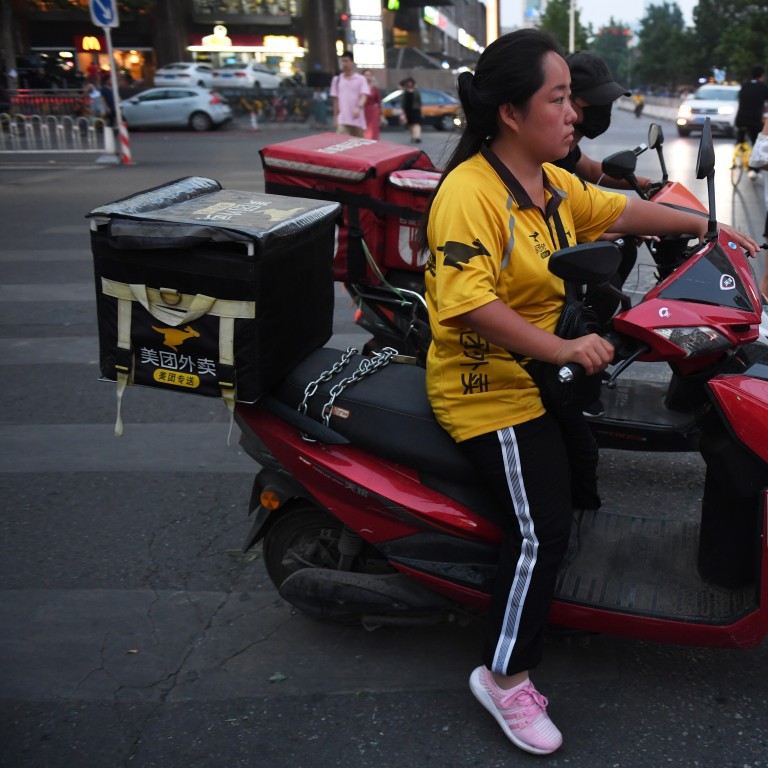 China's biggest food delivery platforms act after state-backed calls to stop food waste
Meituan co-published a proposal calling on restaurants to stop food waste and help cultivate new eating habits for customers
Catering associations in more than 18 provinces have also joined the campaign to eliminate food waste
China's two biggest food delivery platforms Ele.me and Meituan Dianping are the latest to join the country's food saving campaign after Chinese President Xi Jinping's call to end food waste.
Last week Meituan co-published a proposal with a number of business organisations, including the China General Chamber of Commerce and China Cuisine Association, calling on restaurants to stop food waste and help cultivate new eating habits for customers.
"Restaurants should innovate means of publicity using official accounts on social media and live-streaming to promote and advocate food-saving actions," the proposal said.
Meituan and the organisations are advocating that merchants offer guidance for consumers, including reminding them during the ordering process about the taste of the ingredients, portion sizes and other information about the dishes, to help them avoid food waste due to misleading information.
On Friday the China Cuisine Association announced that it had teamed up with Ele.me, the Alibaba Group Holding-owned food delivery platform, to launch a "half-dish plan", encouraging restaurants to provide customers with the option to order smaller portions. Alibaba is the owner of the South China Morning Post.
However, the campaign has received mixed reviews on social media, with some people worrying that it will lead to potential food price increases on the delivery platforms.
"One portion is too small for me, and now they are pushing half-dishes. Nowadays I order two [dishes], so do I need to order four after this!" read one comment on the Twitter-like Weibo platform.
The moves came after Xi last week urged the country to address the "shocking and distressing" problem of food waste amid disrupted food supply chains in the country due to the coronavirus pandemic.
Catering associations in more than 18 provinces have also joined the campaign to eliminate food waste.
The Wuhan Catering Association, in the central Chinese city where the coronavirus first emerged, proposed an "N-1" ordering code for restaurants in which a group of 10 diners would only order enough for nine people. More food is only brought to the table if required. It is common in China for all dishes to be shared by the entire table.
There were similar calls in other cities for the adoption of smaller portions of food. The Catering Association of Fuzhou, in southeast China, suggested that restaurants offer smaller dishes for groups of three or less.
A restaurant in Changsha in the central province of Hunan launched a "weigh-before-you-order" campaign, suggesting that customers weigh themselves and order food accordingly. It recommended that women under 40kg (90lbs) should order no more than two dishes – with suggestions including sautéed beef and steamed fish head – while men weighing 70-80kg could have up to three. After a public outcry, the restaurant apologised on Saturday and has since removed the notice.
"Our intention was to advocate not wasting food and for people to order in a healthy way," the Chuiyan Fried Beef outlet said in a Weibo post on Saturday.
To curb portrayals of food waste on social media platforms, popular Chinese video platforms such as Douyin and Kuaishou have stepped up content reviews of food-related live streams and implemented regulation of online eating shows. The moves came after they were criticised by state media for allowing broadcasters to portray food waste in certain online programs.
Now if users search certain keywords, such as "eating show" or "competitive eaters", a cautionary message pops up to remind them to cherish food and maintain a reasonable diet.
This article appeared in the South China Morning Post print edition as: Food delivery platforms join campaign to cut waste