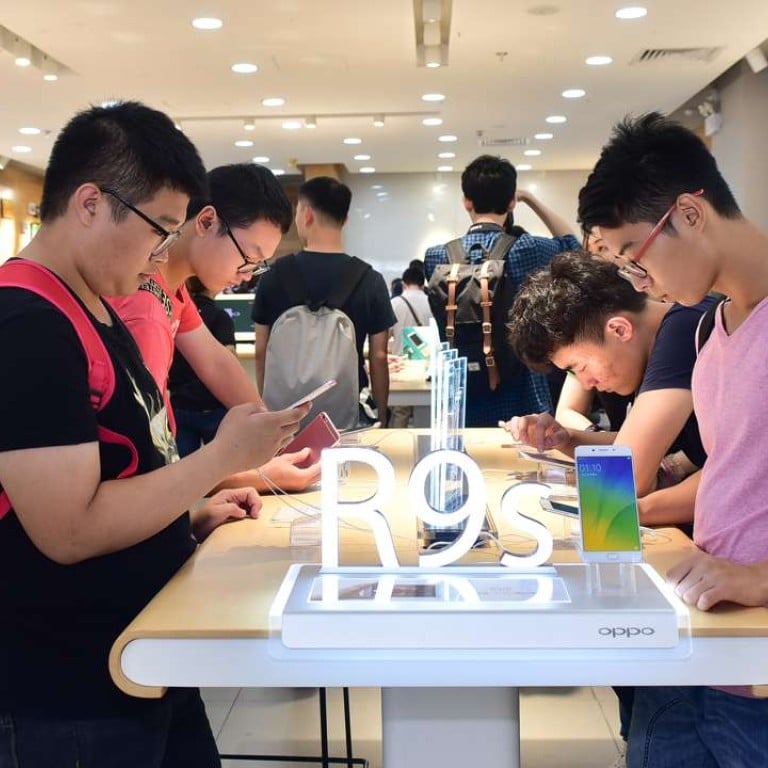 China's Oppo builds on smartphone success at home with Southeast Asia push
Chinese smartphone maker Oppo may currently dominate China's smartphone market with almost one-fifth market share, edging out previous leader Huawei, but the company is already looking to expand even more aggressively into markets such as Vietnam, Indonesia and India.
Four years ago, Oppo was competing with a sea of rivals, struggling against smartphone giants like Samsung and Apple to gain a slice of the Chinese market. In the third quarter of 2016, the company shipped more than 20 million devices in China, growing over 105 per cent compared to the previous year.
Just two years after entering the Southeast Asian market, data from market research firms IDC and GFK show that the Chinese smartphone brand has taken the No. 2 spot in both Indonesia and Vietnam.
"We're in more than 20 countries and regions, but we are focused on Southeast Asia," Oppo vice president Alen Wu told the Post in an interview. To market its brand overseas, Dongguan-headquartered Oppo has sponsored variety shows such as X Factor in Indonesia and even cricket tournaments in India, an emerging market for the company.
Across Southeast Asia, Oppo is playing up its offline-focused strategy. The company currently has about 300 retail points and experience stores that it manages directly, on top of many more third-party retailers that stock the popular phone brand.
Like its strategy in China, Oppo co-operates directly with retailers to provide both training and salespeople to help them sell smartphones. The salespeople help bring in business for the retailers, allowing shops to sell Oppo devices without much effort.
The company also has ambitious plans to expand its presence in the India market, where it works mostly with third-party retailers to sell smartphones to local consumers.
On Thursday, Oppo announced it would build a sprawling 405-hectare industrial park in the northern city of Great Noida, India. The facility will have an annual capacity of 100 million units, according to the company.
But Oppo's market domination in China today didn't come overnight, it was the culmination of years of groundwork, Wu said.
Unlike rivals like Xiaomi, which first shot to fame in China and later internationally for pioneering the online-only sales model and selling affordable, high-specification smartphones to consumers, Oppo chose to focus largely on its offline strategy and extensive network of offline retailers in China.
"We already had a relatively mature offline sales network in China because we used to produce DVD players," Wu said, adding that the company sells its smartphones at more than 200,000 retail points across China. Of those, 6,500 are Oppo's experience stores.
"If we come into contact with five customers every day at each store, that's a million people every day. It's a huge outlet for customers to interact with our Oppo brand," Wu added.
The company, founded in 2001 by Chen Mingyong, first found its roots in selling DVD players, audio speakers, and later the MP3 player industry. In 2006, it decided to expand into the growing mobile phone market, tapping its existing offline retail network to sell its first smartphone in 2011.
"For Oppo, we managed to control the quality of our devices, right from our very first product," Wu said. "Many retailers at the time felt that domestic phones were bad quality, they were resigned to that reality. But Oppo's products surprised them."
Today, Oppo is known among consumers for its fast-charging technology, Oppo VOOC Flash Charge, which can charge a phone battery to 75 per cent in just half an hour.
"It's important to find out the painful points for users," Wu said. "You have to capture their needs before you proceed, find out what needs have not been fulfilled."
For Oppo's target market of millennials, battery life turned out to be one of the biggest issues. But rather than waiting for a breakthrough in battery technology, Wu said the solution was to come up with innovative technology that works around it. To reduce charging time, Oppo increased the current on its proprietary VOOC charger.
Xiaohan Tay, IDC senior market analyst for client devices research, said Oppo's offline channel has proved to be an important strategy for the company.
"In the earlier years when vendors depended on operator subsidies to grow, Oppo was clear in its direction and focused on expanding its offline channels," said Tay.
"It also has key strengths such as its VOOC fast charging technology and in the elegant design of its phones. This, coupled with its aggressive marketing tactics, helped it succeed in the market."
Wu attributes the success Oppo has achieved today to cumulative efforts, and the laying of a solid foundation for steady growth over the years. Oppo employees often speak of "benfen" – Mandarin for "doing your part" – which comprises a large part of Oppo's corporate culture.
"At Oppo, we do what we must to constantly improve and refine operations. Only if your operations are done well can you achieve results," Wu said. In other words, focus on what needs to be done, and success will follow.
Oppo never placed its priority on sales, profit, or even ranking in the smartphone market, he said.
"If you chase these numbers, you may deviate from your original plans … you could lose track of what is beneficial for the business," he added. "For Oppo, we just focus on doing what's best for our customers."
The company's rapid ascent has edged out companies like Xiaomi, which was once the darling of the Chinese smartphone industry. In the third quarter, Xiaomi's market share had fallen to 8.7 per cent, a 42 per cent decline from the previous year, according to data from IDC Asia-Pacific. Apple also saw its market share shrink to 7.1 per cent from 11.4 per cent a year earlier as demand remains tepid for its iPhone 7.
This article appeared in the South China Morning Post print edition as: Oppo takes offline strategy further in Southeast Asia