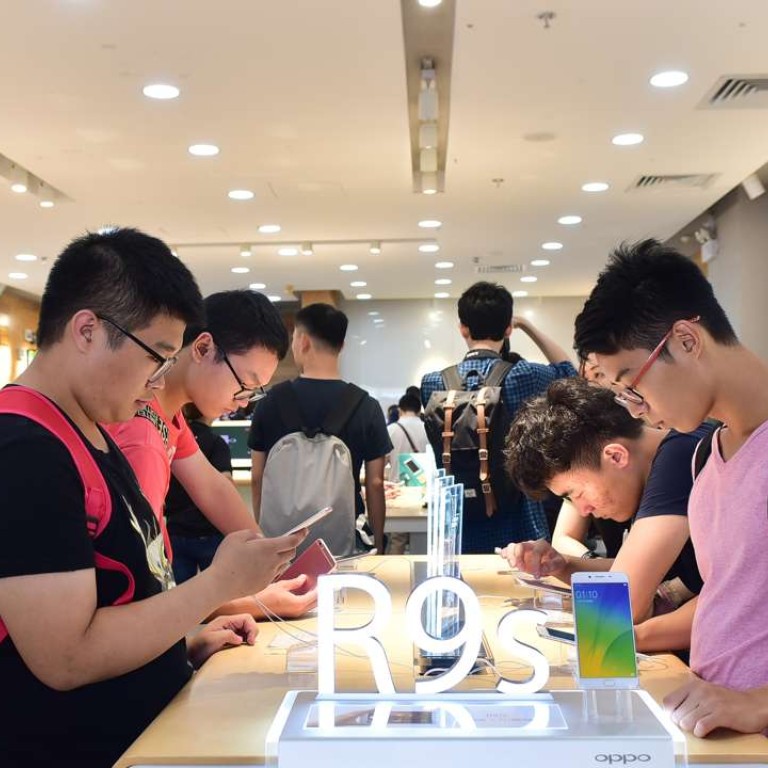 An Oppo experience store in Guangzhou. Photo: Handout
Oppo and Vivo are in, Samsung is out in 2017 in China
Oppo and Vivo seize top spots in the world's largest phone market while Samsung's exploding phones head for the bin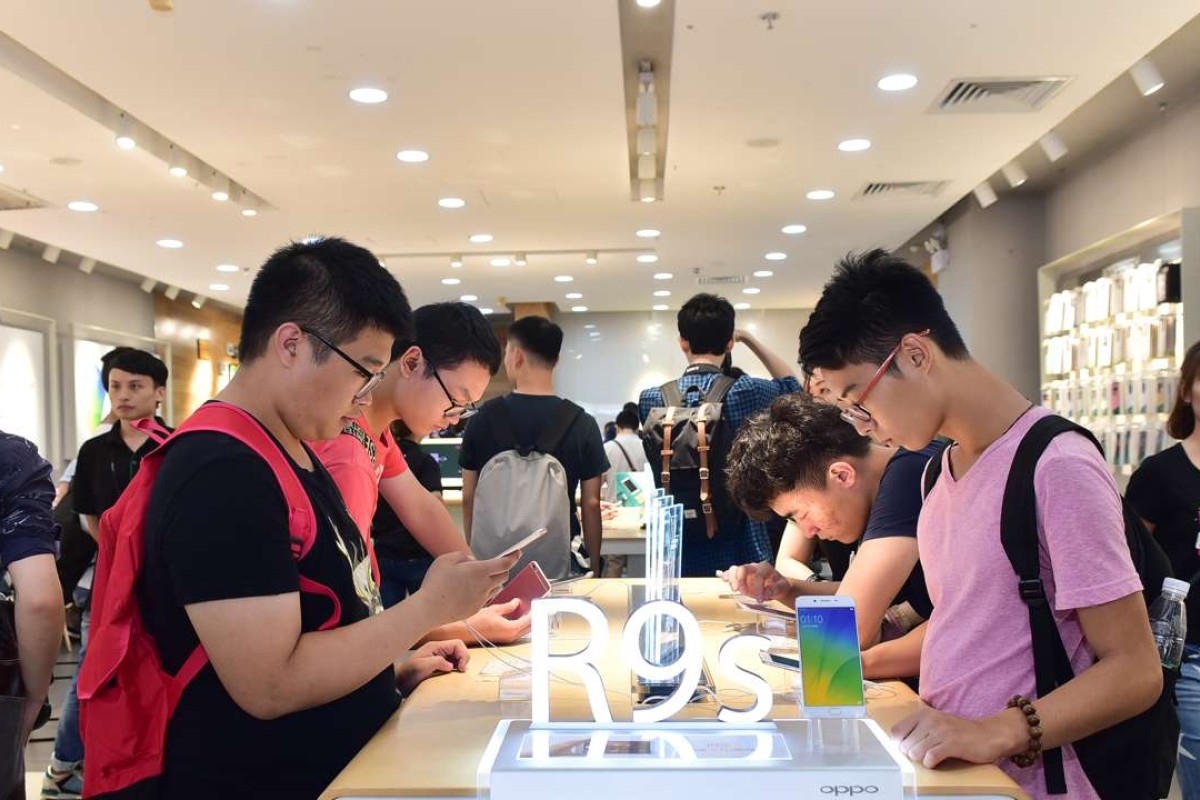 An Oppo experience store in Guangzhou. Photo: Handout
Every year, we applaud innovations in China's technology industry that have improved our lives, entertained us or inspired us. We also sing a hearty auld lang syne to the mediocre, the overtaken and the no longer-cool gadgets and apps before they're relegated to the dust bins of technological history.
As 2017 kicks off, it's time to look back and give due credit to some of the hottest tech products and internet services in the past year.

Smartphones
In China's smartphone war zone, local brands now rule supreme.
Oppo and Vivo, two little-known smartphone companies outside of China, have successfully pushed Apple and Samsung aside and emerged last year as the dominant brands in China.
The two Chinese brands, which weren't among the top-five two years ago, became the No 1 and No 2 brands for the first time in the third quarter, with Oppo capturing 17 per cent while Vivo seized 16 per cent of the market, thanks to their old-school strategies of selling via brick-and-mortar stores.
Following Oppo and Vivo, both owned by Guangzhou-based BBK Electronics, are Huawei and Xiaomi. Apple ranked the fifth with 8.4 per cent market share in the third quarter, according to Counterpoint Technology Market Research.
Compared with the fast-rising Chinese brands, Samsung Electronics probably hit a new low in 2016 with the recall of its Galaxy Note 7 smartphones. The Galaxy Note 7 was seen as Samsung's "Apple Killer" in the high-end smartphone market. After several battery explosions around the world its efforts were in vain. Samsung's recall of the flagship model will cost the South Korean company a reported US$2 billion. It ranked sixth in China's smartphone market with its shipment share dropping from 8.6 per cent in the first quarter to 6.8 per cent in the third quarter.
Smart Mobility
Years of competition, fuelled by burning venture capitalists' cash, ended in August 2016 when Uber Technologies bowed out of the world's most populous nation, swapping its local operation to the country's dominant ride-sharing company Didi Chuxing.
The price war, which burnt billions of dollars through discounted rides and subsidies, has created an entire generation of commuters who now take cheap rides for granted, and who swipe to hail rides; smartphone-enabled public transportation has been hardwired into the Chinese psyche.
It didn't take long before entrepreneurs began tinkering with Uber-for-Buses and Uber-for-Bicycle business models. By the end of 2016, as many as 17 startups have sprouted, offering ride-sharing services on two-wheel vehicles.
Beijing-based Ofo and Mobike are the upstart successes, attracting round after round of funding. Their business models are similar to Uber and Didi Chuxing -- burn investors' cash to grab market share. Whether they will follow the path of their larger forebears to an eventual merger -- and virtual monopoly -- is anybody's guess.
Live streaming
Meerkat is so 2015. The star application that kicked start the global craze for live streaming is officially dead. Faced with competition with Facebook and Twitter, which fully embraced live video broadcasting on their social network platforms -- and have billions of development and marketing dollars to use -- Meerkat's founders withdrew it from app stores in October.
Ben Rubin, chief executive and co-founder of Meerket's developer Life On Air said "the category of broadcast (one-to-many) wasn't breaking as a daily habit, it's too far away from everyday users."
Chinese startups are proving him wrong, very wrong.
Yizhibo (易直播), a live streaming arm of Yixia.com, quickly established itself as the hottest app and platform, luring millions of Chinese millenials who crave real-time entertainment in the tradition of reality show television.
As many as 116 live-streaming apps have started since the beginning of 2016, dozens of them reprimanded or shut down for pandering pornography. Still, venture capitalists are pouring billions into the industry to identify the Next Big Thing among them. Yizhibo raised a record US$500 million in November, valuing the company at ­US$3 billion.
As Chinese censors and regulators wake up to the trend, they are tightening rules and their grip on the content of live streaming apps. A consolidation of the industry is inevitable, with the small and the weak being shut down, or pushed out. The biggest platforms equipped with licences, such as Yizhibo and Inke, are expected to gain market share amid a market consolidation.
Drones
Love them or fear them, recreational civilian drones are flying into everyday life, making them the hottest category of consumer gadgets of 2016.
Among the heat, there's no stronger player than Shenzhen-based Dajiang Innovation Technology, known simply as DJI. The company, founded by Hong Kong graduate Frank Wang, has grabbed 70 per cent of the worldwide market share for recreational drones, beating such companies as GoPro.
DJI is privately held, and valued at US$8 billion, pushing Wang, 35, into the Forbes Billionaires List for the first time last year.
A growing number of companies, ranging from the US action camera maker GoPro to China's local firms EHang, want to ride the drone wave and take a slice of DJI's market share.
Among the challengers is smartphone maker Xiaomi. Its MiDrone exploded during a launch event in May. Priced at 2,999 yuan (HK$3,345), MiDrone's 4K-camera unit competes at the entry level, compared with DJI's drones that sell for double the price.
Health and fitness app
Out: Quanchengrelian , Chinese version of ClassPass
As more Chinese consumers look to improve their physiques and aspire to healthier lifestyles, app developers are stepping up efforts to roll out all kinds of smartphone-enabled products and services to help people keep fit.
Keep, a hot fitness app, has gained more than 30 million users in the mainland and secured US$32 million of funding in May. It gives busy office workers short exercise videos. Following the coaches' moves online, Keep users can pick up training sessions and start workouts whenever and wherever they want. Exercising in gyms is out.
Quanchengrelian (全城热炼), the fitness app darling of 2015, went bankrupt in the middle of 2016, as hundreds of gyms in major cities boycotted its operation. Just like ClassPass in the United States, Quanchengrelan lets users flexibly work out in the nearest gyms without signing up for annual memberships, a model that depends on collaboration with gyms.
This article appeared in the South China Morning Post print edition as: Hits and misses