Wellness
Get more with myNEWS
A personalised news feed of stories that matter to you
Learn more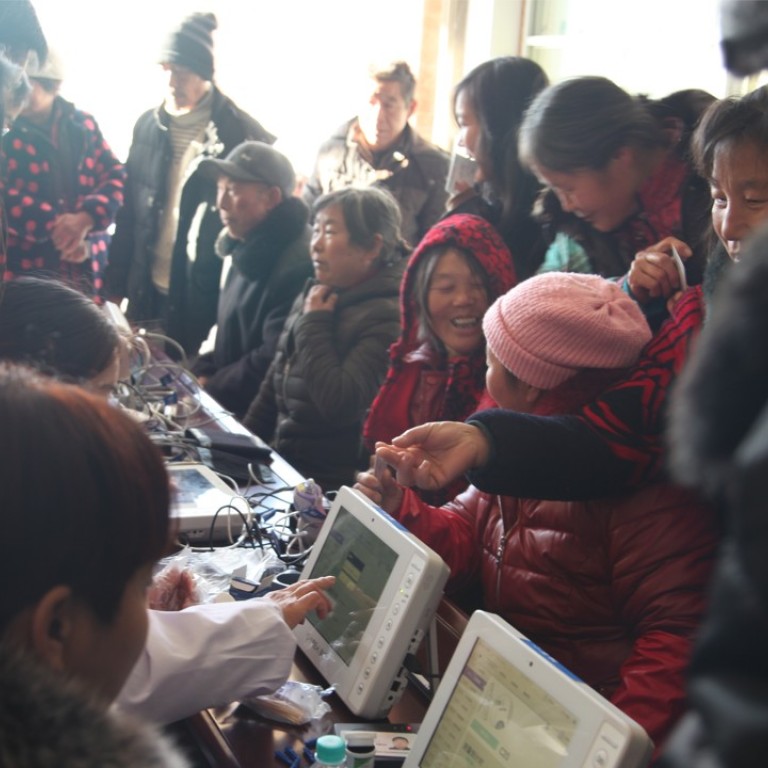 A look at how China is using technology to improve rural access to quality health care
Internet technology is helping reduce the need for rural residents to travel long distances to big cities to have their routine tests done 
For Sui Xiuchen, suffering from chronic illnesses is both expensive and time-consuming, as it would take the 66-year-old an entire day to visit the nearest county hospital from his home in Liuwa village, Henan province, to undergo medical tests.
Diagnosed with coronary heart disease along with diabetes and hypertension, Sui was amazed to find out in January that he can have his electrocardiographs and blood tests done at the clinic in his own village, a rural backwater more than 110 kilometres (68 miles) away from the capital city of Henan, and have them reviewed by doctors at big-city hospitals.
"Before, I had to spend the whole day on the commute and queuing, sometimes even staying overnight if I couldn't make it back," Sui said. "The bus fare alone costs dozens of yuan. Now, there's no need for the trip. I can video-chat with outside experts on questions that our local village doctor can't answer."
Health care in China's rural areas is benefiting from the technology boom in the world's most populous country. Liuwa is among 349 villages in Henan province that have received mobile all-in-one diagnostic stations since the start of the year. These devices can run 11 tests, from measuring blood pressure and electrical activity of the heart, to the more routine urine and blood analysis. The results are uploaded automatically to a data system for further online consultation.  
Weighing 5 kilograms (11 pounds), the device designed by internet health care start-up WeDoctor is portable. The rural health care programme is part of cooperation between the Tencent-backed company and government authorities.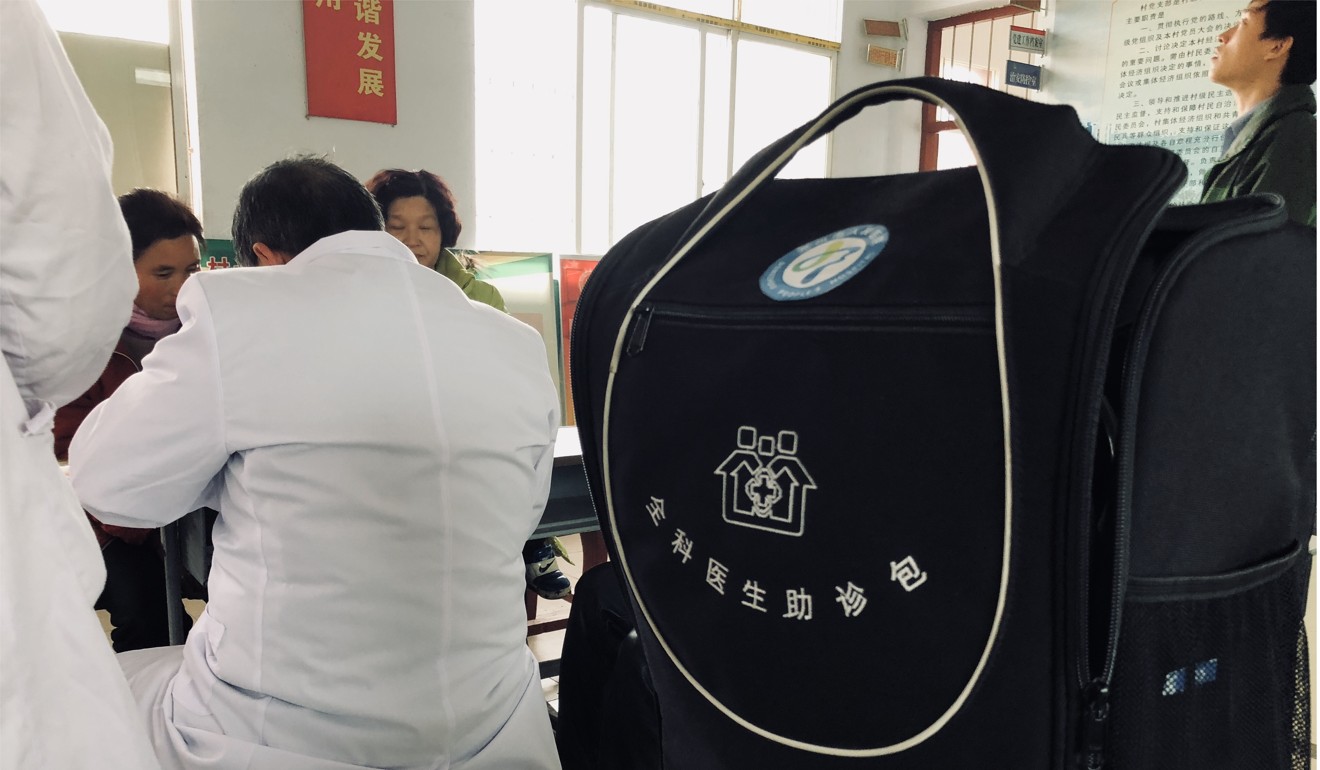 Technology companies worldwide are tackling health care, using cloud computing to connect hospital databases and algorithm-driven analysis of records like X-rays and retina scans to compare and spot patterns to aid diagnosis. 
In the US, Amazon joined with J.P. Morgan and Warren Buffett's Berkshire Hathaway to create an independent health company for their employees in a bid to lower health care costs. Apple is pursuing something similar with plans to start its own medical practice for its staff.
China's problem lies in the uneven distribution of its health care resources, with the best doctors and hospitals concentrated in its biggest cities. These "triple-A" hospitals account for 7.7 per cent of the total number of medical centres, but handled half of the nation's outpatient visits in 2016, according to industry estimates. 
Internet health care start-ups like WeDoctor and Ping An Healthcare and Technology, also known as Good Doctor, have sprouted over the past few years with an eye to tapping the under-served and ageing population in remote parts of China. 
At stake is a market expected to grow from 10.9 billion yuan (US$1.7 billion) in 2016 to 198 billion yuan in 10 years, according to a forecast by Frost and Sullivan. In total, the country will see health care expenditure more than double to 11.4 trillion yuan in 2026, the research and consulting firm predicts.
Ease of use and data connectivity are two important features when designing such health care gadgets for rural regions, according to Fiona Yeh, a spokeswoman for WeDoctor.
"You often see complicated equipment donated to villages gather dust because of their complexity to use," she said. WeDoctor trains village doctors on how to use the equipment, which automatically uploads medical records after generating its diagnosis to a data system for doctors to review and reference. 
Good Doctor, an offshoot of financial conglomerate Ping An Insurance Group, is also racing to build smart clinics in rural regions that are equipped with remote consultation services. The diagnostic systems are powered by artificial intelligence and the company holds online training for doctors in the rural areas, the company said in January. 
"Village doctors will be fully empowered with the support of Good Doctor," Sheng Ruisheng, secretary of the board of the Ping An Group, said in a statement. "Internet health care technologies and services will be truly adopted to the development of rural health industry, and become a strong hand to change the living condition of hundreds of millions of rural residents."
General practitioner Sui Xuede has been treating villagers in Henan since 1980. Until recently, his only equipment on his patient visits was a stethoscope and some basic medicine. "Doctors in big cities are mainly better because they have advanced facilities," said the 62-year-old. "But for some diseases we can make the call, it doesn't mean they can as well."
The lack of sophisticated medical equipment is the biggest factor behind the lower standard of health care in rural areas, where about 1.4 million village doctors practice, according to Sui.
Other tech giants are also investing in AI-driven medical diagnostics research. 
In October, Alibaba Group, owner of the South China Morning Post, partnered with affiliate hospitals of Zhejiang University to launch its first AI medical lab to assist clinical decisions. Tencent launched its smart scan-reading platform in August. Both initiatives focus on diagnosing cancer at an early stage. Baidu, which is investing heavily into artificial intelligence, introduced an AI-powered chatbot that can communicate with patients and provide diagnosis advice to doctors.
"Smart devices and AI technologies can help prevent diseases, empower early treatment, and thus reduce the country's dependence on triple-A hospitals in bigger cities," said Yan Weiwu, associate professor of automation at Shanghai Jiao Tong University.
The advancement in technology also brings down the costs of medical training while developing cheaper methods of diagnosis that can be replicated on a large scale, he said. Patients, however, need to be able to trust AI and understand what the results mean.
For villager Sui, the transition has been smooth. 
"I still talk to the same faces, receiving tests given by our village doctor and video-chat with the same doctors I used to visit at the county hospital," he said. "I am just happy I can get back to my farming after that."
This article appeared in the South China Morning Post print edition as: Hi-tech health solutions are just what the doctor ordered for villagers