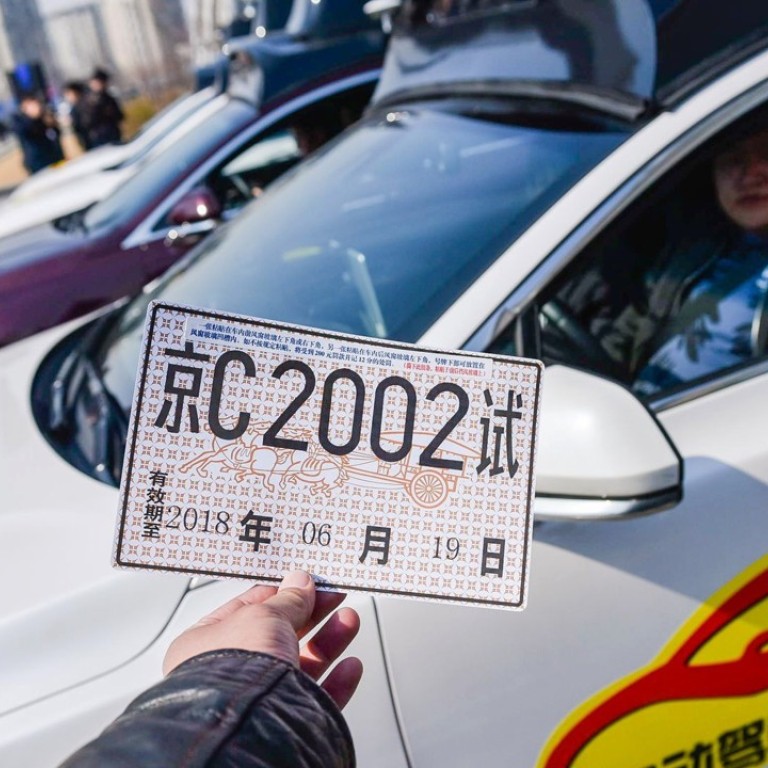 Update
China to green light more self-driving car tests amid US caution after Uber fatality
China's Ministry of Industry and Information Technology (MIIT) has released national guidelines for smart internet connected cars, giving local authorities a freer hand to arrange road tests for autonomous vehicles.
Provincial and municipal governments can evaluate local conditions to choose test areas for autonomous cars, issue licence plates and need only brief the MIIT, Ministry of Public security and Transportation Ministry twice a year on the road tests, according to the guidelines, which are effective May 1.
"Developing smart internet connected cars has great significance to China," Xin Guobin, vice minister of MIIT, said at a briefing on Thursday. "The US, Europe, and Japan have all made smart cars an important focus."
Autonomous driving is one of the areas where China and the US are competing for leadership, part of a broader contest for supremacy in the next generation of technologies that are revolutionising the way people work, live and play. Self-driving cars are increasingly seen as the holy grail of applied technology because they must be proven safe in unpredictable real-world conditions. A fatal accident involving an Uber Technologies autonomous car in Arizona in March triggered the temporary suspension of such tests by several US operators.
The launch of the Chinese guidelines are timely as regulations have been issued around the world to propel the development of autonomous cars to the next level, said Xin.
"Local authorities can arrange road tests based on their specific conditions and coordinate all parties more conveniently," said Xin. "Enhancing transportation safety and substantially bringing down accidents should be the priority for smart cars. Safety is not only a premise but also a bottom line."
MIIT said foreign companies can apply for road tests in China provided they put safety first and are willing to assume full responsibility for any accidents.
"There is equal treatment, regardless of whether they are foreign autonomous driving companies or Sino-foreign joint ventures," said Chen Yin, chief engineer of MIIT.
The new regulatory moves come four months after Beijing became the country's first city to green light open road test for autonomous cars. In March, Shanghai issued licenses for self-driving cars from two companies – electric car start-up NIO and state-owned giant SAIC Motor.
"The road tests have gone well so far," Huang Ou, deputy director of Shanghai Municipal Commission of Economy and Informatisation, said on the sidelines of the briefing. "By issuing plates to specific vehicles, we can keep a close eye and avoid tragic accident like the one that happened to Uber."
Tao Ji, technical director of autonomous driving at Baidu, said the guidelines provide a legal basis for local authorities to conduct road tests. "It will help the technology develop in a more standardised and collaborative environment."
Baidu, named by the Chinese government to spearhead the country's development of self-driving cars, was the only company that received the first batch of licence plates to conduct the trial in Beijing. The company has also been given the green light for open road tests in Fujian province, where Chinese bus maker King Long United Automotive Industry is based, according to Tao. The two have teamed up in manufacturing the country's first fully autonomous bus model.
The easing of road test rules also comes as autonomous driving start-ups Pony.ai and JingChi moved their global headquarters to Guangzhou from Silicon Valley last year. Both companies conducted test drives in February, with plans to roll out robotaxi services later in the year, enabling users to hail an autonomous ride via a booking app.
This article appeared in the South China Morning Post print edition as: Guidelines issued for testing smart cars