ZTE
Get more with myNEWS
A personalised news feed of stories that matter to you
Learn more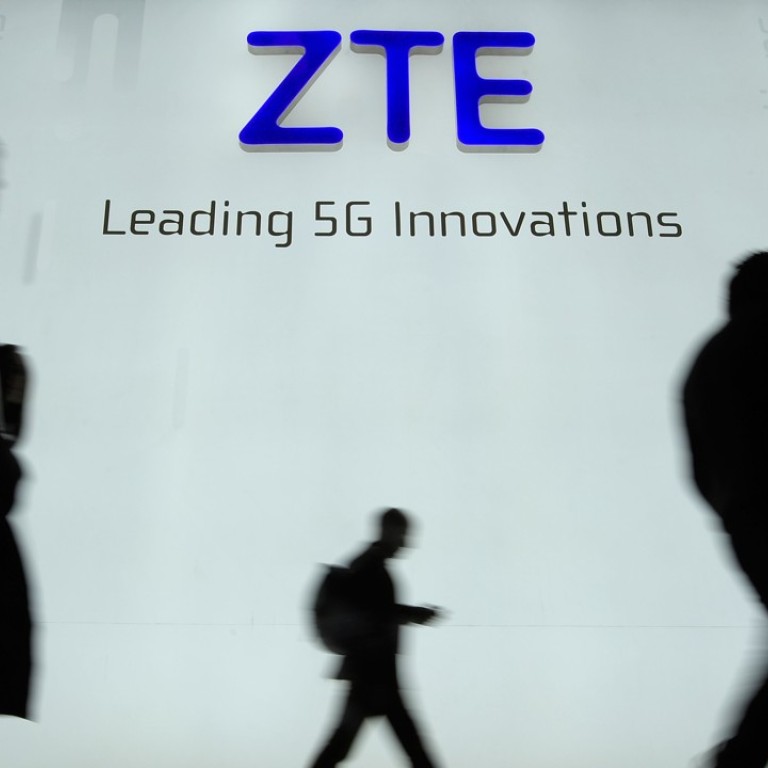 Export ban has put ZTE 'in a state of shock' as China warns US against irresponsibility
If no settlement is reached with the US, the seven-year export ban would not only put ZTE, China's largest listed telecommunications equipment maker, out of business, but deal a major blow to the country's hi-tech ambitions
China's foreign ministry on Friday warned the United States government about turning the tide in Sino-US relations as an export ban threatens to put ZTE Corp, the country's largest listed telecommunications equipment maker, out of business.
Relations between the two countries, which has become tense because of a potential trade war, are now at a crossroads, the ministry said.
"We hope the US doesn't go against the flow," ministry spokeswoman Hua Chunying said. "If the US policy is based on all kinds of possible nonsense, it is extremely irresponsible and extremely dangerous."
That ban has not only become the latest flashpoint between the world's two largest economies, it also exposed the soft underbelly of China's hi-tech ambitions: a dependence on advanced US technology, especially semiconductors. 
The US action against Hong Kong-listed ZTE has given fresh urgency to the Chinese government's efforts to expand the domestic semiconductor industry, which would help the country's hi-tech companies become less reliant on foreign-developed chips.
China's goal of gaining an edge in every strategic hi-tech field, from artificial intelligence and robotics to 5G mobile systems, depends on how quickly and broadly it can develop the domestic supply chain for semiconductors on par with the US.
Over the past two decades, China has tried everything to catch up to the US in chip development, including forced intellectual property transfer via joint ventures and overseas acquisitions.
In response to the US sales ban against ZTE, senior Chinese officials have met this week with industry bodies, regulators and the country's powerful National Integrated Circuit Investment Fund about speeding up already aggressive plans for the sector, according to Reuters, citing two people with direct knowledge of the talks. 
"President Xi Jinping had anticipated this situation some time ago. That is why China sharpened its technology focus in its 13th five-year plan from 2016 to 2020," Jefferies equity analyst Edison Lee said.
"China has been trying to innovate and reduce across the board its reliance on foreign technology to make its industries less vulnerable to any threat, which is what is happening now."
The US government banned sales by American hi-tech companies to ZTE because it failed to discipline 35 employees involved in the illegal sale of telecommunications equipment to Iran, paid them full bonuses and lied about it to US authorities.
Reprimanding those employees was part of the terms of ZTE's settlement with the US government last March. ZTE had agreed to pay US$1.2 billion in penalties to the US government to settle its violation of long-standing trade sanctions on Iran and North Korea. 
ZTE said the US Department of Commerce had ignored how the company had reported the breaches and hired an authoritative US law firm to conduct an independent investigation. The US regulator had also ignored ZTE's investment in resources, including more than US$50 million last year, to learn and comply with US export control laws and regulations, after pleading guilty in 2016 to violating US sanctions, according to the company's statement on Friday. 
Under the export ban, ZTE will no be able to receive goods from US chip suppliers Qualcomm, Intel and Micron Technology, optical components suppliers Maynard, Acacia, Oclaro and Lumentum, as well as software suppliers Microsoft and Oracle.
At a news conference on Friday, 
ZTE chairman Yin Yimin
said the US export ban has put the company "in a state of shock" as it would damage the interests of the firms' employees and shareholders, as well as telecommunications network operators and smartphone users around the world.
Without the US-made chips and other components that it needs, ZTE would be hard-pressed to meet its network equipment and smartphone orders around the world, as well as advance its telecommunications research and development efforts.
"There is no quick way for China to develop its semiconductor industry. It will take time," Jefferies' Lee said. 
Still, interest by Chinese companies in semiconductor-related investments at home and abroad has intensified since 2015 after Beijing introduced a national policy in June 2014 to inject vast amounts of capital to build an advanced semiconductor manufacturing supply chain. The policy's target is for the industry to record a 20 per cent compound annual growth rate by 2020.
Alibaba Group Holding, the parent of South China Morning Post, this week took over chip design firm Hangzhou C-Sky Microsystems, marking the e-commerce giant's first acquisition in the sector after previously making investments in several chip companies. Alibaba's investments follow its expansion initiatives in artificial intelligence, cloud computing and the Internet of Things. 
Hua, the foreign ministry spokeswoman, said the hope is for the US and China to "maintain a positive and cooperative attitude" that would help "turn challenges into opportunities and bring tangible benefits to the people of the two countries". 
Lee, the Jefferies analyst, said, "The most likely tangible gain that could be mutually acceptable to both the US and China in resolving trade tensions is a reduction in the Chinese government's direct subsidies to the tech industry."
Additional reporting by Yingzhi Yang 
This article appeared in the South China Morning Post print edition as: ties now at crossroads, china tells u.s. over zte