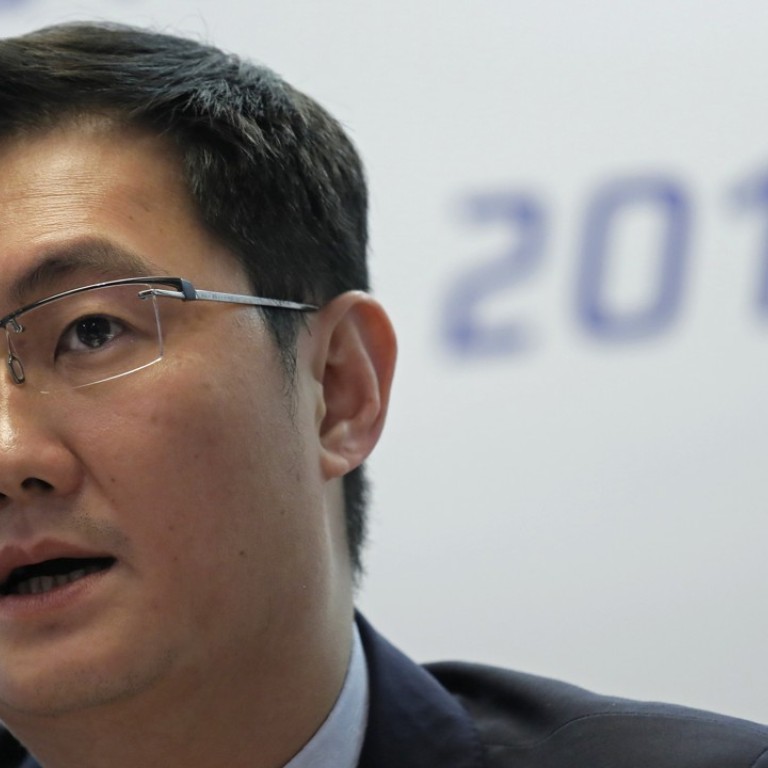 One of Asia's most valuable tech firms wants to help China make chips after ZTE's wake-up call
Tencent Holdings, one of Asia's biggest companies by market capitalisation, has thrown its considerable technological and financial heft into the ring to help China develop an indigenous computer chip
Pony Ma Huateng, chairman and chief executive of Tencent, said China's internet giant would consider investing into the research and development of computer chips, as the country must focus on research of core technologies.
Ma said that the recent US ban on American firms selling chips to Chinese telecommunications equipment maker ZTE should be a "wake-up call" and that Tencent would likely work with partners along the supply chain or other investors, admitting that the company's expertise may not be enough on its own.
"Tencent used to think that the supply chain was too far removed from our software services, but after our increased involvement in businesses such as data centres we can see that our demands are driving chip designers to meet the needs of our applications and services," said Ma, speaking at the Future Forum in Shenzhen on Saturday. "But it would definitely be better for us to invest, or be involved in investments, into the R&D of chips."
The issue of chip technology is currently in the spotlight after the US Department of Commerce in April banned the export of American technology components and operating systems to ZTE, one of China's biggest makers of telecommunications hardware and smartphones, for breaching the settlement terms in a violation of Iran and North Korea trade sanctions. In his most recent Tweets on the subject, US President Donald Trump said that he will "let [ZTE] reopen" provided the Chinese telecoms company pays a fine, and consents to staffing changes and other restrictions.
The ZTE incident meanwhile has touched off a round of soul-searching in China over the control of strategic technology. China's technological edge is in e-commerce, the internet, mobile payment systems and big data, while areas like chip design and fabrication, and the development of operating systems appear to be key weaknesses.
This is not the first time that a Chinese technology leader has spoken out about the need for greater expertise and self-reliance in the chip industry. Jack Ma, founder and executive chairman of Alibaba Group Holdings, said last month he was motivated by a desire to make chips "inclusive" – cheap, efficient and available to all. He said his company had invested in five semiconductor firms in the past four years.
"It is the compelling obligation for big companies to compete in core technology," Ma said during the first Digital China Summit in Fuzhou last month. "A real company is not determined by its market value or market share, but how much responsibility it takes and whether it has mastered core and key technologies."

Meanwhile, Chinese President Xi Jinping said during a national conference on network security and information last month that core technology is an important tool for the nation. "We must keep persevering, focus on the key points, and accelerate core technology breakthrough in the information field," Xi said.

China has to make up lost ground though. "When we look into the fundamental research of these chip technologies, China still has a very weak base," said Pony Ma in Shenzhen. "However advanced smartphone applications are, without chips or an operating system, they're merely shaky houses built on sand that can collapse with a push."
Although the US and China are reported to have agreed the broad outlines of a settlement over ZTE, the issue has become inextricably linked with wider trade and security tensions between the two powers. ZTE has estimated losses of at least 20 billion yuan (US$3.1 billion) from the US technology ban, according to a Bloomberg news report citing people familiar with the matter. Meanwhile many US lawmakers remain opposed to a ZTE deal for national security reasons.
Tencent's Ma admitted that plans for more China-made chips were forward-looking and would be hard to accomplish, but a plan is essential if the domestic industry wants to avoid others always having a "grip on its throat".
Alibaba is the parent company of the South China Morning Post.
This article appeared in the South China Morning Post print edition as: Tencent may invest in R&D after 'wake-up call'