Huawei
Get more with myNEWS
A personalised news feed of stories that matter to you
Learn more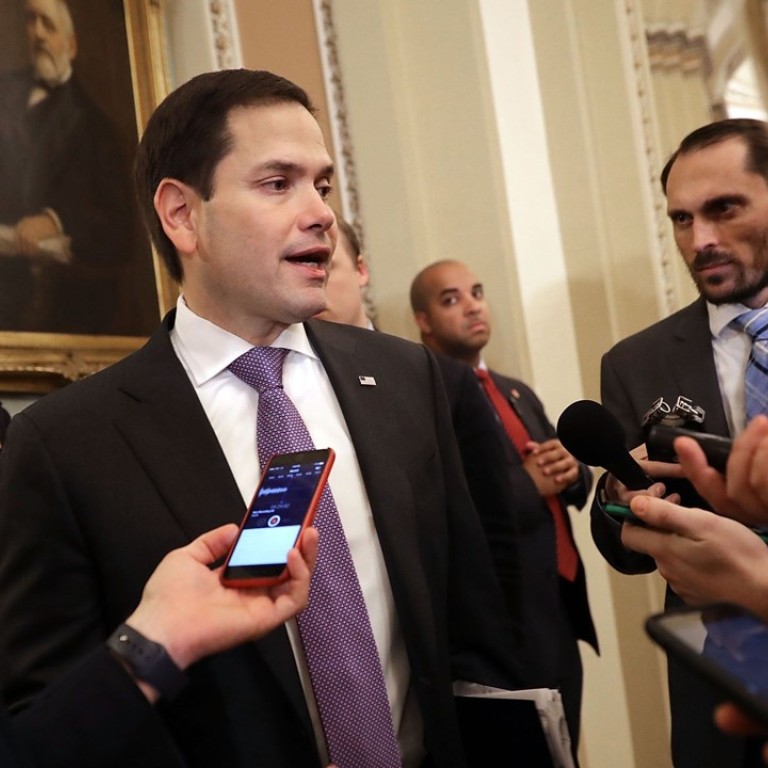 Huawei chairman slams US lawmaker calls for its US education partnerships to be investigated
Focus on Huawei's US research ties comes at a time of heightened tensions between China and the US over the control and development of new technologies
The rotating chairman of Huawei Technologies, China's largest telecoms equipment and smartphone maker, has slammed US Senator Marco Rubio and other US lawmakers for their campaign to have the company's research partnerships and relationships with US universities investigated on national security grounds, calling them "ignorant".
"It seems to me their bodies are in the information age but their minds are still in the agrarian age," Eric Xu, Huawei's rotating chairman, said in an interview with Light Reading, a US-based digital media and telecoms industry analysis platform, on Wednesday.
A bipartisan group of 26 lawmakers, including Florida Senator Rubio, wrote to US Education Secretary Betsy DeVos last week to highlight the national security implications of Huawei's research partnerships and other relationships with several dozen American colleges and universities in areas of technology that the Chinese government is trying to dominate.
"Their behaviour shows not just their ignorance of science and innovation but also their own lack of confidence," Xu said, adding that Rubio and fellow Republican representative Jim Banks were "closed-minded and ill-informed".
Huawei confirmed the content of Light Reading's report but declined to comment further on the interview.
The focus on Huawei's research ties in the US comes at a time of heightened tensions between China and the US over the control and development of new technologies and the implications for national security. President Trump said on Wednesday he will use a strengthened national security review process to thwart Chinese acquisitions of sensitive American technologies, a softer approach than imposing China-specific investment restrictions.
The US lawmakers want DeVos to investigate the Huawei Innovation Research Program and other programmes through which the Chinese companies partners with institutes of higher education across the US. The lawmakers told DeVos that she should convene a task force to investigate these partnerships and be briefed on Huawei by top intelligence and law enforcement officials.
The US intelligence community has warned for years of Huawei's links to the Chinese government and the People's Liberation Army.
"We believe these partnerships may pose a significant threat to national security and this threat demands your attention and oversight," states the letter, which was organised by Florida Senator Marco Rubio and Indiana Representative Jim Banks, both Republicans.
The US lawmakers have also asked Alphabet Inc's Google to reconsider its cooperation and ties with Huawei, describing the Chinese firm as a security threat. Google recently decided not to renew "Project Maven," an artificial intelligence research partnership with the US Department of Defense.
"While we regret that Google did not want to continue a long and fruitful tradition of collaboration between the military and technology companies, we are even more disappointed that Google apparently is more willing to support the Chinese Communist Party than the US military," they wrote.
Amid an escalating trade dispute between the US and China, Beijing has attempted to play down "Made in China 2025". According to an earlier South China Morning Post report, Beijing has ordered state media to minimise their coverage of the industrial modernisation programme as US President Donald Trump has made the policy plan a focus in his trade battle with China.
Core technology is an important tool for the nation, Chinese President Xi Jinping said in April during a national conference on network security and information, following the imposition of an export ban on ZTE Corp by the US government. "We must keep persevering, focus on the key points, and accelerate core technology breakthroughs in the information field," Xi said.
The Huawei Innovation Research Program (HIRP) provides funding opportunities to leading universities and research institutes conducting innovative research in communication technology, computer science, engineering, and related fields, according to the official website. It has over 1,000 collaboration partners all over the world, with institutes such as the University of Cambridge, National University of Singapore and China's prestigious Tsinghua University and Peking University.
Xu insists that Huawei's joint research projects with US colleges and universities are focused on basic science, and not on commercial products ready for deployment, adding that it often takes decades or even hundreds of years of effort in research and development to translate science and theories into something that is available in the market.
American universities have welcomed Huawei's collaboration with academic researchers and Huawei has not enjoyed exclusive access to the research results, said Xu.
Xu also delivered a keynote speech at the Mobile World Congress (MWC) industry event in Shanghai on Wednesday, saying Huawei will continue to recommend innovative technologies to other industry players, and will never squeeze other companies or society as a whole.
"We aim to build a robust 5G ecosystem through fair and open collaboration," said Xu. "Huawei will launch a 5G-ready Kirin chip in 2019, and a 5G smartphone in June 2019," he added, referring to the roll-out of fifth generation wireless network technology that is expected to offer faster, more reliable connections for users and enable "Internet of Things" applications.
This article appeared in the South China Morning Post print edition as: Huawei hits back over probe call on US research pacts