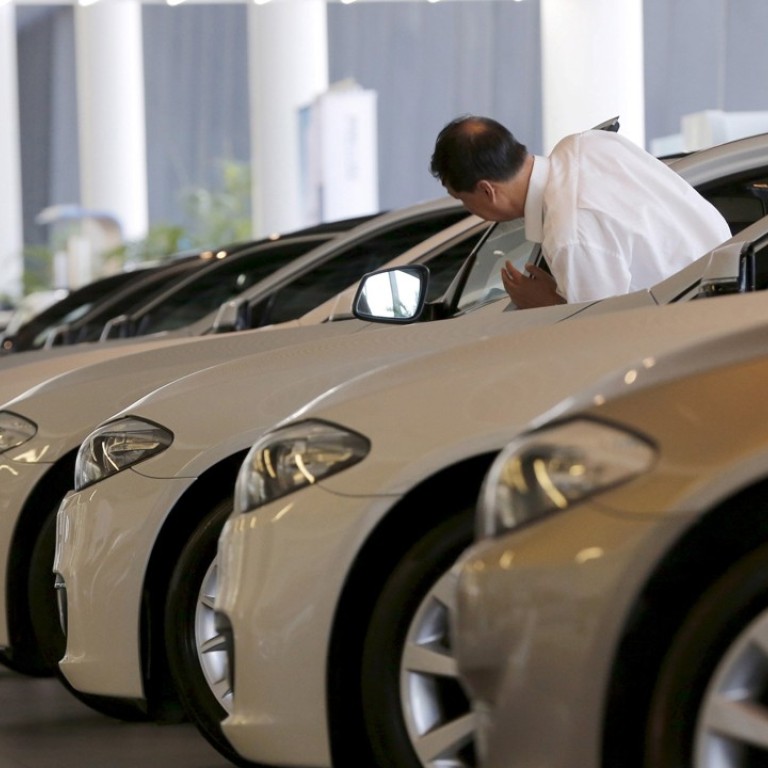 China's largest online used-car dealer Uxin sees smaller cities driving demand
E-commerce has the advantage over physical dealerships of being able to match buyer and seller over long distances, according to Uxin chairman and CEO Dai Kun
Uxin Limited, China's largest e-commerce platform for trading used cars, expects second-hand vehicles to flow from bigger to smaller cities, driven by demand from "young and internet savvy" consumers looking for value-for-money purchases.
"China's used car market is extremely under penetrated and nascent," Dai Kun, chairman and chief executive of the company, said in emailed comments before its trading debut on the Nasdaq on Wednesday. "It is a big market with huge potential."
The Beijing-based company, which accounts for about 40 per cent of online used-car sales in China according to iResearch, closed 7.4 per cent higher at US$9.67 on the first trading day. The benchmark Standard & Poor's 500 Index slid 0.9 per cent.
A total of 12.4 million used cars were bought and sold in China in 2017, an increase of 19.3 per cent from the year earlier. Even so, that is about half the number of new cars sold. In the US, consumers bought 2.4 used cars for every new car purchased. Second-hand car sales in China will grow to 29.6 million by 2022, according to iResearch's estimates.
China is home to the world's biggest market for new cars but has a less-developed market for used cars because most consumers are still first-time buyers and prefer to own new vehicles fresh off the production line. Developing a vibrant used-car market with transparent pricing is crucial for helping car manufacturers differentiate their wares. A high-quality car should hold its value better than a poorly-made model.
E-commerce has the advantage over physical dealerships of being able to match buyer and seller over long distances, according to Dai. "The buyers tend to be from second, third and fourth tier cities, most of whom are fairly young and internet savvy, and are looking for good value," he said. "The sellers usually are in tier one cities … who belong to a slightly older and more affluent demographic."
Founded in 2011, Uxin said it has able to offer standardised car checks and warrant and delivery services so that buyers can choose from available second-hand cars across the nation, instead of the collection at local physical dealers. The company also determines the residual value of the vehicles and individual creditworthiness using big data and artificial intelligence.
"What surprised the audience [at the roadshow] most was learning about our technology and end-to-end solution we offer, since there's not really an exact comparable for what we do in the US or China," said the 36-year-old CEO.
Second-hand car sales have picked up in China over the past few years thanks to a booming economy and supportive policies, such as the easing of rules on car financing that have made it easier to own a car. More than 210 million people in China owned cars as of the end of 2017.
The surge in used-car sales has created intense rivalry. Uxin hired Hollywood star Leonardo DiCaprio earlier this year to endorse its brand, while top rivals Renrenche and Guazi used local actors Huang Bo and Sun Honglei, respectively. Renrenche has also sued Guazi on the grounds of unfair competition.
Overseas investors also focused on the competitive landscape during the roadshow, said Dai. He expected branding campaigns to stay as the industry educates buyers on how to buy used cars online.
Uxin reported a widened net loss from 1.4 billion yuan in 2016 to 2.7 billion yuan last year, according to its prospectus.
"[Now], about 44 per cent of Chinese consumers have said they are willing to purchase used cars online," Dai said. In more mature car markets such as the US, consumers still prefer dealerships.
This article appeared in the South China Morning Post print edition as: uxin tips small cities to drive sales