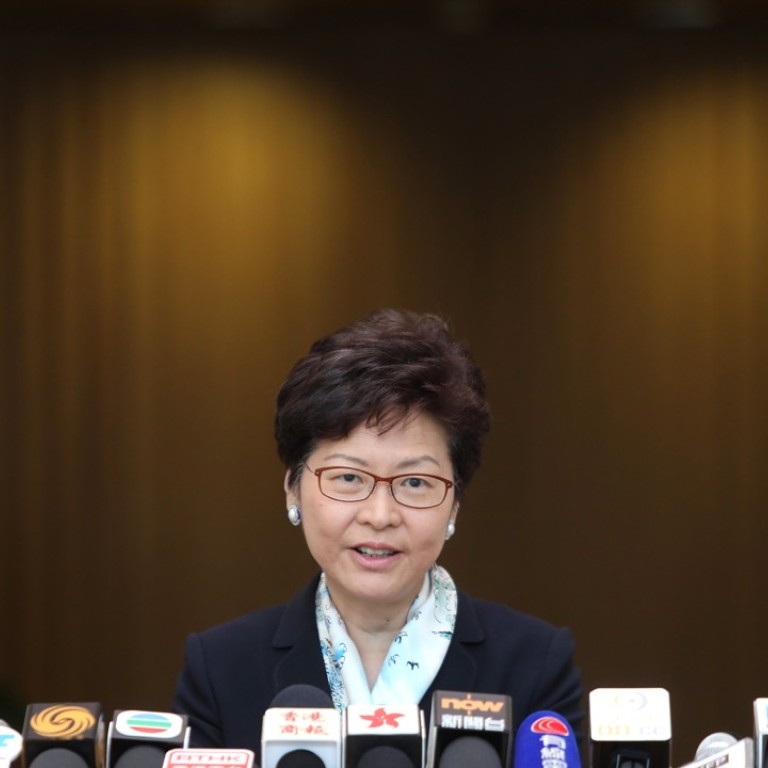 Carrie Lam promises more support for new economy and tech after Hong Kong learns from missed chances
City hopes to bring more tech companies to its capital markets and nurture top talent
Hong Kong is stepping up efforts to support the new economy and tech companies after missing out on opportunities such as the listing of Alibaba Group and the development of leading Chinese drone maker DJI, chief executive Carrie Lam Cheng Yuet-ngor said on Tuesday in an on-stage interview at the RISE conference in Hong Kong.
"We learned the lesson when we lost the Hong Kong listing of Alibaba in 2014 to the New York Stock Exchange, as back then our listing rules didn't allow dual class shareholdings," said Lam, referring to the market debut of Chinese smartphone maker Xiaomi, which this week became the first dual-class stock listed on the Hong Kong bourse.
The government's new listing rules, which took effect in April, accept formal applications under a system that permits dual-class shares – a structure seen as favourable to technology companies and their founders. "We are making listing rules more in step with the new economy … because the world is changing and to stay competitive and on top, we need to continuously revisit our rules and regulations to adapt to the new changes," said Lam.
While the city hopes to bring tech companies to Hong Kong's capital markets, Lam also stressed the government's efforts to retain talent and nurture its own tech start-ups, after the city missed out on the opportunity to nurture further growth of the world's largest maker of recreational drones, DJI, whose founder Wang Tao, an alumnus of the Hong Kong University of Science and Technology, moved to Shenzhen.
"The case of DJI reflects Hong Kong's strength in basic research and good universities," Lam said. "Of course to translate research into practical technology applications, we need more support, whether it's incubation support, venture capital or lab space."
In its most recent budget, the Hong Kong government pledged to set aside an additional HK$50 billion to support innovation and technology development this financial year, especially in the areas of biotechnology, artificial intelligence (AI), smart cities and fintech, in addition to a HK$10 billion commitment to support the industries from last year.
Lam stressed that Hong Kong's involvement in the Greater Bay Area, China's scheme for more economic integration between the city, Macau and southern Chinese cities in Guangdong province, would put tech companies like DJI in a place more accessible to research and development capability and venture capital in Hong Kong, as well as the huge manufacturing base of neighbouring cities in Guangdong.
The
Greater Bay Area
, which encompasses 65 million people, is currently home to some of China's biggest technology companies, including Tencent, Huawei and DJI in Shenzhen. With a combined economy about three times the size of the San Francisco Bay Area, it is expected to surpass the Greater Tokyo and New York areas by 2030 with a GDP of US$4.62 trillion and become a world-class centre for advanced manufacturing, innovation, international shipping, finance and trade, according to the China Centre for International Economic Exchanges, a government think tank.
To fit into this plan to create a world-class technology hub, Hong Kong has pledged to foster exchanges on innovation and technology with other cities in the area. In early May, Hong Kong announced a talent programme to attract skilled technology workers to the city. More than 700 firms at the city's science parks, Hong Kong Science and Technology Parks and Cyberport, are expected to benefit from the three-year pilot Technology ­Talent Admission Scheme, which starts next month.
In the first year a maximum of 1,000 people will be admitted to work in Hong Kong in the fields of biotechnology, artificial intelligence, cybersecurity, robotics, data analytics, financial technologies and materials science.
This article appeared in the South China Morning Post print edition as: HK steps up support for new economy