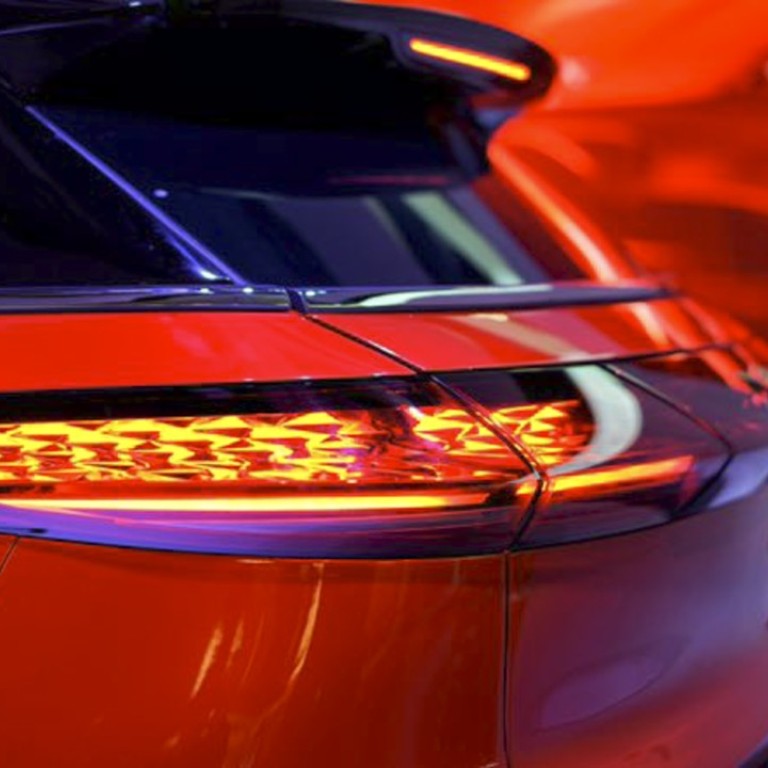 Tesla foe in China Xpeng hits US$4 billion valuation before selling cars
Henry Xia jumps into the burnt toast-coloured electric car he helped build as co-founder of Xpeng Motors Technology and commands it to play Green Day's "21 Guns". He asks the car about traffic conditions and starts driving. The 35-year-old is the most senior car executive at a Chinese automaker that hasn't delivered a single vehicle, doesn't own a factory and hasn't obtained a production license from the government. At least, not yet.
What the four-year-old startup has is backing from tech giants Alibaba Group Holding, Foxconn Technology Group and Xiaomi founder Lei Jun. Xpeng expects to raise more than US$600 million this month from investors that include Alibaba, valuing it close to US$4 billion, according to a person familiar with the fundraising.
Electric car start-up boss is willing to bet his entire fortune on beating Tesla
In a test drive of Xpeng's first crossover around a drab cement office park in Guangzhou, the roomy SUV drives smoothly, with a Tesla-like panoramic windshield and sleek exterior. But it's the voice controls, streaming music, live video, driver-tracking maps and other software that reveal the auto ambitions of the company's Chinese tech backers. Xpeng is making the equivalent of a smartphone with a steering wheel.
Xia explains why the company nicknamed this car David: "We're going up against Goliath," he says, referring to the hundreds of automakers churning out electric vehicles in China, where half of the world's EVs are sold. "It's not about the physical car any more, which anyone can now manufacture," Xia says, "but about building a robot on wheels."
Xpeng is primed to capitalise on a trade tussle that is already jacking up car prices. As China hits back against the US with retaliatory tariffs, import duties on American-made cars have increased to 40 per cent. But perhaps the bigger opportunity comes from Tesla's still-diminutive presence in China, creating an opening for local start-ups to hawk cheaper, technology-centric electric vehicles.
Tesla reached a preliminary agreement last week with the Shanghai government to build China's first car-production facility wholly owned by a foreign automaker. Tesla expects car production to start within two years of starting construction and to churn out 500,000 cars per year in China two to three years after that.
"Tesla is running out of time," says John Zeng, managing director of LMC Automotive Shanghai. He estimates that the American automaker sold fewer than 15,000 cars in China last year, claiming just 3 per cent of the battery-powered market. In total, 25 million cars were sold in China last year.
Finding capital is less of a concern for the local start-ups trying to outrun Elon Musk. China's government is offering financial and political support for electric-vehicle companies as it attempts to lead the world in the field, fuelling the rise of Xpeng and hundreds of other rivals. President Xi Jinping pledges to open markets and curtail protectionism, even as he lavishes assistance on domestic makers of electric cars, artificial intelligence and semiconductors. China's electric-car buyers get price subsidies of as much as US$10,000 per vehicle, for example, and can also dodge license plate restrictions that impede sales of gasoline-powered cars.
That support, combined with ample cash from China's tech leaders and the comparative ease of building EVs instead of traditional cars, has seeded a crop of start-ups competing with such established automakers as BYD, Beijing Automotive Group and Zhejiang Geely Holding Group.
At least four other EV start-ups have already joined Xpeng in surpassing US$1 billion valuations, according to research firm China Money Network, including NIO, WM Motor Technology, Byton and Youxia Motors. The larger group of start-ups can't all survive, warns Bloomberg New Energy Finance analyst Nannan Kou, especially as China phases out EV subsidies in the next two years.
"Tesla has shown building a car company is a cash-burning operation," Kou says. "Only those start-ups with the most capital from big backers will fend off the intense competition."
It didn't have to be this way. Shortly after Tesla started selling its Model S in China in 2014, Shanghai officials asked Musk to build a factory, with one proposed location in its Pudong district, said Ding Lei, one of the negotiators. Tesla insisted on sole ownership, rather than working with a Chinese partner, the auto manufacturing norm in China for the past few decades. Neither side budged.
"If Musk agreed with the proposal Pudong offered at that time, Tesla could have been totally different," says Ding, who founded EV startup Huaren Technology R&D last year and credits Tesla's absence for the opportunity.
Tesla's patent trove convinced him that self-driving cars would inevitably become data-collecting hardware devices that tech companies would monetise through apps and services. He recruited five engineers and sunk several hundred million yuan of his own into starting Xpeng, while keeping his day job as the leader of Alibaba's digital entertainment business.
On the day his son was born, He got a call at the hospital from Jixun Foo, a Shanghai-based managing partner for GGV Capital and an Xpeng investor. His advice: Go run Xpeng full time. The investor reminded He, who hadn't yet turned 40, that he wasn't getting any younger. "I wanted my son to grow up and feel proud his dad was doing something more meaningful than working on a web browser," says He, now 41.
While accepting He's resignation in May 2017, Alibaba CEO Daniel Zhang insisted on investing in Xpeng. Two weeks later, He struck a deal over breakfast at Alibaba Executive Vice Chairman Joseph Tsai's Hong Kong home. Alibaba would become Xpeng's second-largest shareholder, and Tsai would join the board.
Alibaba's rivals are making similar bets. Tencent Holdings purchased 5 per cent of Tesla for US$1.8 billion in March 2017. The parent company of WeChat also backs NIO, which filed confidentially for a US initial public offering, people with knowledge of the matter said earlier this year. Tencent also placed a bet on WM Motor, which said in December it had raised 12 billion yuan from investors, including Baidu Capital.
Xpeng, which has 1,800 employees, conserved its initial financing, thanks to national and local support for land, office space and production facilities. The company used that cash for research and development, spending heavily in its earliest days to buy and disassemble two dozen Tesla, Lexus and BMW vehicles. It also poached a Tesla autopilot engineer, Gu Junli, to oversee an 100-employee autonomous driving and AI operation in Mountain View, California. A hardware engineer poached from Apple, Zhang Xiaolang, was arrested on charges of stealing driverless car research last week at San Jose International Airport before boarding a flight bound to China. Xpeng denies receiving any sensitive information from Apple and says it has terminated Zhang.
By October 2017, Xpeng manufactured a batch of SUVs named David 1.0. Instead of opening public sales, Xpeng gave away or leased the 400 cars to employees who sent daily reports on technology glitches, manufacturing mishaps and design suggestions. The early feedback included requests to fashion more comfortable seats.
That all led to January's Consumer Electronics Show in Las Vegas, where Xpeng revealed its first car for sale: a cherry-red G3 with autonomous parking, a smartphone app to unlock the car, and a 360-degree camera ascending from the roof. By late November, Xpeng plans to start delivering some of the 4,000 pre-ordered G3 cars to enthusiasts plunking down non-refundable deposits. The cars will cost from 200,000 to 280,000 yuan, before subsidies kick in.
Xpeng is contracting production to Haima Automobile Group in Zhengzhou. Plans call for a third model, a sedan with a bigger chassis, to be created in Xpeng's own facility, under construction in Zhaoqing.
He acknowledges the considerable odds facing Xpeng, even with the support of China's tech giants and government. With a global supply chain spanning hundreds of thousands of parts, Tesla and other start-ups have struggled to ramp up production quickly – and Xpeng is no different. "There are 300 EV companies in China," He says, and the Darwinian struggle is just starting. "In China, if you're just copying from others, you are going to die. It's the companies that learn from those like Tesla that will survive."