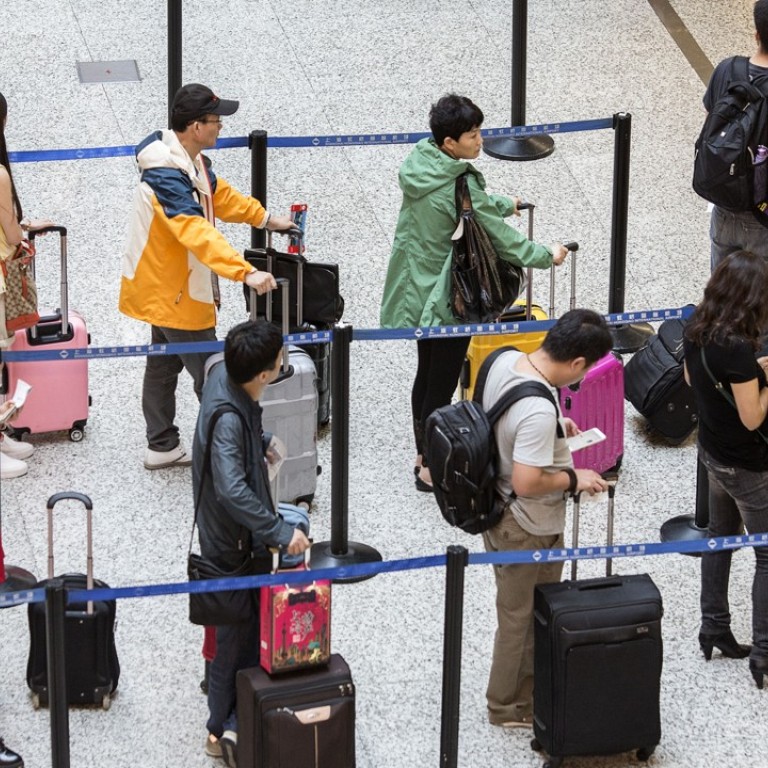 Exclusive

|
China travel giant Ctrip wants to book a bigger seat in international markets with Trip.com brand
Taking a big slice of the global tourism market and beating competitors like Expedia is now a key focus for Ctrip
Ctrip, China's largest online travel services provider, plans to boost the proportion of total revenue it makes from overseas customers from 2 per cent to at least 20 per cent over the next five years, using its recently-acquired Trip.com brand as a bridgehead for international expansion.
While capitalising on the massive outbound Chinese tourist market, Ctrip also wants to grow its overseas business in Asian markets such as South Korea and Japan, and ultimately places like London in the UK, said James Liang Jianzhang, the chairman and co-founder of Ctrip in an interview on Friday.
"The travel market is a global market," said Liang. "If you're just doing one market, you can't realise the economies of scale to compete. If you want to be a player (in the market), you have to reach the same scale as your competitors – the hot destinations are the hot destinations, and travel will be a winner takes all game in the end."
Nasdaq-listed Ctrip acquired Silicon Valley-based start-up Trip.com in November last year and relaunched it in the same month as the Shanghai-based company's global brand.
Taking a big slice of the global tourism market and beating competitors like Expedia is now a key focus for Ctrip, which offers more than 1 million packaged tour products in more than 2,000 destinations around the world.
Ctrip, which was established in 1999, has broadened its reach as the number of outbound Chinese tourists exploded in recent times, growing by double digits as a percentage each year from 2002 to 2013, according to the World Tourism Organisation.
Chinese travellers are forecast to make more than 200 million outbound trips annually by 2020, up from about 130 million outbound trips last year, according to estimates from the China National Tourism Administration.
Global tourists, by comparison, made 11.9 billion trips last year and generated US$5.3 trillion in tourism revenues, accounting for 6.7 per cent of global GDP, according to the Beijing-based World Tourism Cities Federation. Ctrip is currently serving less than 5 per cent of those trips, Liang said in a March conference call.
"The international market is one of the most important focal points this year [for Ctrip] and will continue to be for coming years," Ctrip chief executive Jane Sun Jie said in the same conference call in March.
Trip.com is expected to play a key role in tapping into the non-Chinese markets. Available in eight languages, Trip.com allows users to search, compare and book flights and hotel rooms on its site and app, and has recently added train tickets and car rental services to the platform.
Since the relaunch, the platform recorded more than six million users by the second quarter of 2018, and booking transactions on Trip.com have grown by 100 per cent, according to Ctrip. The company is building up Trip.com's service capacity, including service centres in popular markets such as South Korea and Japan.
Trip.com represents Ctrip's latest attempt to tap into the international travel market. In 2016, Ctrip bought UK-based travel search engine operator Skyscanner for US$1.7 billion to "complement Ctrip's positioning on a global scale", Ctrip said in a statement at the time. The company has also gobbled up three Chinese travel agencies which operate in the US and invested US$180 million in MakeMyTrip, an Indian online travel agency.
"With the aid of Skyscanner and Trip.com, Ctrip has established a solid foundation to serve non-Chinese customers around the world," Cindy Wang Xiaofan, the chief financial officer of Ctrip, said in a conference call in March. "Ctrip's internationalisation is still in its early stages, but on a fast growth trajectory."
Liang made it clear that international expansion was not to compensate for an expected slowdown at home. "We see great potential for growth in long weekend trips within China, particularly in the south and east, as people make more use of high-speed rail networks," said Liang. "We see a lot of potential for the growth of a 'short trip' culture in China."
Liang also said the company hoped to make better use of so-called big data technology to process large amounts of consumer information to help tailor service offerings and trip suggestions for frequent, global travellers. The company also wants to better integrate feedback from customers on travel services and hotels into their booking service to improve the accuracy of travel information.