AI promises jobs revolution but first it needs old-fashioned manual labour – from China
Basic Finder is among the labelling companies thriving amid the data boom, with clients including US university UC Berkeley and Chinese AI leaders SenseTime and iFlyTek
Rows of mostly young women sit elbow-to-elbow in cheap chairs at this five-storey, Soviet-style factory building on the outskirts of Beijing, staring at their computer screens. Some bring their own cushions for back support. They spend their shifts viewing images from everyday life and "tagging" them with dots, lines and descriptions.
Welcome to ground level for artificial intelligence, the arrival of which has been dubbed the fourth industrial revolution with the promise of freeing humans up from repetitive, mind-numbing work. But before this utopian promise can be fulfilled, a lot of monotonous work still has to be performed – by humans – and increasingly by humans in China.
The conditions at Basic Finder's "data tagging" factory are a world apart from Big Tech's gleaming campuses in Silicon Valley, or even in China's tech hubs in Beijing and Shenzhen.
For a start, it's minimum-wage work. There are no staff canteens offering artisanal pizzas or recreation facilities such as indoor climbing walls or air-conditioned basketball courts. No sleep pods. No pool tables either. Yet the work done here is vital if AI is to deliver on its promise.
Workers on a break have to gravitate to plastic tables and chairs bolted to the floor. Thermos flasks line the ledge above a washing sink. Just like the early days of Foxconn's iPhone factories, which came to symbolise China's role at the bottom end of the value chain of global manufacturing, the AI revolution has created a new wave of low-end, labour-intensive jobs that China is increasingly soaking up.
Such "tagging" factories, staffed by minimum-wage workers – some paid as little as 10 yuan (US$1.47) per hour – are the new face of global outsourcing. And much as electronics and clothes before, China is quickly becoming the global workshop for AI. There are also signs that the data-labelling industry is moving inland to areas such as Shandong, Henan, Hebei and Shanxi, where labour costs are lower.
China also wants the higher-skilled jobs resulting from the application of AI, which encompasses a wide range of technologies that can perform tasks characteristic of human intelligence, such as understanding language and recognising objects. Sometimes described as machine learning, what separates AI from ordinary computer programming, is the capacity for machines to correct themselves through trial and error, mimicking the cognitive functions of the human mind. But first, they have to be spoon-fed.
Lin Xue, 20, considers herself among the "lucky few" to snag a job at Basic Finder. Having spent three years tagging images, Lin has risen to quality inspector where she checks other people's work and occasionally trains new workers. In exchange, she is paid 3,000 yuan (US$437) to 4,000 yuan a month and is provided with accommodation, a key perk given the cost of rent in China's capital.
Labelling bodies is among the most complicated tasks, requiring the tagger to draw as many as 15 dots per figure with up to 40 people in a single picture, she says with a shy smile. But it gets easier with practice.
Lin dismissed the reporter's suggestion that the job was stressful or spirit-crushing. "I've never dreamed of being a superwoman," Lin said. "Time flies by pretty quickly in this job."
Data labelling knows no bounds. Some workers could be labelling data to help floor-mopping robots recognise furniture and other obstacles. Others could be collecting and labelling various ways of saying "25 degrees Celsius" to help teach smart air conditioners to understand user commands. Beyond smart appliances, data also needs to be tagged before it can be used to train machines in fields like autonomous driving, where cars must recognise and interpret objects in complex, real-time conditions and respond accordingly.
Basic Finder is among the labelling companies thriving amid the data boom, with clients ranging from US universities such as UC Berkeley, Silicon Valley-based autonomous driving start-up Auto X to Chinese AI leaders SenseTime and iFlyTek. Overseas orders account for about 30 per cent of total business, according to Du Lin, co-founder and chief executive of the Beijing-based start-up.
Prospects for growth look rosy after Beijing appointed four technology leaders – Baidu Inc., Alibaba Group Holding, Tencent Holdings, and iFlyTek – as "national champions" to lead the development of innovation platforms in self-driving cars, smart cities, computer vision for medical diagnosis, and voice intelligence, respectively. It recently added Hong Kong start-up SenseTime to the list, which specialises in face- and image-recognition technology.
AI has come to play a key role in Beijing's 'Made in China 2025' master plan, which promises to lift the country's industries – from robotics and aerospace to new materials and new energy vehicles – up the value chain, replacing imports with local products and building global champions able to take on Western giants in cutting-edge technologies.
But you cannot put the cart before the horse. "For any intelligent system, it's a process of learning by knowing, which requires humans to label the feed," said Du, a graduate of Shanghai Jiao Tong University, one of China's top universities. "No matter how fancy, how high above the companies are, one cannot live without large quantity of supervised data."
Access to large quantities of data, aided by relatively lax privacy protection laws, has been cited as one of China's biggest advantages in AI development. The country's technology giants collect vast amount of data, and sharing among government agencies and companies is common.
The market demand for labelling data has existed for some years, and was previously met by online crowdsourcing marketplaces like Amazon Mechanical Turk, with a large number of part-timers coming from India and Mexico, before professional labelling service providers came into existence, according to Du.
"However the problem [for crowdsourcing] is that they can't handle complicated tasks or keep up with quality control," he said, adding that some tagging orders for financial purposes require an accuracy rate of 99 per cent, and a three rounds of proofing.
Doing the same job in the US would result in labour costs "multiple times higher," Du said. "Although what we offer in China may not be the cheapest, there's a guarantee of quality," he said. Enquiries have been streaming in from overseas through word of mouth, Du said.
And while conditions are basic at factories like Basic Finder, Du is adamant it's not a sweatshop.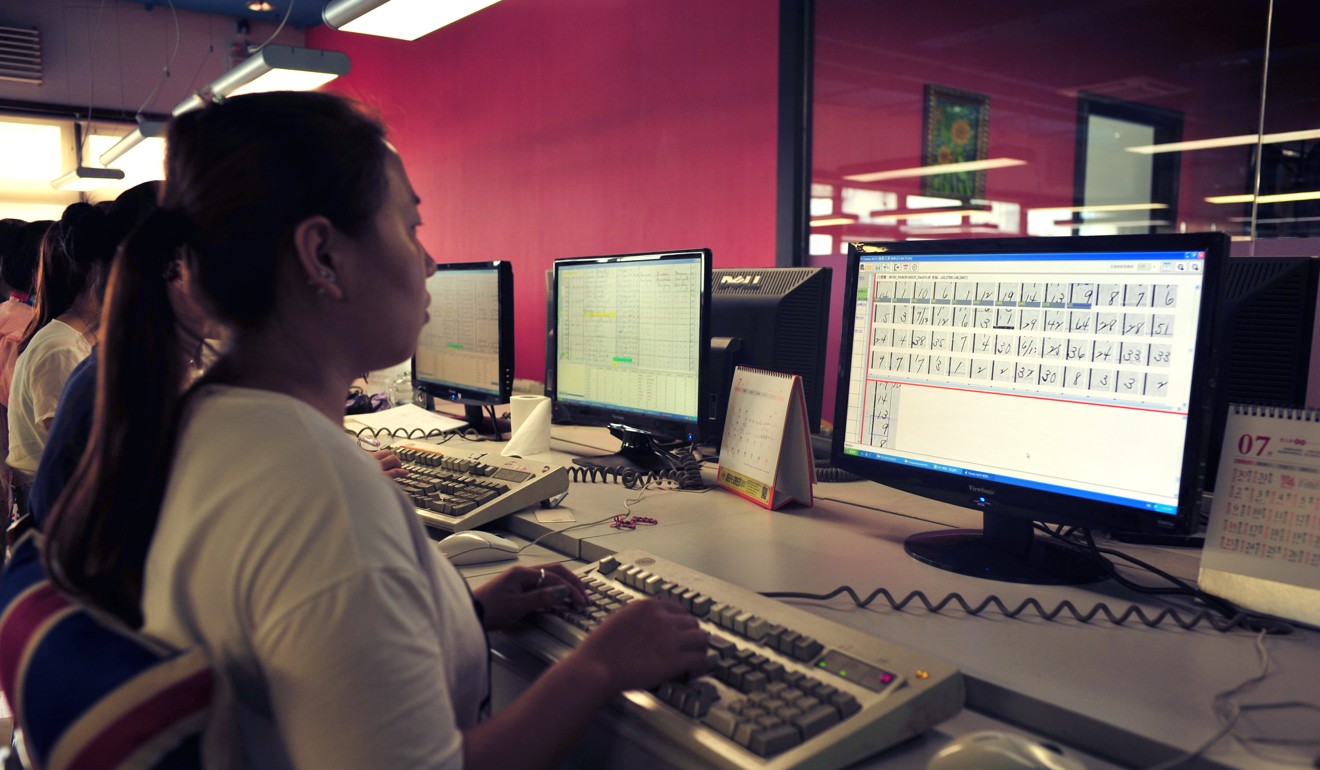 "We do not exploit workers, and as a matter of fact, they work far fewer hours or with less stress than programmers or software engineers at tech companies," Du said. "The vocational schools that we are working with also agree that it's more interesting and educational than working at manufacturing assembly lines."
Data labelling was briefly in the spotlight last month after Robin Li Yanhong, chairman and chief executive of China's largest search engine operator, Baidu, held it out as an example of new jobs that will be created even as AI destroyed traditional jobs. Li was responding to an observation by International Monetary Fund managing director Christine Lagarde that AI may have an adverse impact on women because they disproportionately work in the sort of jobs that are most at risk of being replaced by AI.
Recent research suggests the impact of AI automation could be less damaging than previously thought. In March, the OECD criticised a 2013 forecast by Oxford University that found about 47 per cent of jobs in the US and 35 per cent in the UK were at "high risk" of being automated over the next 20 years.
At Beijing-based Mada Code, which has 10,000 freelancers working on data tagging, the crowdsourcing platform has customers including Microsoft, Carnegie Mellon University and organisers of global competitions like Optical Character Recognition (OCR) and International Conference on Document Analysis and Recognition (ICDAR).
A part-timer can earn about 15 yuan to 20 yuan per hour, and many are college students and stay-at-home moms, according to Zhang Yuan, project manager at Mada Code. "Some people like no-brainer work", said Zhang. In more remote parts of the country, data-labelling help can be hired at about 10 yuan per hour.
So while AI holds out the prospect of creating more creative, value-add jobs for humans in the future – for the time being at least, it's also creating another wave of manual work that many are happy to take up.
"There were no iPhone or Foxconn workers 10 years ago," Zhang said. "I guess while some jobs are replaced, there will always be some new jobs."