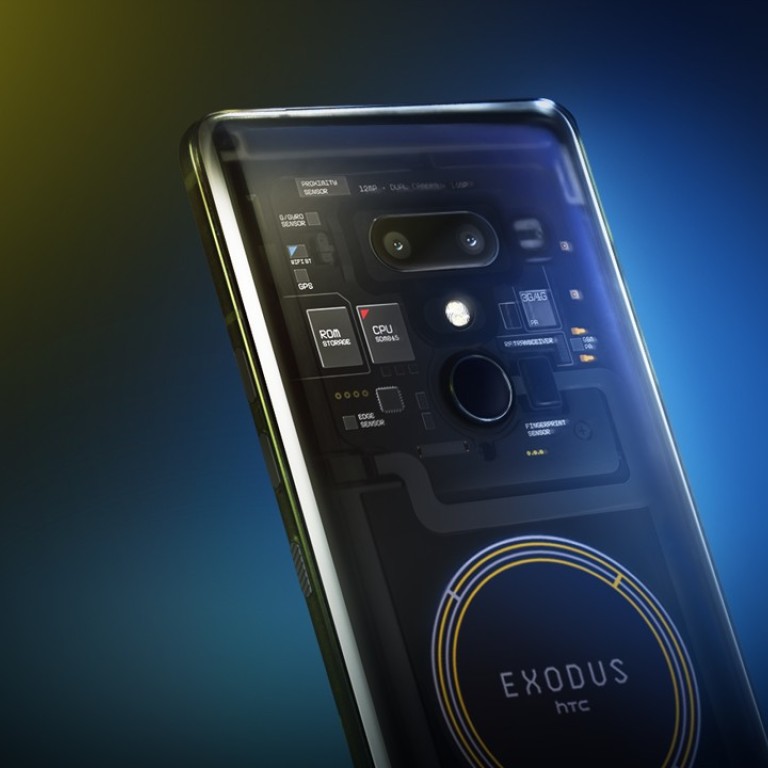 HTC sells its first blockchain phone for 0.15 bitcoin, about the same price as the new iPhone Xs
The Exodus 1 phone is priced at 0.15 BTC or 4.78 ether, which currently equates to about US$960
HTC handset features built-in cryptocurrency wallet and comes pre-installed with CryptoKitties game

Taiwanese smartphone maker HTC has set the price for its first blockchain-powered handset in cryptocurrencies, making it the first big name in the industry to accept only digital currencies as payment.
Exodus 1, the first version of HTC's blockchain phone, is priced at 0.15 bitcoin or 4.78 ether, which in current trading equates to about US$960, the company announced in a Berlin event on Tuesday. By comparison, the new iPhone XS has a starting price tag of US$999.
HTC first announced the Exodus phone in May, which features a built-in digital wallet that will enable users to store and trade cryptocurrencies – an alternative to the special memory sticks where investors have traditionally put their digital money. It is pre-installed with decentralised apps built on top of blockchain, such as the ethereum-based pet rearing game CryptoKitties. What's more, each Exodus phone can serve as a computing device, or "node", maintaining blockchain networks like bitcoin and ethereum, and users will receive new digital assets as a reward for such efforts.
"Selling it in crypto only and being the first to do so means we are bringing this directly to the core audience and those who will want this device – the blockchain community," said Phil Chen, head of HTC's blockchain initiative, in an email response to questions. "It reflects our belief in cryptocurrencies – in fact we had to recreate and overcome many processes internally, as well as find new distributors, so that we can achieve the goal of only accepting cryptocurrencies as the form of payment."
HTC said Exodus 1 will be available in 34 countries or regions including Hong Kong, Singapore, the US, the UK and other European countries via the phone's website. The expected shipping date is in December. HTC's blockchain smartphone comes amid efforts by the cryptocurrency industry to achieve wider adoption, despite an ongoing slump in digital currency trading.
HTC is not the only company to offer a blockchain phone. A similar offering from Switzerland-based start-up Sirin Labs is now available for pre-order at US$999 on its site, though the shipping date has been delayed from October. Chinese handset makers including Lenovo Group and Sichuan Changhong Electric have previously announced plans for a blockchain phone, but provided no details.
Earlier this month Indonesia-based start-up Pundi X unveiled its blockchain-powered handset called Xphone, which, unlike HTC's and Sirin Labs's devices, can operate on its blockchain-based transmission protocol, independently of mobile carriers. There is no shipping date as yet.
HTC's Exodus phone is more focused on serving as a cryptocurrency wallet. There is a locked area in the handset that is protected from the Android operating system, which holds the keys to digital assets offline. Users can also pick up some trusted contacts to help them regain access to their funds via a key management app.
Bitcoin prices have tumbled about 70 per cent from a peak in December last year, and are currently trading within a US$6,200 to US$6,800 range, according to data from CoinMarketCap. If crypto prices continue to fall, this will be a boon for buyers of the new phone whereas HTC will likely take a hit.
This article appeared in the South China Morning Post print edition as: HTC ushers in age of blockchain handsets