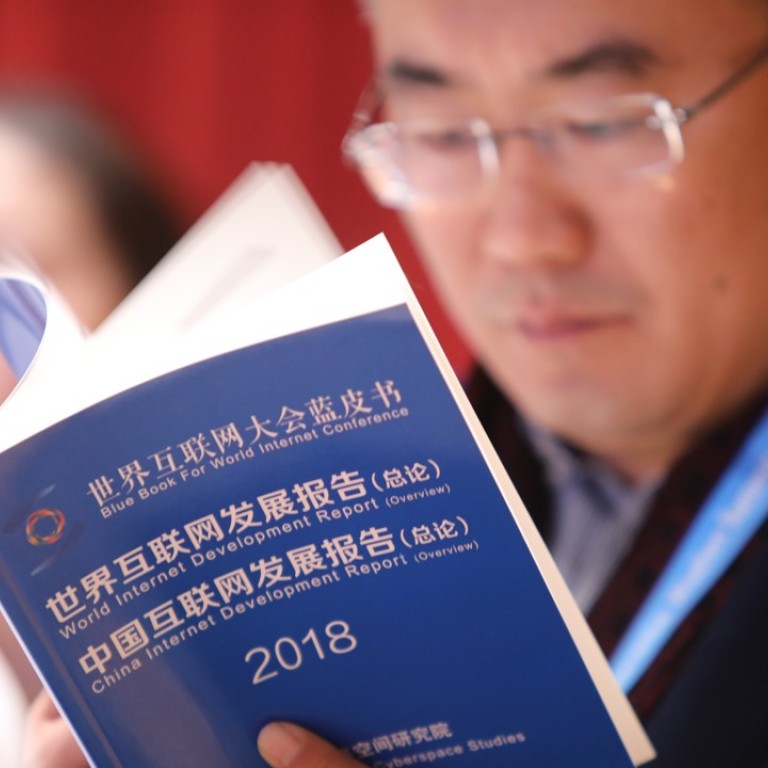 US tops world in internet development, with China in second place, Beijing says
China has become a big country in terms of internet development but development still imbalanced, Chinese Academy of Cyberspace Studies says
The US leads in innovation, industry development and security, according to the report by the academy
The United States leads the world in terms of internet development, followed closely by China, according to a report issued by a Beijing-backed think tank on Thursday.
The Chinese Academy of Cyberspace Studies, an institute affiliated with the Cyberspace Administration of China, said in its second annual World Internet Development Report that China's comprehensive internet development ranked No 2 in a group of 45 countries.
Last year, the US and China also ranked first and second place, respectively, according to a review of infrastructure, innovation capabilities, industry development, internet application, cybersecurity and internet governance.
The report is part of Beijing's efforts to showcase to the world its achievement in using the internet to spur economic development and social governance, at a time when heavy censorship of the internet behind its Great Firewall is causing concerns.
China has become a big country in terms of internet development but its development is still imbalanced, Yang Shuzhen, the head of the academy, said at a press conference on Thursday at the World Internet Conference in Wuzhen, China.
"US leads the world's internet technology innovation and development and remains steadily as the leader in world's cyberspace security," according to the report. "China is an emerging big power in internet development"
China leads the world in "internet application", judged on metrics like the number of online users, the time spent on social media as well as the market size of online shopping.
And while the US leads the world in innovation, industry development and security, it took eighth place in internet governance, behind countries like the Netherlands, Norway and Switzerland, according to the Chinese report. China was No 9 on the governance ranking, behind the US.
Among the other chart-toppers are the UK, Singapore, Sweden and Norway, while Cuba, Pakistan and Ethiopia ranked at the bottom of the list.
Other studies of the internet have put forth different conclusions to that of the Chinese report.

A global broadband ranking by US-based M-Lab, for instance, put China's internet speed at 141st place among 200 countries tested. By comparison, the US ranked 20th in the same period. China's broadband speed is about a tenth of the global average of 26Mbps.

China occupied last place in the latest internet freedom ranking by Freedom House issued last month. "China was once again the worst abuser of internet freedom in 2018," the Washington-based think tank said.
This article appeared in the South China Morning Post print edition as: China Net Innovation ranks high