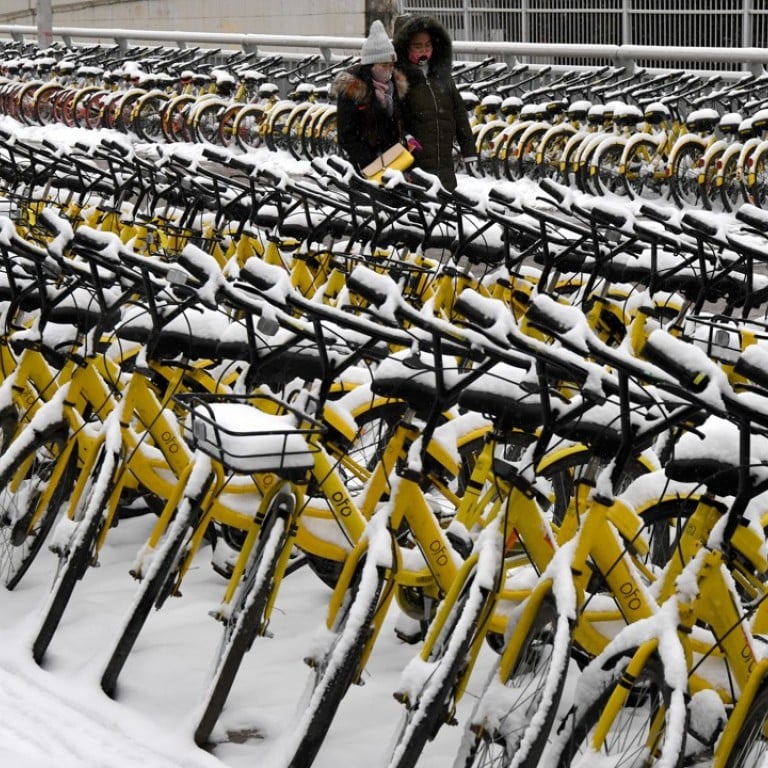 Exclusive

|
Ofo chief executive Dai Wei said to admit that he made 'some wrong decisions' in internal meeting
Last month, Dai removed himself as the company's legal representative after the bike sharer was slapped with lawsuits over unpaid bills by suppliers
Dai Wei, the founder and chief executive of China's dockless bike sharing pioneer Ofo, admitted in an internal company meeting in Beijing on Wednesday that he has made "some wrong decisions" in the past, amid testing times for the company that include being sued by bike suppliers for unpaid bills.
Dai did not elaborate on what kind of mistakes he had made. Instead, he promised his employees that he would expend more effort to improve the company and hoped everyone can work hard with him, according to people familiar with the situation who wish to remain anonymous as the information is private.
An Ofo spokesman declined to comment.
Last month, Dai removed himself as the company's legal representative after the bike sharer was slapped with lawsuits over unpaid bills by suppliers, according to its public business registration filing. Bike suppliers Shanghai Phoenix Bicycles and Tianjin Flying Pigeon Cycle Manufacturing, as well as logistics services providers Best and Deppon Logistics, are among the firms that have recently sued Ofo, according to public documents.
In a filing to the Shanghai exchange, Phoenix Bicycles said Ofo did not pay bills for an amount totalling US$10 million. Meanwhile, two weeks ago Chinese news portal Jiemian reported that Ofo had filed for bankruptcy, citing anonymous sources. At the time, Ofo described this report as "totally false".
Didi Chuxing, China's ride hailing giant, was in talks with Ofo to acquire the bike sharer but Dai rebutted Didi's offer this May, people familiar with the situation told the Post earlier. However, a Didi spokeswoman said in early October that it "hasn't had any intention to buy Ofo", adding that Didi will support Ofo's "independent development". This January, Didi took over the operations of Bluegogo, a bike sharer that filed for bankruptcy.
Bike-sharing took off in China in late 2016 with dozens of start-ups deploying millions of two-wheelers on city pavements, funded by billions of dollars in venture capital money. However, since then growth has cooled as dozens of Chinese cities including Beijing, Shanghai and Shenzhen have barred rental companies from putting more new bikes on the streets, leading to industry consolidation.
The number of bike-sharing users in the country is forecast to grow only 14.6 per cent this year, a steep decline from 600 per cent growth in 2017, according to a report by market research company iiMedia.
The People's Daily, the Communist Party's mouthpiece in China, said earlier this year that the country's bike-sharing industry is "immature and unreasonable" because thousands of abandoned bikes have been seen in city streets and rivers. "Three years ago, lots of people were happy about the convenience bike-sharing brought. Nowadays, abandoned bikes have become mountains of rubbish," the commentary said.
This article appeared in the South China Morning Post print edition as: OFO's founder admits to 'wrong decisions'