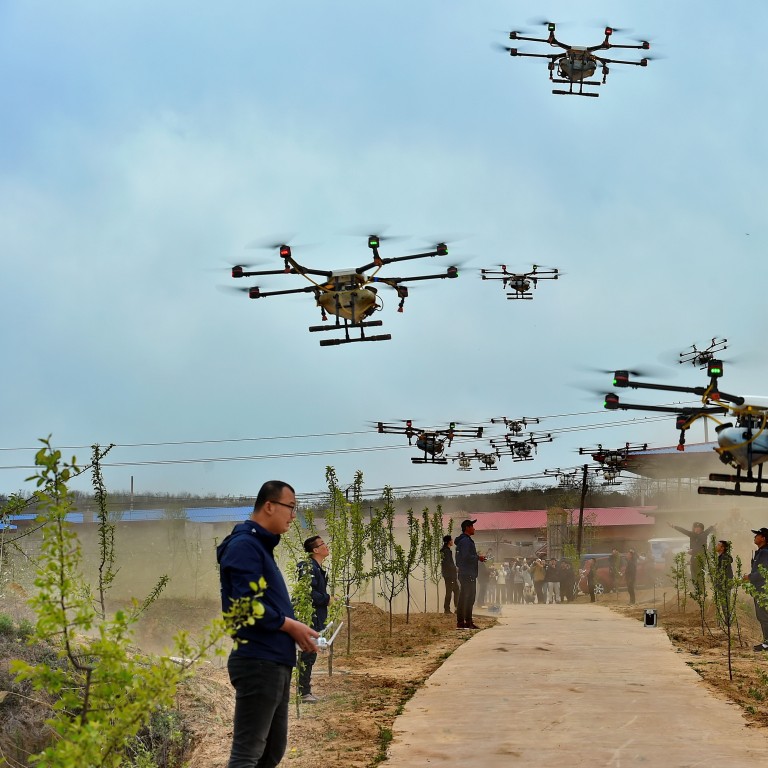 China's migrant worker exodus has created demand for drone pilots to help ageing left-behind farmers
Drone piloting an example of new occupations created by explosion of gig economy
A drone pilot can earn more than a factory worker, with more freedom and flexibility
Zhu Beibei still remembers the acrid stench of rubber tyres even though it has been 10 years since he worked at a small car manufacturer in Wuhan in central China. Then 19, it was his first job out of technical school. He was paid 900 yuan (US$134) a month and there was a lot of overtime. He quit after six months.
"I had to wake up at 2pm and work until at least 10am," Zhu, now 29, said in an interview. "Every day I worked like a robot and did not have much time to talk with each other. I did not see any chance of promotion or to improve my skills."
After he left, he bounced around various jobs, including selling farm produce, before a friend asked him if he had ever flown a drone. He had not, but became a certified drone pilot after five days of training and joined a pesticide-spraying drone company.
Today, Zhu has his own company with a team of 30 drone pilots and he pulls in 3 million yuan (US$447,000) a year helping farmers in China spray weed killer.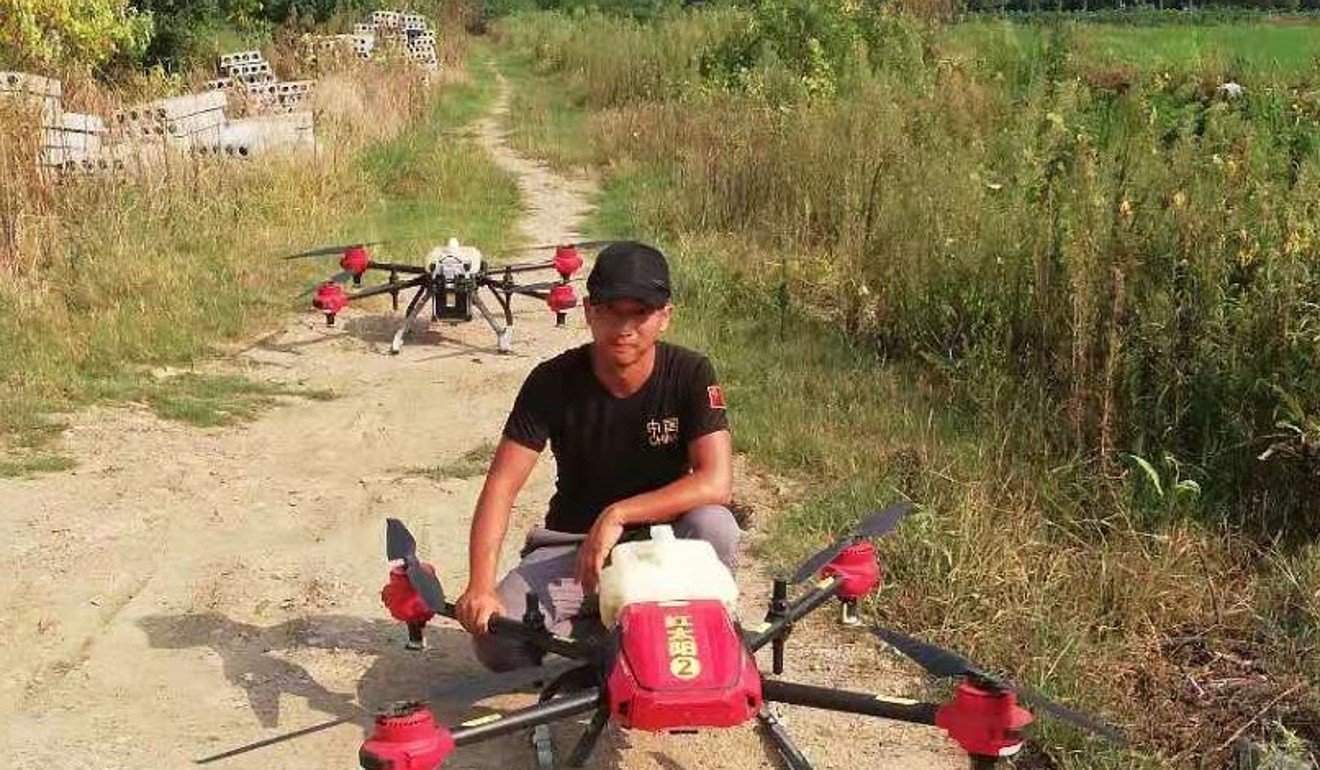 Not bad for a farmer's son, whose mother rebuked him for quitting the factory job, which came with retirement benefits. He won her over after earning 80,000 yuan in 45 days working drones in Xinjiang, a major cotton- and fruit-producing region in the country's northwest.
Demand for agricultural drone pilots has risen as the technology matures, enabling a skilled operator to cover more acreage than human effort ever could. It is also driven ironically by the shortage of manpower in the countryside.
An estimated 287 million people in China are migrant workers. To put that in perspective, that is the equivalent of the entire populations of Germany, Britain, France and Italy leaving their homes in search of work elsewhere.
Many Chinese migrant workers leave their homes in the poorer countryside to fill jobs in factories in the Pearl or Yangtze River deltas, or other lower-skilled jobs such as restaurant help and cleaners in the big cities of Beijing, Shanghai and Guangzhou.
Without enough strong backs to till, plant and harvest, the often elderly farmers left back home choose to rent out their land to companies, which are then able to consolidate and harness the economies of scale to deploy technology such as drone spraying to improve agricultural yields. Other countries like Japan are also turning to drones to replace its ageing farmers as young people abandon agriculture.
To tap on this trend, companies like Shenzhen-based DJI, which commands 70 per cent of the world commercial drone market, is shifting more resources to developing industrial drones. DJI sees its latest drones, including the Mavic 2 and Agras MG-1, as being squarely aimed at the industrial segment which accounts for more than half of the global US$9 billion drone market.
Drone-flying is just one example of the growing number of new occupations created by the worldwide gig economy. The popularity of ride-sharing gave rise to the Didi driver (Uber or Lyft driver in the US), while on-demand services apps like Alibaba Group's Ele.me and Meituan Dianping have created employment for armies of food deliverers.
Alibaba Group Holding is the parent company of the South China Morning Post.
These jobs typically offer more freedom than the traditional factory job, where workers are rooted to a spot for hours putting together iPhones for Apple, or Buicks for General Motors. That has created pressure on manufacturers to find enough workers for their plants.
"Chinese millennials and post-millennials have higher education and are willing to job-hop in search of higher pay and more freedom," said Zhang Ying, a recruiter in Dongguan, a manufacturing hub in China's south. "It is a headache for all manufacturers, and not easily solved because the government wants to reduce its reliance on low-end manufacturing and transform the economy to a tech-driven one."
For Zhu, the factory hand-turned-drone pilot, his new occupation gives him more freedom, money and just as importantly, respect.
The farmers welcome him and his crew with watermelons and cold water when they work in the heat of summer. He can set the drones on autopilot using his iPad and then duck into his car, chat with friends or find more customers online. Sometimes, he live-streams drone footage of stunning landscapes.
He works hard from March to October and misses spending time with his wife and three-year-old daughter when he is on the road to different parts of the country.
But in the wide-open expanse of China's countryside, Zhu whistles and sings while watching his drones soar.