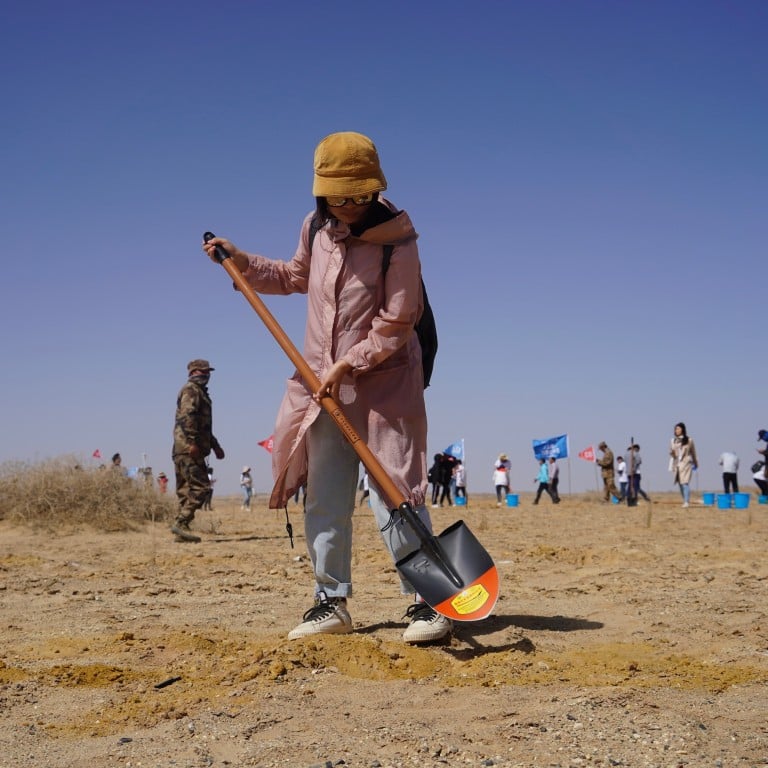 How technology is helping China's fight against the encroaching deserts
China began its anti-desertification efforts in 1978
Since its launch in 2016, Ant Forest has attracted 500 million users who have helped plant 100 million trees
Sandstorms are a reminder of the power of nature for the residents of Dunhuang, the Chinese oasis town at the edge of the Taklamakan and Gobi deserts, as they have been for their forebears for centuries.
Liu Hongwen, 56, recalled numerous instances when visibility was so bad he could not tell who was standing right next to him. One time many years ago, he thought he was lost on his way from primary school only to discover he was right at the back of his house after the storm had passed. The same sandstorms were recorded in the Book of Han in the Han dynasty around 80BC, which described the relentless "strong wind blowing from the northwest, turning clouds yellow".
"The best thing to do if you're caught in a sandstorm is to lie down and wait for it to die down," said Liu, who now works on the front lines of fighting desertification at the Dunhuang Forestry Technology Popularisation Centre.
In the 1990s, before grazing was halted to protect the grass cover, the wind would blow away livestock. "People would go out into the Gobi after the storm to retrieve their sheep," said Zhuang Run, former party secretary of nearby Bazichang village.
China's efforts to combat desertification date back several decades, when the government started tree-planting campaigns to try to act as a green buffer between the arid deserts and northern cities like Beijing. Each spring, winds sweeping across the deserts carry sand and dust to as far as South Korea and western Japan.
In Inner Mongolia, home to several large deserts, the region has planted more than 1.7 billion trees on about 400,000 hectares of land since 1981, when China began encouraging the public to plant trees, according to the official Xinhua news agency.
Now the anti-desertification efforts are getting a hi-tech boost from companies like Ant Financial Services, whose popular Alipay app is gamifying personal and corporate philanthropy through a mini-program called Ant Forest, which keeps tabs on low-carbon and other environmentally friendly activities such as paying utility bills online and commuting by public transit instead of driving.
These behaviours are turned into virtual "green energy" points that Alipay users can earn and collect.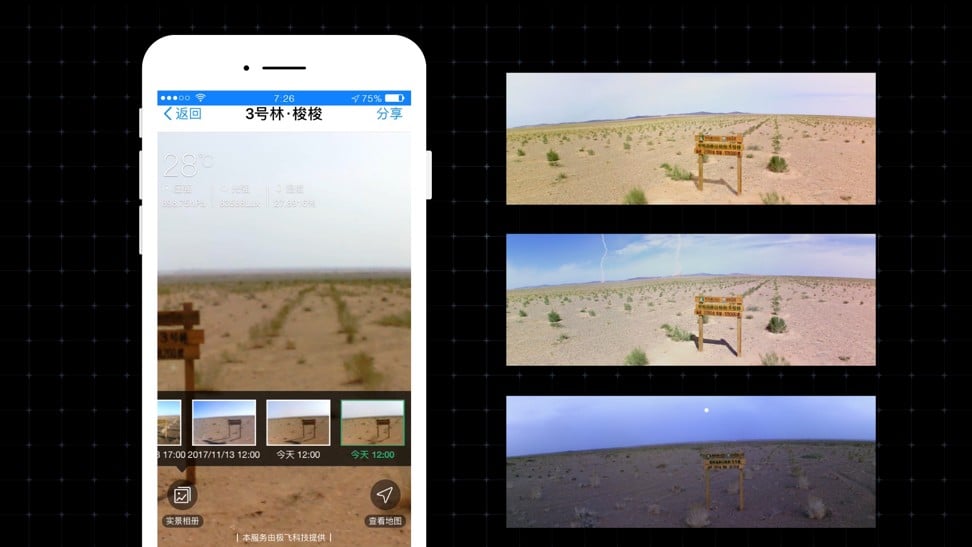 With enough points, users can choose to redeem a "virtual tree" that is matched by a real-life sapling being planted in the sands of the Gobi. The costs are borne by Ant Financial, an affiliate of Alibaba Group Holding, which owns the South China Morning Post.
On Earth Day in April this year, Ant Financial announced that it would work with its philanthropic partners to plant about 10,000 mu of saxaul, one of the most drought-resistant plants, in Dunhuang every year over the coming five years.
Since its launch in 2016, Ant Forest has attracted 500 million users converting their "green points" into 100 million real trees, according to a company statement. The trees have been planted in China's most arid regions including Inner Mongolia and northwestern Gansu province, covering a total area of 1.4 million mu (933 square kilometres), or the equivalent of 130,000 soccer pitches.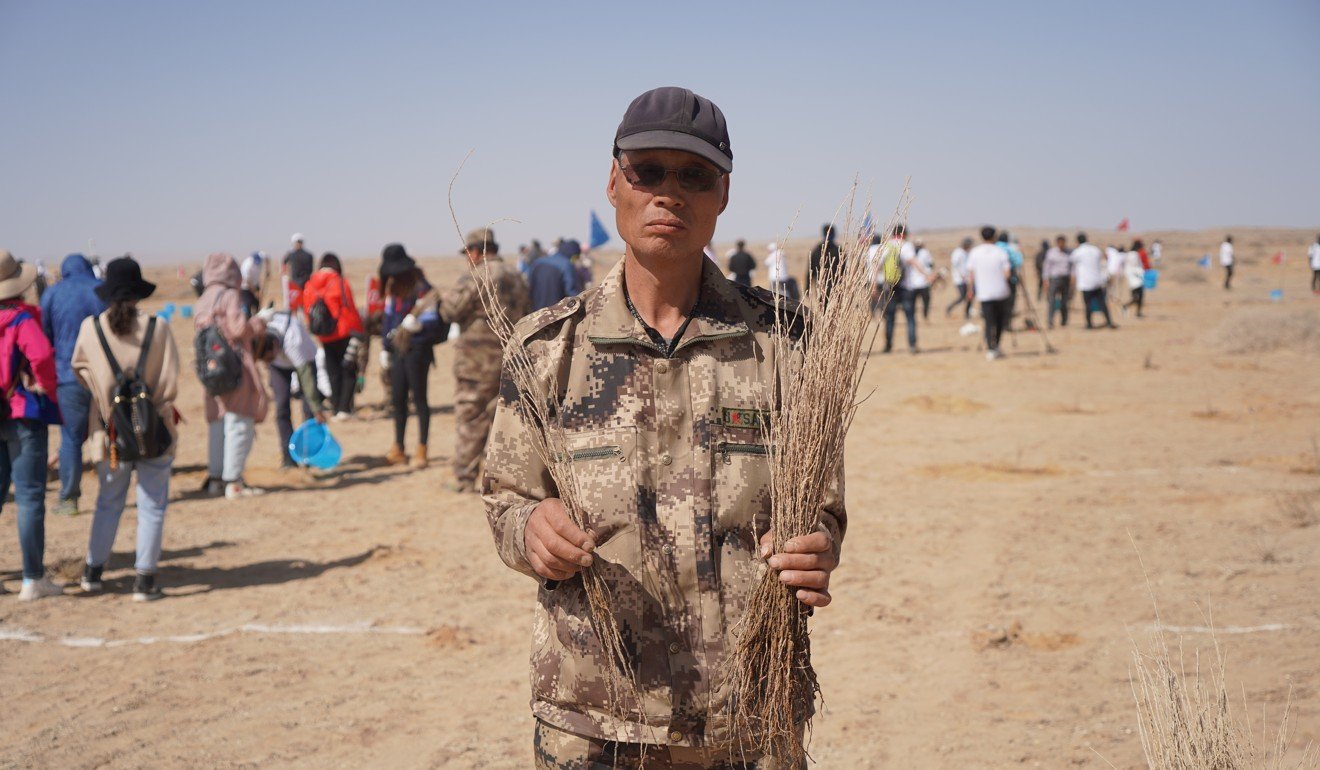 "Ant Forest has gone beyond an education and information disseminator to a platform of action, where users engage in green lifestyle and claim real trees as reward," said Eric Jing Xiandong, executive chairman and chief executive of Ant Financial, speaking on the sidelines of the spring planting ceremony in Dunhuang.
"Ant Forest is an open platform, where all of our stakeholders, including consumers, philanthropic institutions, and ecosystem partners, can collectively explore and implement ways to harness technology for a sustainable future," said Jing.
Users can monitor their trees in real time via satellite imagery and drones, using technology from Ant's parents, Gago Group and XAircraft.
Since early spring in March, a total of 10,000 mu of saxaul has been planted into barren sands, just seven kilometres from the Kumtag Desert. Within three years, their roots will cling to underground deep enough that they can live on their own without artificial irrigation and create a natural barrier between the desert and the city's freshwater river and Mogao Grottoes behind, according to Liu, the Dunhuang forestry officer and resident.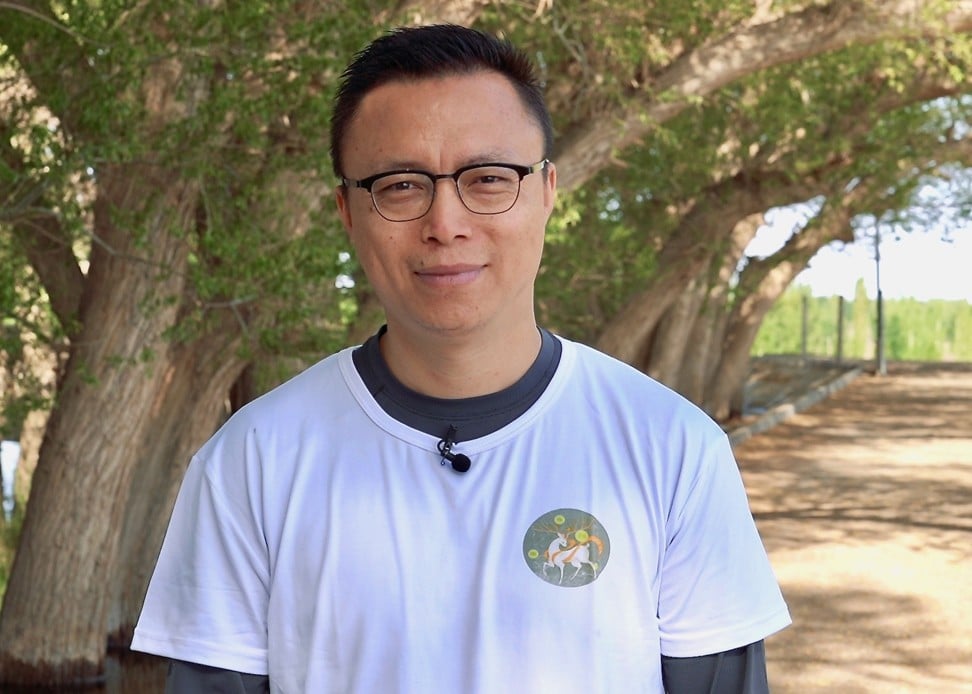 "Over the past 30 years, the deserts have inched closer toward the oasis by 104 square kilometres," he said. "Although central government spends about 120 million yuan per year in fighting desertification, the funding also includes tending existing green areas."
Before cooperation with Ant Forest, Dunhuang planted about 3,000 to 5,000 mu of trees per year, while this year the project has fastened the speed to over 10,000 mu, Liu added.
Dunhuang is desperate to avoid the fate of Loulan, an ancient oasis kingdom on the Silk Road in modern-day Xinjiang that was swallowed by the Taklamakan Desert.
"We carved a stone monument as a constant reminder to people," Liu said.