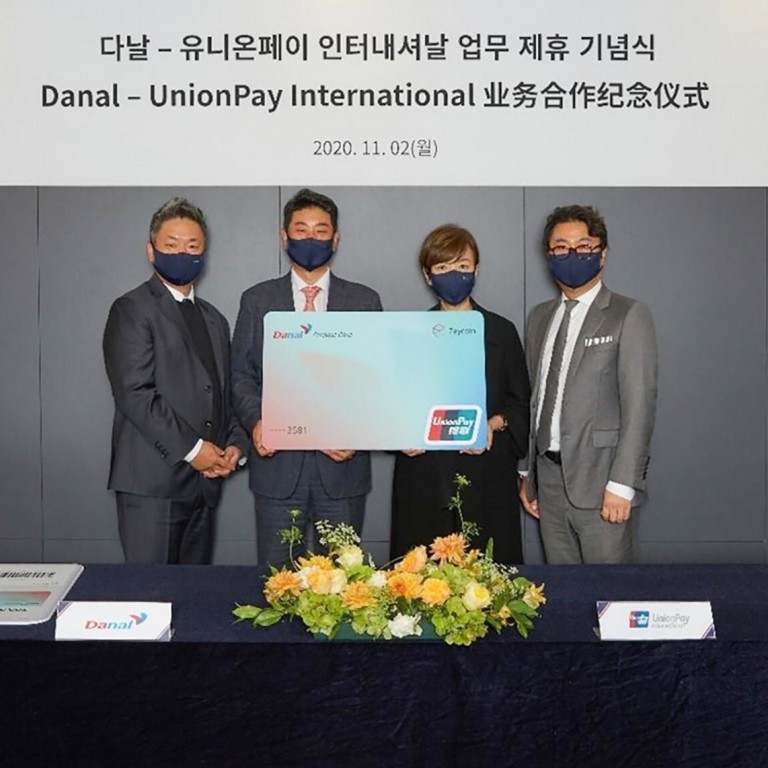 China's UnionPay partners with Korean payment firm for new virtual card
The prepaid mobile card will be accepted at more than 30 million UnionPay merchants across 179 countries and regions, including China
A UnionPay representative said the partnership "doesn't involve any digital currency transactions"
UnionPay, China's answer to Visa and Mastercard, has partnered with Korean payment provider Danal to introduce a virtual pre-paid card for travelers to places including China.
The prepaid mobile card, available by the end of the year, will be accessible via Danal's payment app Paycoin Wallet and be accepted at more than 30 million UnionPay merchants across 179 countries and regions, including China, according to a Paycoin statement on Tuesday, which was later removed.
Although Paycoin is a crypto asset, a UnionPay representative told the Post via WeChat that "Danal users will top up the virtual card using South Korean Won and pay with local currency. The clearing between Danal and UnionPay will be in US dollars."
"UnionPay's partnership with Danal doesn't involve any digital currency transactions," the representative said.
Shanghai-based UnionPay is in a nation that has cracked down on cryptocurrencies, including a ban on virtual currency initial coin offerings (ICOs) and onshore cryptocurrency trading.
The Paycoin app is mostly used by Koreans, but the company launched a global app last month and "is on the way to making its service accessible globally," a Danal spokesman told the Post by email.