Archegos meltdown: How a series of unfortunate events dragged down a Chinese tutoring firm's shares
GSX Techedu is caught in a Wall Street stock sell-off, as Achegos Capital Management dumps its assets
‎Once-profitable GSX posted losses in 2020, while facing increased regulatory scrutiny over online education in China
The Chinese company's share price fell 52 per cent in the past two trading days, on Friday and Monday, after a series of margin calls involving Archegos Capital Management.
While a slew of other well-known stocks – including Chinese companies Baidu, Tencent Music, Vipshop and iQiyi, as well as blue-chip US firms ViacomCBS and Discovery – also suffered from the sales, GSX experienced the steepest fall in share price.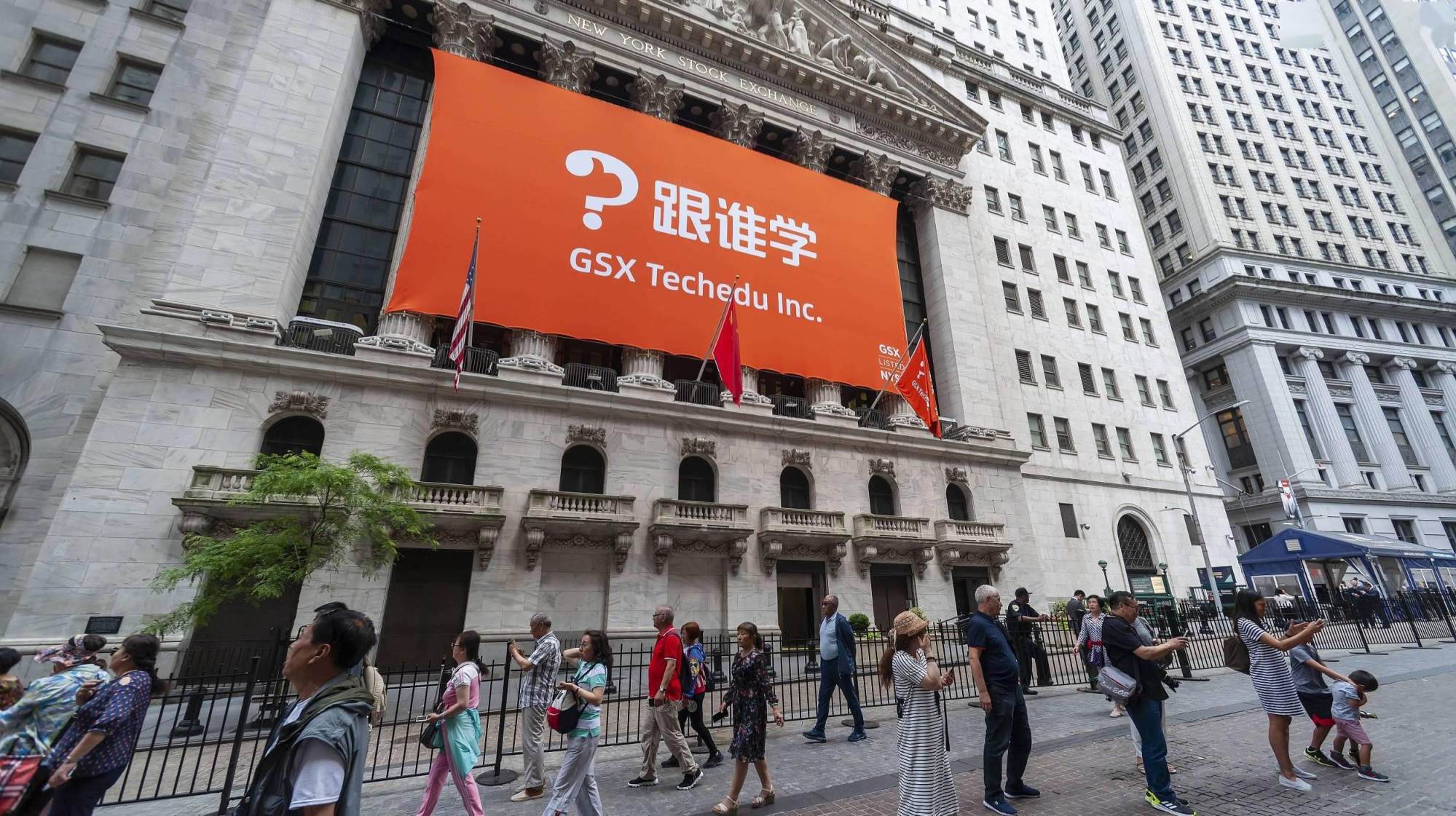 The company's stock dive on Friday reflects "concerns over the Chinese government's upcoming policies regarding K-12 training in China, as well as worries about US-China relations", GSX founder and CEO Larry Chen Xiangdong wrote in a letter published by Chinese news portal Sina.com.
"But the most important reason is that a US fund has made huge losses and had to sell off all its GSX shares," he added, while citing Warren Buffett and Benjamin Graham, the gurus of value investment, to play down the price fall as a short-term fluctuation.
GSX did not immediately respond to inquiries sent by the South China Morning Post on Tuesday.
Until recently, GSX's share price has largely defied controversies since it went public, including attacks by short sellers. Despite the recent sell-off, its closing price of US$32 on Monday was still about three times its initial-public-offering price in June 2019.
As one of China's biggest online training platforms, GSX – or Genshuixue in Chinese, meaning "learn from who" – said it has more than 50 million registered students studying over 9,000 subjects.
In addition to offering after-school online tutoring services for K-12 students in the country, it also provides language courses and prep classes for various exams, ranging from the International English Language System (IELTS) to the written tests required to qualify for Chinese civil-service jobs, according to the company's website.
During its early years, GSX relied mostly on the ubiquitous Chinese messaging app WeChat to acquire new users, according to a report by business consultancy iResearch. It operates dozens of official accounts on the platform, where it gives away free courses and puts students into chat groups to try to convert them into long-term users.
The company's prospectus showed a booming business in a promising market: GSX posted profit of about 20 million yuan (US$2.9 million) in 2018, while reporting consecutive triple-digit revenue growth. It said its revenue rose 307 per cent and 432 per cent year on year in 2018 and 2019.
Its encouraging financial results triggered scrutiny from several US short sellers last year. Muddy Waters accused GSX of cooking its books by inflating user numbers with bots and faking its revenue. Citron Research called the company "the most blatant Chinese stock fraud since 2011."
GSX denied all allegations, saying that the short sellers lacked understanding of its business model.
The company said earlier this month that an internal review done by third-party advisers did not uncover any evidence of the problems alleged by short sellers. An investigation by the US Securities and Exchange Commission is still ongoing.
Despite being put under the spotlight, GSX's stock price surged through most of last year as it continued to post rapid revenue growth.
In an interview with Chinese business news outlet LatePost in December, GSX's Chen said that the company was able to maintain strong growth and turn a profit because of its focus on big-name teachers and large classes.
The number of students attending a live-streamed class on GSX can vary from thousands up to tens of thousands, he said in another interview with LatePost in July, and having famous teachers on its platforms allows it to price the classes higher than its competitors.
Unaudited financial data from last year, however, painted a less rosy picture.
GSX posted an annual loss of 1.39 billion yuan for 2020, a sharp decline from a net income of over 226 million yuan in 2019. Despite another year of triple-digital growth at over 136 per cent, the company experienced operating loss attributed to heavy marketing spending as competition continued to heat up in China's online education market.
As China's online education players jostle to gain ground, it is becoming increasingly costly for them to rely on social media for marketing, wrote Guosen Securities analyst Rong Zeyu in a recent research report.
Instead, GSX is now resorting to live streaming, short videos and offline marketing to acquire new users, said Rong.
The company is also facing new challenges this year.
Like other Chinese firms listed on American exchanges, GSX is facing a new law that will require it to submit audited financials for review by the Public Company Accounting Oversight Board – the US auditing watchdog – within three years.
K-12 training, which contributed to about 90 per cent of GSX's revenue, has come also under increasing government scrutiny in China.
Earlier this month, president Xi Jinping described off-campus training programmes as a "social problem". During China's annual key political gathering held in Beijing, delegates to the country's legislature echoed this sentiment, calling the training market "chaotic".