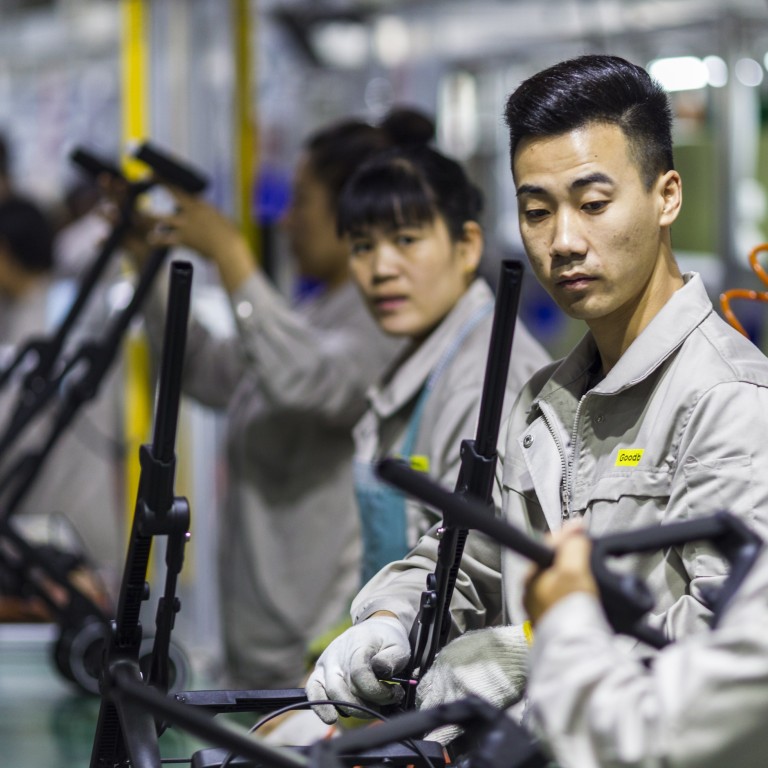 Kunshan orders daily Covid-19 tests as Shanghai's outbreak shuts Apple suppliers' China hub, straining fragile supply chains
All 2.1 million residents of Kunshan have been ordered to stay at home for the next four days, and be tested everyday for the Omicron variant of Covid-19
Factories in the city have been instructed to halt production since April 2, according to company statements
Authorities in Kunshan have ordered residents to undergo daily nucleic tests until April 12, putting the city – a major enclave for Taiwan's electronics producers – on alert as the Covid-19 outbreak in neighbouring Shanghai soared to a record for the seventh day.
All 2.1 million residents of Kunshan have been ordered to stay at home for the next four days, and be tested everyday for the Omicron variant of Covid-19, according to a statement by local authorities. Many factories in the city have been instructed to halt production since April 2, according to company statements.
The city, which reported 25 confirmed cases of Covid-19 infections on Friday, has gone into a citywide lockdown since April 6. Residents are confined at home, and only one person per household is allowed out to buy supplies and essentials every two days.
The stop work throws a wrench into the global supply chain of electronics and mechanical products, from printed circuit boards (PCBs), machine parts to the assemblies of original equipment manufacturers (OEMs). Several of Apple's biggest suppliers are based in Kunshan.
Companies that have halted production include the PCB manufacturers Elite Material, Unimicron and WUS Printed Circuit, while the OEMs Wistron Corporation and Pegatron Corporation also suspended their production of computers, communications and consumer electronics for branded vendors.
The suspensions are supposed to last until April 12, according to the local government's notice. Still, any further
deterioration of the Covid-19 situation
in Shanghai – about an hour's drive away on the expressway – could invoke further tests and lockdown in Kunshan.
For Elite Material and Unimicron, both traded on the Taiwan Stock Exchange, Kunshan makes up a substantial part of their production capacity. The local assembly makes up 40 per cent of Elite Material, and a quarter of Unimicron's total production, according to Chinese media reports.
The halts are weighing on the fragile global supply chain, which is already under strain from a range of geopolitical issues from the US-China trade war to the Covid-19 pandemic, now entering its third year. In neighbouring Shanghai, a citywide lockdown since late March has strained technology supply chains, putting pressure on the chip foundries of Semiconductor Manufacturing International Corporation (SMIC) and Hua Hong Semiconductors.
SAIC Motor, China's largest carmaker and the local partner of General Motors and Volkswagen, has halted production, as did Tesla's Gigafactory3 in Shanghai's Lingang free-trade zone.
Kunshan is home to Foxconn, the world's largest contract manufacturer for electronics including Apple's iPads and iPhones, and Luxshare Precision, which makes connectors and antennas for Apple's products.
Both factories in Kunshan are still operating under "closed loops," which confine staff to their quarters at the plants, with zero contact with outsiders. That slashes the productivity, as workers who live off-site cannot enter the plant, while daily Covid-19 tests disrupt the production cadence, according to people familiar with the matter.
Nan Ya Printed Circuit Corporation said it is now under closed-loop management, while a few others said they have maintained shift operations in Kunshan plants, such as those of Flexium Interconnect and Dynamic Electronics.