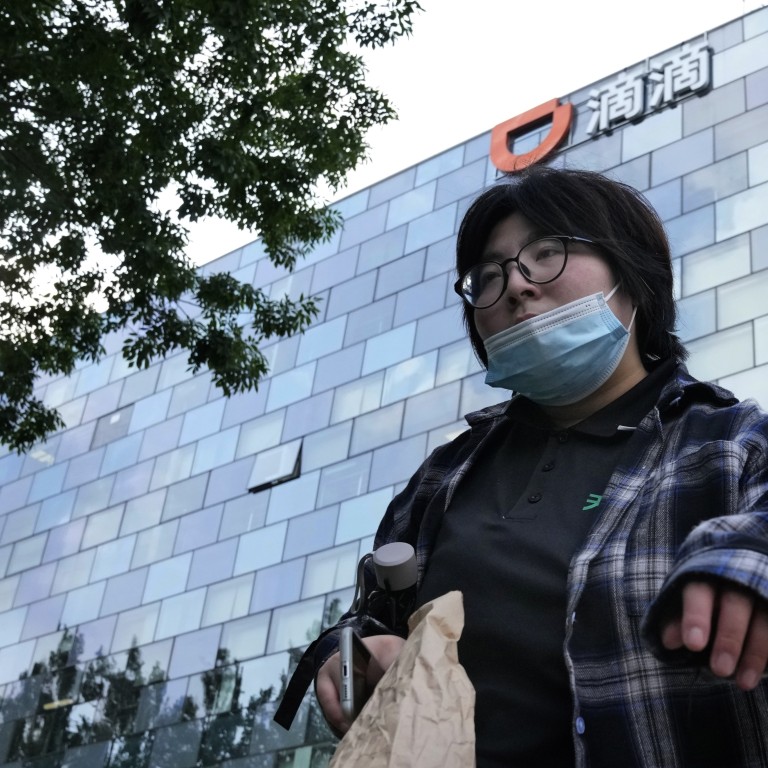 Didi shareholders give green light for New York delisting after IPO saga sees US$60 billion in value evaporate
Didi said that more than 96 per cent of shareholder votes cast were in favour of the delisting plan
Ride hailing giant was put under an unprecedented Chinese cybersecurity investigation days after it forced its way to a US IPO
Didi Global on Monday received approval at a special shareholder meeting to "voluntarily" delist from the New York Stock Exchange, capping an 11-month fiasco that wiped out US$60 billion in value and turned the ride-hailing giant into a warning sign for investment in Chinese tech stocks.
The company said in a statement on Monday evening that more than 96 per cent of shareholder votes cast were in favour of the delisting plan.
The result was largely expected as the company had explained to its shareholders that delisting in New York was a necessary step for the company to secure necessary approvals from China's regulators to resume normal business operations.
Didi said earlier this month that it could not restore its 26 apps in various Chinese app stores without the delisting. The company was put under an unprecedented Chinese cybersecurity investigation days after it forced its way to a US$4.4 billion initial public offering in the United States.
A joint government body led by the Cyberspace Administration of China (CAC), which also includes the Ministry of Public Security and the Ministry of State Security, started an
on-site investigation of Didi
in July and there is still no official conclusion.
After the delisting, Didi Global, backed by major investors SoftBank Group Corp, Tencent Holdings and Uber Technologies, has no immediate plan to go public in another market.
Didi said it plans to file a delisting application with the US Securities and Exchange Commission on, or after, June 2, and the delisting "is expected to occur ten days thereafter upon the effectiveness of" the application.
Didi investors are expected to see further losses once the company's shares move from the NYSE to the over-the-counter (OTC) market. The delisting "may negatively affect the price of, and liquidity in, [the company's] securities", Didi said last week.
The company cannot file an application to list in another public market, such as Hong Kong, until Beijing recognises the completion of its rectification measures, Didi said earlier this month.
The China Securities Regulatory Commission (CSRC), which has been talking with its American counterpart, said earlier that Didi's delisting would not affect other US-listed Chinese tech companies.
In China there are signs that a months-long regulatory crackdown on Chinese tech companies could soon ease.
The Chinese People's Political Consultative Conference, the country's top political advisory body, held a special symposium last Tuesday to promote the digital economy, sending a signal of support to the domestic tech sector after 18 months of unrelenting pressure.
Chinese Vice-Premier Liu He said that the government will support the healthy development of the online platform economy and private firms, while supporting digital enterprises in going public on domestic and overseas capital markets.
Didi's case, however, has been privately described by some Chinese officials as
yang feng yin wei
, which means it must comply publicly in the context of its severity, the
Post
reported last year.
Didi's search for a potential new home has proved problematic, as its plan for a Hong Kong relisting was put on hold indefinitely, the
Post
reported in April. Without clear instructions from Chinese regulators including the CAC, Didi cannot file its listing documentation to Hong Kong's exchange,
said an official
familiar with the process.
Founded in 2012 with a seed fund of just 800,000 yuan (US$118,688), Didi has been described by company chief executive Cheng Wei as a "technology-driven company with advantages in user experience and data usage, rather than just relying on traffic and capital", according to his 2016 book Didi: Sharing economy changes China, which was co-written with other senior company executives. That year, Didi marked a big milestone by acquiring the China business of Uber.
Didi's total ride orders reached 9.5 billion last year, which means the firm recorded more than 26 million rides each day, according to its latest financial disclosure.
China's regulatory crackdown, however, has weakened Didi's leading position in the world's biggest ride-hailing market.
The company's order volume fell 29 per cent between last June and March this year, according to a calculation of monthly growth rate figures published by China's Ministry of Transport. Smaller rivals Cao Cao Mobility, incubated by carmaker Geely, and T3 Chuxing, which is backed by various state-owned companies, saw their orders grow 34 per cent and 104 per cent, respectively, in the same period.