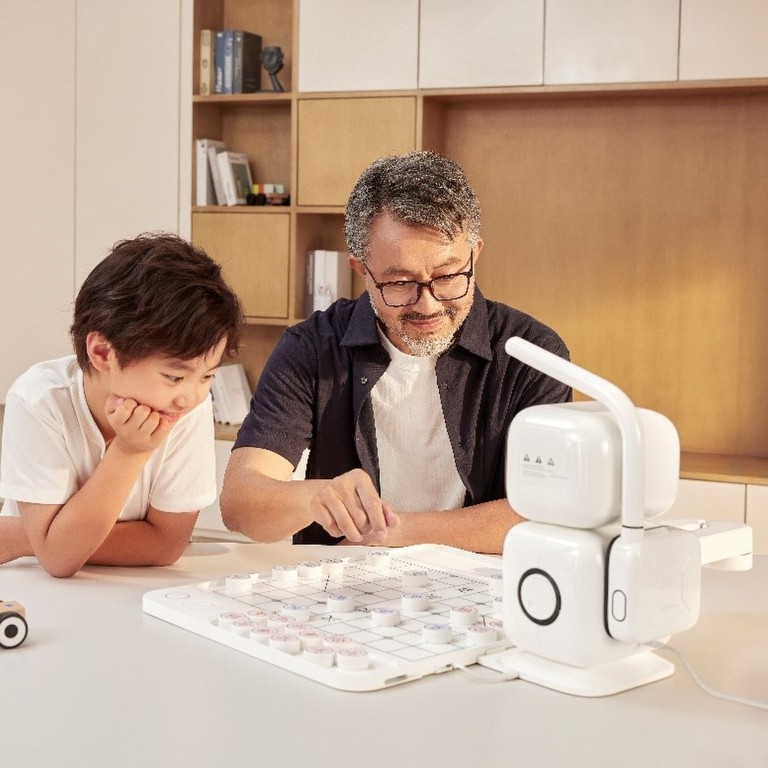 China's AI champion SenseTime hits consumer market for first time with US$299 chess-playing robot
The SenseRobot was launched on Tuesday and is priced at 1,999 yuan (US$299) for the standard model
Consumer foray comes as AI firm struggles to turn a profit from core AI technologies, aimed at manufacturing and surveillance
Chinese artificial intelligence giant SenseTime, which is subject to US sanctions, has launched its first consumer-facing product – a robot that can play Chinese chess.
The SenseRobot, unveiled on Tuesday and priced at 1,999 yuan (US$299) for the standard model and 2,499 yuan for a pro version, consists of a mechanical arm, a camera and a chess board. The robot is able to move pieces around the board and spot mistakes the human player makes.
The foray into consumer products comes as SenseTime struggles to turn a profit from its commercial AI technologies, aimed at manufacturing processes and surveillance applications. The company has been caught in the crossfire of an escalating tech war between the US and China.
In 2019 the Trump administration added SenseTime to the US Entity List for allegedly being complicit in human rights violations in the Xinjiang region. In December 2021, the Biden Administration placed SenseTime on a US list of "Chinese military-industrial complex companies," accusing it of "human rights abuse enabled by the malign use of technology" and subjecting it to sanctions. SenseTime has denied the allegations.
The US sanctions, which ban American funds from investing in SenseTime, coincided with the day for the pricing of the company's shares in a Hong Kong initial public offering. Pricing was delayed and SenseTime had to delay its stock sale.
The SenseRobot, unveiled at an event in Beijing, is a world away from the company's core product – a universal AI infrastructure that can train AI models using massive data and deep learning to produce scalable and affordable models for different industries.
"We hope to create a robot product that can truly think and act through innovative and leading AI technology, allowing industrial-grade AI technology to enter thousands of homes and interact with children and elders in a real way", said SenseTime chairman and chief executive Xu Li.
SenseTime shares closed at HK$2.19 on Tuesday, over 40 per cent down from a debut price of HK$3.85. SenseTime's stock fell 47 per cent in one day on June 30, when the lock-up period covering nearly two-thirds of its stock expired.
Founded in 2014, SenseTime mainly provides AI technology that powers government and corporate projects, including surveillance cameras, self-driving technology and facial recognition solutions. SenseTime said in its latest annual report that "all top-notch smartphone manufacturers in China are its customers" to power functions such as face unlock and night view enhancement.
In 2021, the company made a loss of 17 billion yuan (US$2.5 billion), 41 per cent bigger than the year before, while revenue grew 36 per cent to 4.7 billion yuan.