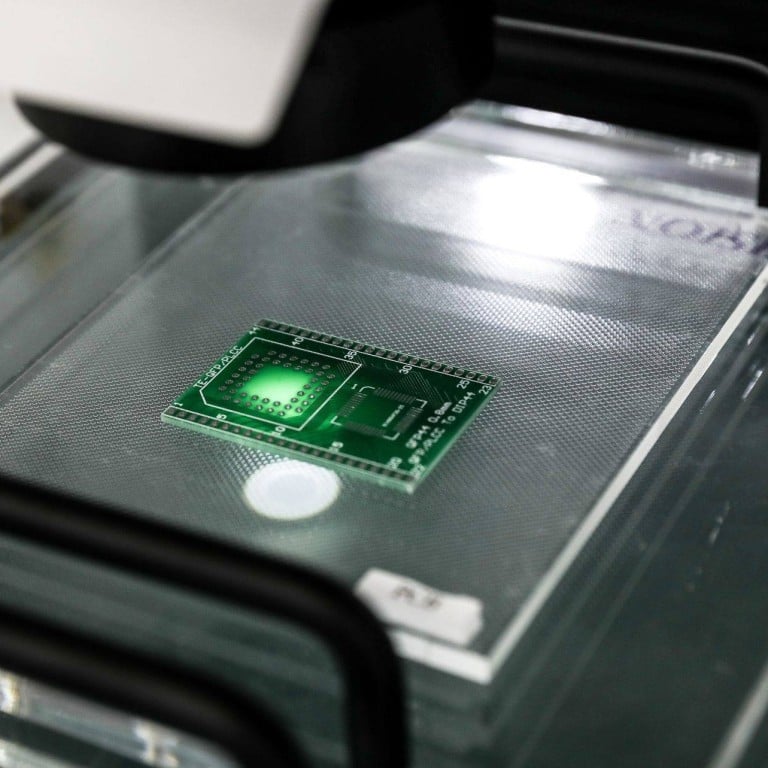 China's semiconductor self-sufficiency drive needs to strengthen development of talent and skills, education agency executive says
Executive says there is still a gap in integrated circuits expertise between China and overseas, 'especially in manufacturing'
Areas such as artificial intelligence and big data are still more popular with students than courses on semiconductors currently
China's semiconductor sector, a strategic industry that Beijing wants to see less dependent on foreign technology, faces a big skills and knowledge gap, according to an executive at a domestic education agency.
Chen Ying, a partner at Huike Edutech, which helps college students connect with industries such as chip-making, told the South China Morning Post in an interview that only a small number of students want to devote themselves to the semiconductor sector.
"Students are quite realistic," said Chen. "They may feel the job is too hard and not that well-paid."
In 2020, Huike formed a joint venture with Empyrean Technology, a domestic leader in electronic design automation (EDA) software used in chip design, to train future talent and he sees a lot of work ahead.
"There is still a gap in integrated circuits [expertise] between China and overseas, especially in manufacturing", Chen said. "The gap may be as wide as one or two generations, when it comes to EDA software and production. We want to use our expertise to help [make a difference]".
Chen added that areas such as artificial intelligence (AI) and big data are still more popular with students than courses on semiconductors because the former currently offer better and clearer career prospects.
Chen's outlook is backed by previous research. A recent report from the China Semiconductor Industry Association (CSIA) predicted that China would face a
talent gap
of 200,000 people in the 2022-2023 period as industry-wide demand for talent grows to 760,000.
In 2020, around 210,000 graduates in China majored in integrated circuits (IC) or relevant fields, but only 13.8 per cent chose to stay in the IC industry, according to the CSIA report.
Amid rising geopolitical tensions with the West, Beijing has fastened on semiconductors – the technology that plays an essential role in everything from cars to computers and missiles – as a strategic sector that requires long-term investment in education and skills.
In 2016, a joint guideline from the Ministry of Education and six other authorities suggested that colleges and enterprises work together on online IC courses and provide more internship opportunities. In 2019, the education ministry and the Ministry of Industry and Information Technology vowed to build ICs into a first-class degree course. In 2021, IC was elevated to become a "first-level discipline" in which graduates can pursue doctorate studies.
Last year, at least 12 Chinese universities set up a dedicated "IC school", including the top two – Tsinghua University and Peking University (PKU) in Beijing.
However, an undergraduate student from PKU's School of Integrated Circuits said that the teaching is far behind the most advanced technology in the real world. "Take the 'IC manufacturing technology' course as an example, the knowledge taught in the class is 15 or 20 years behind," said the student, who asked not to be identified as the matter is sensitive.
"I still want to become an engineer in chip design," the student said, pointing out that this will likely require a PhD degree at PKU or overseas study. "A [basic] college degree in IC will land me in a low-tech or low-income job."
But not every chip industry job requires higher education.
The CSIA report said that in 2020, the number of professionals in chip design, production and packaging & testing totalled 199,600, 181,200 and 160,200 respectively. That means that lower-end manufacturing jobs and packaging & testing accounted for 63 per cent of those employed.
That proportion is in line with employment patterns at Semiconductor Manufacturing International Corp, China's largest chip maker. By the end of 2019, 47.7 per cent of its workforce did not have a bachelor's degree or above, according to its prospectus.
"Most of those in the IC sector are non-chip-design workers", said Li Pei, an analyst from semiconductor industry information provider JW Insights. "As chip design has attracted a lot of funds in recent years, pay has become more competitive. But manufacturing and other positions have not become more popular [with jobseekers]."
Li added that when it comes to industry cooperation with educational institutes, semiconductor enterprises tend to link up with prestigious universities to train talent, and as a result "vocational colleges have failed to receive enough resources".