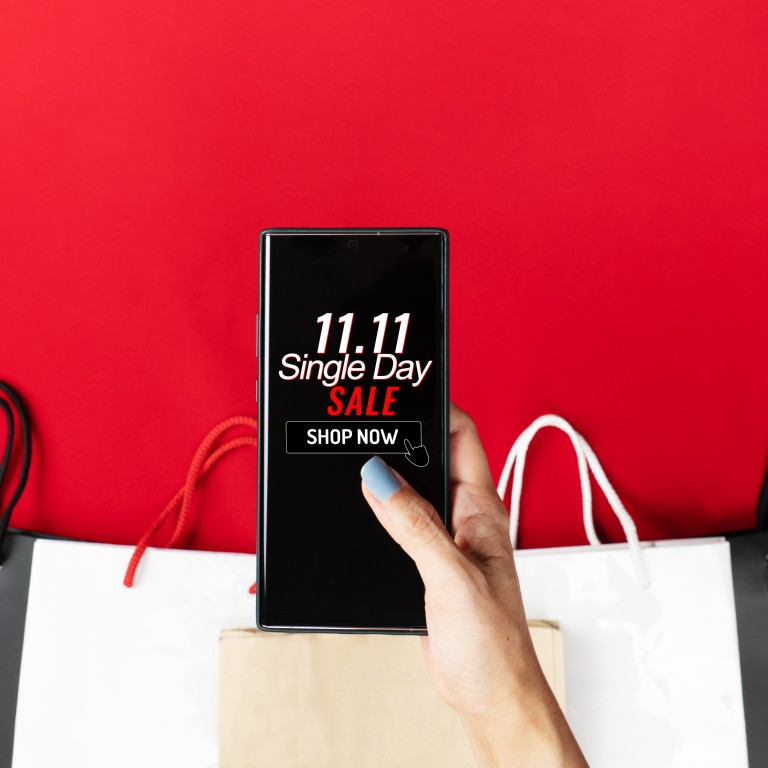 China's e-commerce giants fight for consumer eyeballs in world's biggest shopping festival amid economic headwinds and fierce competition
Singles' Day is traditionally a time when Chinese consumers splurge on everything from smartphones to frying pans
Analysts expect cutthroat price wars this year as competing platforms fight for attention and limited spare cash
Alibaba Group Holding, JD.com and Pinduoduo have kicked off the Singles' Day sales season, still the world's biggest shopping festival, as China's top e-commerce players brave weak consumer spending, fierce competition and a fresh slump for the stock market on Monday.
Traditionally a time when Chinese consumers splurge on everything from smartphones and frying pans, to cosmetics and the latest fashions, this year's festival is overshadowed by a slowing economy that has been battered by Covid-related lockdowns, supply chain disruption and slumping property and equity markets.
Singles' Day was initially promoted by Alibaba in 2009 as an online shopping extravaganza aimed at catering to the shopping habits of people not in relationships, and has evolved into a wider barometer of China's consumer spending power. Analysts expect cutthroat price wars this year as competing platforms fight for attention and limited spare cash.
Alibaba, which owns the South China Morning Post, started its shopping festival on Monday evening, with consumers encouraged to pay a deposit to secure the best prices and checkout slots. JD.com began presales for the festival four days ago with a variety of promotions while Pinduoduo, which delivered a strong set of financial results in the second quarter, kicked off its sales efforts with a series of deep discounts to woo consumers.
"There are many head winds blocking further growth this year, largely driven by low consumer confidence at the moment," said Mark Tanner, managing director of Shanghai-based research firm China Skinny. "On the back of limited growth with the 618 [shopping event] and less razzmatazz surrounding this year's festival, it would be fair to caution against expecting more than flat sales this year."
Consumer sentiment took another dent though as new economy stocks plunged in Hong Kong on Monday, with Alibaba down 11.4 per cent to a record low of HK$61.65 while JD.com slumped 13.2 per cent to HK$141.8.
This helped drag the Hang Seng index below 16,000 points for the first time in more than 13 years, in a broad market sell-off as investors reacted negatively to President Xi Jinping securing a third leadership term on Sunday with a new Politburo Standing Committee stacked with loyalists.
Alibaba, which has a billion consumers, has seen its stock price drop almost 80 per cent in two years. It declined to comment on recent market volatility and JD.com did not immediately respond to a request for comment on the issue.
Meanwhile, a crop of younger market entrants are nipping at the heels of China's established e-commerce players. Douyin, the short video app owned by ByteDance, kicked off its presales late on Monday, offering a wide range of products from white wine to sports shoes. Video-streaming platform Bilibili began its Singles' Day efforts with a series of live-streaming sessions, after introducing a live-streaming e-commerce option earlier this year.
"Alibaba will still dominate, but new players [such as Douyin and Kuaishou] will increasingly cannibalise sales," said China Skinny's Tanner. "This reflects the overall trend of some shopping shifting to these platforms, but also their increased focus on promotional opportunities for brands and the introduction of their Malls, which will provide some desired stability for brands, allowing them to throw their weight behind promotions."
Arne Van Craeyevelt, a global expansion manager with Belgian brand Loop Earplugs, said Singles' Day is still an event that attracts high expectations. The brand entered the China market in May via Alibaba's Tmall Global, and is planning to launch on other platforms such as Douyin and Xiaohongshu.
"This is the first time we're participating in such a big shopping festival. We do have high expectations, although we know that the economical climate currently is not the best and not only in China, but across the whole world," said Van Craeyevelt.
Alibaba said it will feature around 290,000 brands with more than 17 million products available in this year's Singles' Day, according to a statement on Monday. "11.11 this year will have the most diverse range of products in the event's history," said Chui Xue, president of Industry Development and Operation Centre of Taobao and Tmall at Alibaba.