Foxconn
Get more with myNEWS
A personalised news feed of stories that matter to you
Learn more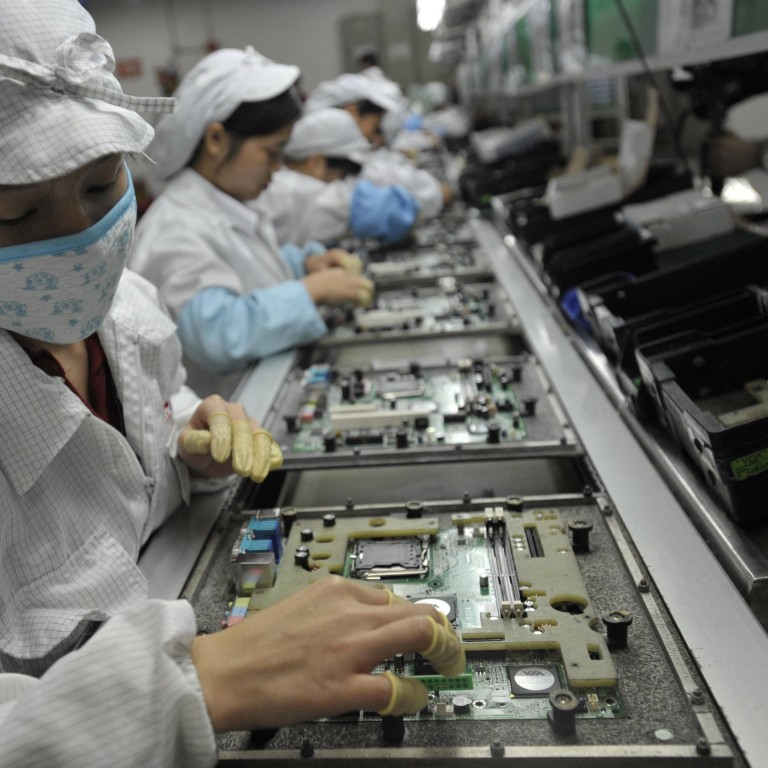 Apple supplier Foxconn 'to resume normal productivity as soon as possible' at key China factory amid Covid-19 outbreak
Foxconn has been attempting to 'ensure both employee health and safe production', chairman said in an analyst call
Company expects revenue from consumer electronics for three months between October and December to be slightly down from a year earlier
Major Apple supplier Foxconn Technology Group told analysts on Thursday that its factory in the central Chinese city of Zhengzhou is "making efforts to resume normal productivity as soon as possible", after a struggle with a Covid-19 outbreak since mid-October.
The plant, which makes the largest number of iPhones in the world and employs more than 200,000 people, has been attempting to "ensure both employee health and safe production", said company chairman Liu Young-way.
Liu said that demand for high-end iPhones was still strong. Earlier this week, Apple said that the impact from the Covid-19 related disruption at the plant would result in lower-than-anticipated shipments and longer delivery times for the iPhone 14 Pro and iPhone 14 Pro Max.
Foxconn, formally known as Hon Hai Precision Industry, on Thursday reported net income of NT$38.8 billion (US$1.2 billion), up 5 per cent, while revenue rose 24 per cent to NT$1.75 trillion.
Liu expects revenue from consumer electronics for the three months between October and December to be slightly down from a year earlier. On Monday, Foxconn said that it would
revise down its outlook
for the fourth quarter "due to the pandemic affecting some of [its] operations in Zhengzhou".
Shares in the Taiwan-listed Foxconn dropped nearly 2 per cent to NT$100.5 on Thursday.
Since the latest Covid-19 wave hit Zhengzhou last month, Foxconn has been operating its facility there in a so-called closed-loop mode that keeps workers on the campus. However, as cases rose, workers complained about
"terrible" living conditions
and
tens of thousands have fled
out of fear of being infected.
The Zhengzhou city district on Wednesday announced an end to a week-long lockdown for areas that do not include the factory. Instead, it labelled an area that surrounds the 5.6-million-square-metre factory as a "temporary control area to avoid spillover".
Residents there cannot leave residential compounds, and they may be confined to their flats if there has been a new case in the past week. The local authorities did not specify how long the measures will last.