Xiaomi
Get more with myNEWS
A personalised news feed of stories that matter to you
Learn more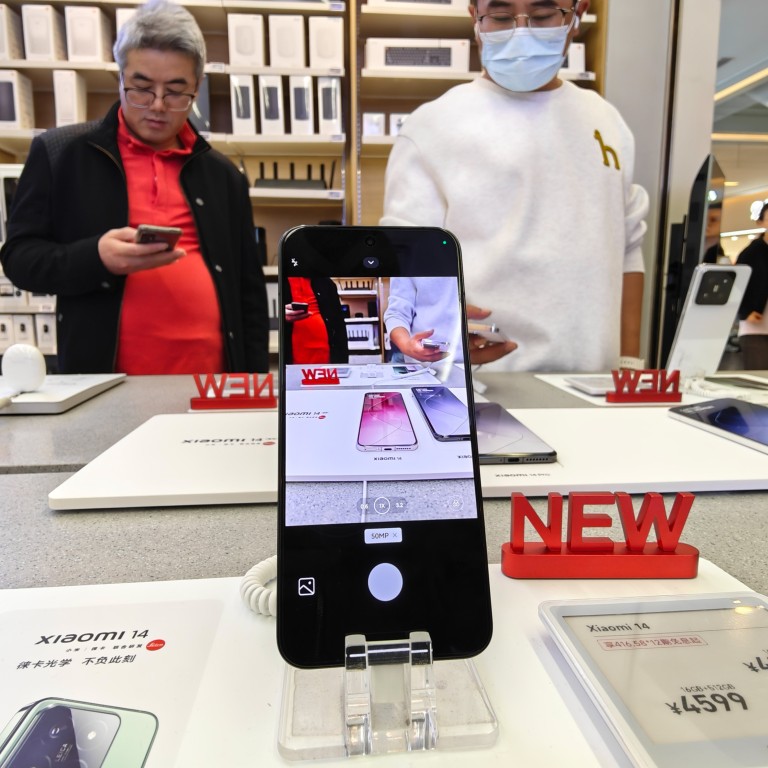 Xiaomi posts first revenue growth in 6 quarters buoyed by smartphone sales uptick
Beijing-based Xiaomi's revenue rose 0.6 per cent year-on-year to 70.9 billion yuan in the September quarter
Xiaomi unveiled its new operating system Xiaomi HyperOS in October, with an emphasis on its AI abilities
Xiaomi eked out its first year-on-year revenue growth in six quarters, buoyed by a stronger smartphone business, as the company continues to make inroads against rivals in the premium segment amid shifting consumer preferences.
Xiaomi president Lu Weibing said during a media conference call on Monday that the company's electric vehicle (EV) development was also on track with the second winter trial of its EVs to start shortly, without elaborating. Xiaomi spent 1.7 billion yuan (US$237 million) on its EV business during the third quarter.
Beijing-based Xiaomi's revenue rose 0.6 per cent year-on-year to 70.9 billion yuan in the September quarter, reversing a trajectory of downward year-on-year revenue growth over the past six quarters, according to the firm's financial statement on Monday.
During the third quarter, the world's third-largest smartphone maker shipped 41.8 million handset units, up 4 per cent year-on-year. Xiaomi's smartphone revenue accounted for 58.7 per cent of total sales, compared with a 60.3 per cent share a year ago.
Xiaomi returned to profitability during the third quarter, making 4.9 billion yuan in net income versus a loss of 1.5 billion yuan a year earlier.
Overall industry shipments in China fell for the second quarter in a row during the third quarter, down 5 per cent year-on-year, according to data from Canalys.
However, Xiaomi's Lu in the call repeated his optimistic view for the global smartphone market in the coming year, citing a narrowing of the global sales slump.
Global smartphone shipments dropped 1 per cent from a year earlier in the third quarter, narrowing from a second quarter drop of 10 per cent year-on-year, amid signs of improved demand in some regional markets, according to Canalys.
Lu said previously that Chinese smartphone vendors would ship more than 280 million units to the domestic market in 2024. He expects a 5 per cent overall gain for Chinese vendors in the global smartphone market next year.
Xiaomi unveiled its new operating system Xiaomi HyperOS in October, with an emphasis on its artificial intelligence (AI) abilities. It also trumpeted rosy sales of its Xiaomi 14 series, which was launched in late October. Xiaomi said its 14 series is the only domestic offering that can rival Apple's iPhone 15 series in terms of sales during the recent Singles' Day sales festival in China.
In the eleven days from October 31 through November 10, Xiaomi sold 1.4 million of the 14 series, according to local media reports that cited sources familiar with the situation.
Nevertheless, Lu said that the 14 series only accounted for a very small portion of Xiaomi's total sales. He also acknowledged that the company is feeling competition from some domestic rivals in the premium segment.
In addition to Apple's iPhone 15 series, Huawei Technologies has done well with its 5G Mate 60 Pro handsets, which sport an advanced home-grown chipset.
Born as more of a budget offering, Xiaomi began to target Apple's iPhones in the premium segment in 2021 with its 12 series, said Lu.
However, Xiaomi smartphones now "outperform iPhones across the board when it comes to product experiences in many aspects", said Lu, adding that the 14 series had won consumers over at home.
Xiaomi expects to launch the 14 series in the global market next year, tapping a consumer trend for higher-end smartphones, in a move that will also see it take on Samsung Electronics.
Xiaomi's HyperOS features generative AI to enhance smartphone functions, making the company one of the latest Chinese handset vendors to jump on the generative AI bandwagon. Xiaomi said it intends to invest more in AI.
Oppo and Vivo, two of Xiaomi's Guangdong-based rivals, have both gone public with their plans to inject the power of AI into their handsets.