Alibaba
Get more with myNEWS
A personalised news feed of stories that matter to you
Learn more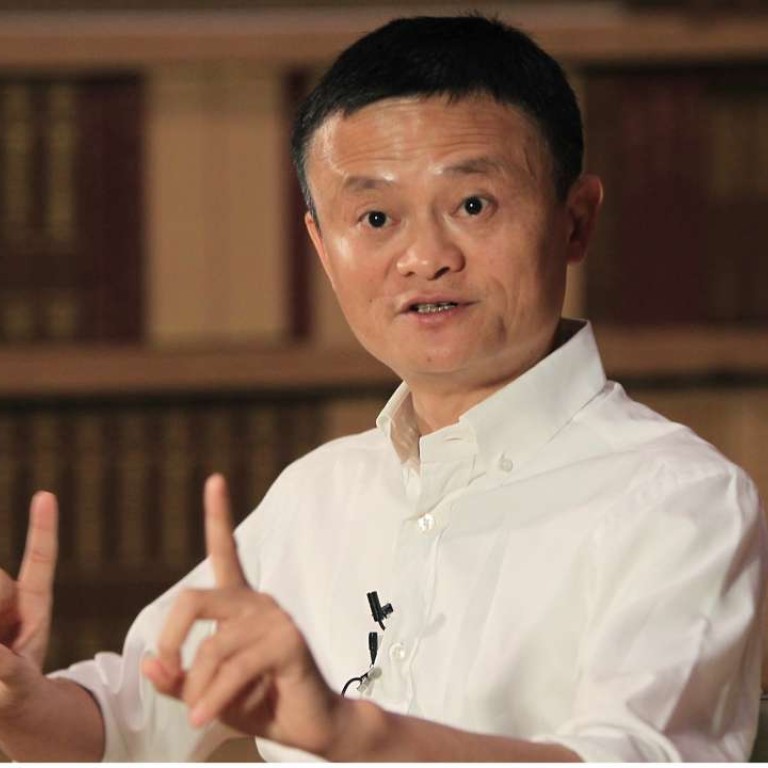 E-commerce will become a 'traditional' business, says Alibaba's Jack Ma
Alibaba wants to serve 2 billion consumers and create 100 million jobs over next 20 years, according to statement ahead of annual shareholders meeting
Alibaba Group founder Jack Ma Yun predicts a radical change in the global retail industry over the coming years, when today's cutting-edge e-commerce activities become a "traditional business".
"We anticipate the birth of a re-imagined retail industry driven by the integration of online, offline, logistics and data across a single value chain," Ma wrote to Alibaba shareholders in a letter sent ahead of the New York-listed company's annual shareholders meetingThursday night.
Ma, the executive chairman at Alibaba, pointed out that pure e-commerce players will soon face tremendous challenges.
"This is why we are adapting, and it's why we strive to play a major role in the advancement of this new economic environment," he said.
Founded in 1999, Alibaba runs the world's largest online and mobile marketplaces in retail and wholesale trade. Its US$25-billion initial public offering in New York in 2014 was the biggest stock market flotation in history.
Hangzhou-based Alibaba has also steadily expanded into other industries, including financial services, health care, entertainment, media and enterprise information technology services. The company owns the South China Morning Post.
"Over the next 30 years, with computing power as the new 'technology breakthrough' and data as the new 'natural resource', the landscape of retail, financial services, manufacturing and entertainment will be transformed," Ma said.
"We already see meaningful changes taking place today in the operations of our merchants' businesses. For example, every day, more than six million businesses currently use our merchant mobile app, called Qianniu, which helps them improve sales and marketing, as well as enhance overall management quality and efficiency."
Ma said it was Alibaba's goal to not only help businesses in China, but also extend its reach to help companies all over the world to grow.
"Over the past two years, we have seen growing resistance to globalisation due to the uneven distribution of its benefits," he said. "We believe the commerce infrastructure we have created in China – marketplaces, payments, logistics, cloud computing and big data, all working in concert – can be applied on a global scale to lift up small and medium businesses and ordinary consumers around the world.
"The personal privilege of becoming a special advisor to the United Nations on youth entrepreneurship and small businesses, and advocating for the successful inclusion of eWTP (electronic world trade platform) into the official G20 Leaders Communiqué issued at the Hangzhou Summit, are among our many efforts to make a difference on this front," he added.
Alibaba has provided a vast online marketplace for merchants, brands and other businesses in mainland China to engage with domestic and overseas consumers.
There are now more than 10 million small businesses in China which operate on Alibaba's e-commerce platforms, which include consumer-to-consumer site Taobao Marketplace, business-to-consumer platform Tmall.com and group-buying service Juhuasuan.
Alibaba has more than 430 million annual active buyers, which means one out of every three individuals in China have made a purchase using its online retail marketplaces.
In a separate letter to shareholders, Alibaba chief executive Daniel Zhang Yong said the biggest trend in the retail industry has been the integration of offline and online retail activities.
"From our perspective, the most important opportunity on the horizon is not growing online sales in isolation, but rather helping traditional retailers upgrade into a brand new retail model," Zhang said.
"The excitement is in leveraging internet-based approaches and new technologies to transform the 30-trillion yuan China retail market to meet the demands of the ongoing consumer upgrade, and improve efficiency across the entire chain of product manufacturing, distribution and service.
Ma said Alibaba was proud of its accomplishments, "but we want to do far more".
"We are not merely trying to shift buy/sell transactions from offline to online, nor are we changing conventional digital marketing models to squeeze out a little additional profit," Ma said. "We are working to create the fundamental digital and physical infrastructure for the future of commerce, which includes marketplaces, payments, logistics, cloud computing, big data and a host of other fields."
He added: "In 20 years, we hope to serve 2 billion consumers around the world, empower 10 million profitable businesses and create 100 million jobs. This will be an even more difficult journey than the one behind us."
Mainland China last year surpassed the United States to become the world's largest e-commerce market, despite the country's economic growth falling below 7 per cent for the first time since 2009.
Data from Forrester Research showed that China's online retail market will reach US$1.1 trillion by 2020. That would be nine times larger than Japan's US$122 billion market and 17 times greater than South Korea's US$65 billion market in the same period.
This article appeared in the South China Morning Post print edition as: Radical change looms for retailingRadical change looms for retailing