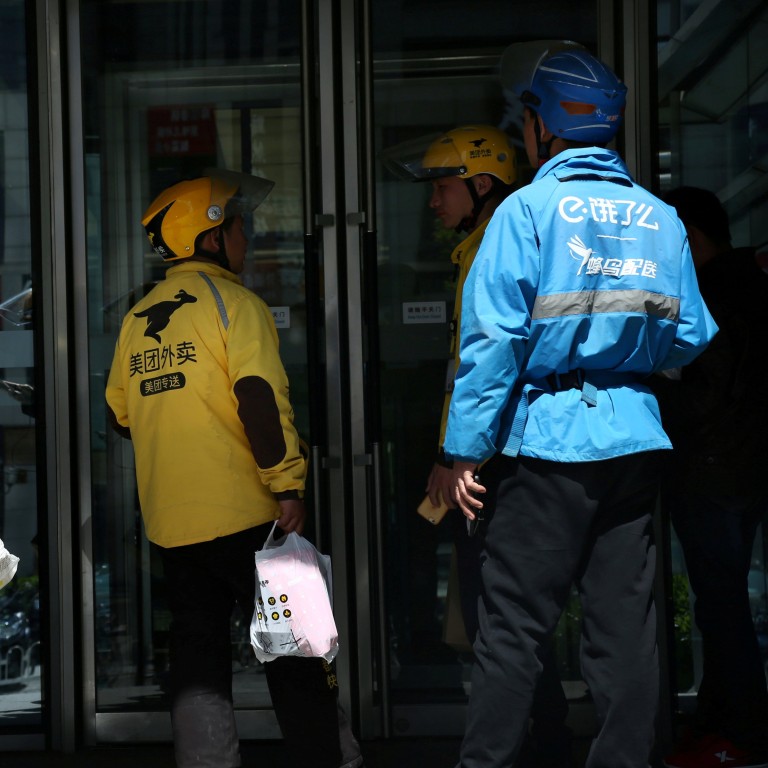 China's on-demand delivery providers to tighten merchant inspection, as regulator finds 35,000 illegal restaurants on their platforms
The Beijing Market Supervision Administration has initiated more than 2,100 cases against illegal food merchants
Chinese on-demand delivery services operators, including Meituan Dianping and Alibaba Group Holding-owned Ele.me, are tightening inspection of restaurants on their online platforms, after a government regulator found up to 35,000 such establishments were operating illegally.
The Beijing Market Supervision Administration, which has initiated more than 2,100 cases against those illegal food merchants, announced on Wednesday that it has met with these platform operators to "ensure the safety of online-ordered food". It did not identify the offending merchants.
Many of the restaurants listed with the online delivery platforms operators either did not have a licence or carried a fake licence, according to the regulator. It said the platforms failed to set up a strict inspection system to review the quality of food vendors they do business with.
The country's major food delivery platform players were on board with the regulator's direction, according to separate statements they made on Wednesday.
"We will use our Sky Net system to strengthen our inspection mechanism," said Lu Weijia, chief food security officer at Meituan Dianping. In addition, Lu said the company plans to set up food safety insurance for its users.
Sky Net, which provides a digital archive of all the merchants on Meituan Dianping's platforms, is also being integrated by the company with local regulatory databases to help speed up its merchant verification and inspection processes.
"We'll carry out what the Market Supervision Administration has asked us to do," said an Ele.me spokesman. Ele.me has already established a credit system for food vendors, which will take unqualified suppliers offline permanently, the spokesman said.
The regulator's action has come as more Chinese consumers choose to order food online and receive delivery offline. It is a market segment in which on-demand delivery app operator Meituan Waimai, a unit of Hong Kong-listed Meituan Dianping, is the country's largest player.
Meituan Dianping and Ele.me account for a combined 98 per cent of the food delivery services market in China, according to recent industry estimates.
Last year, there were more than 36 million users of online food delivery services on the mainland, a report by Data Centre of China Internet has estimated. That amounted to 445 billion yuan (US$66.3 billion) in total transactions, according to Chinese market research firm Analysys.
Tencent Holdings-backed Meituan Dianping reported a wider net loss of 3.4 billion yuan in the December quarter amid intense competition for market share with Ele.me in on-demand deliveries and with Ctrip, Qunar and Alibaba's Fliggy in the online travel segment.
New York-listed Alibaba is the parent company of the South China Morning Post.
This article appeared in the South China Morning Post print edition as: Delivery services to raise scrutiny after revelation of 35,000 illegal restaurants