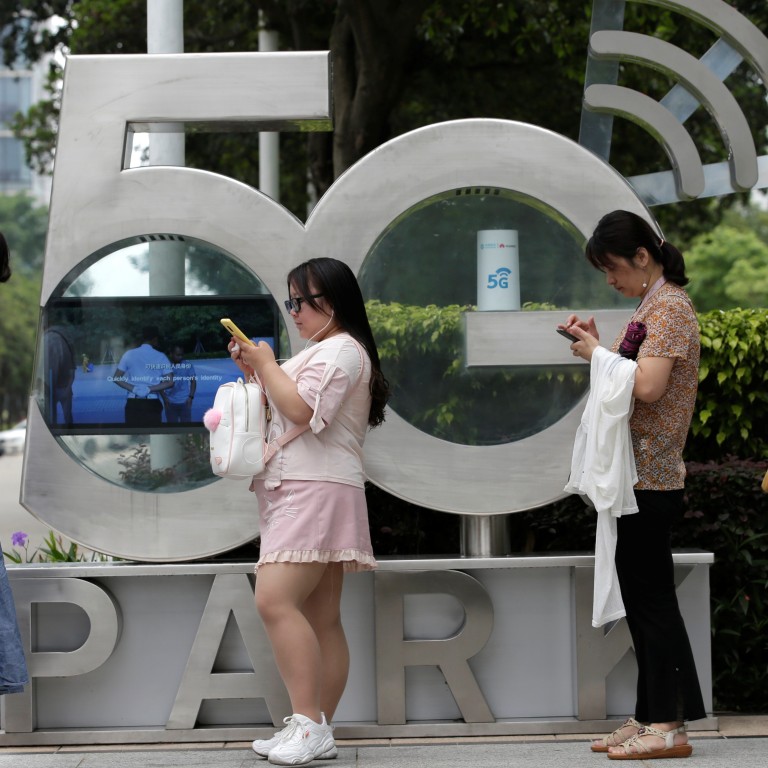 The award of commercial 5G licences may push the country's three telecoms network operators to accelerate their 5G mobile network roll-out plans, an analyst said. Photo: Reuters
China awards 5G licences to country's major telecoms network operators, cable network giant
Hong Kong-listed carriers China Mobile, China Unicom and China Telecom, as well as China Broadcasting Network, were granted licences
Move comes after US government put telecoms gear provider Huawei Technologies on trade blacklist
Topic |  
US-China tech war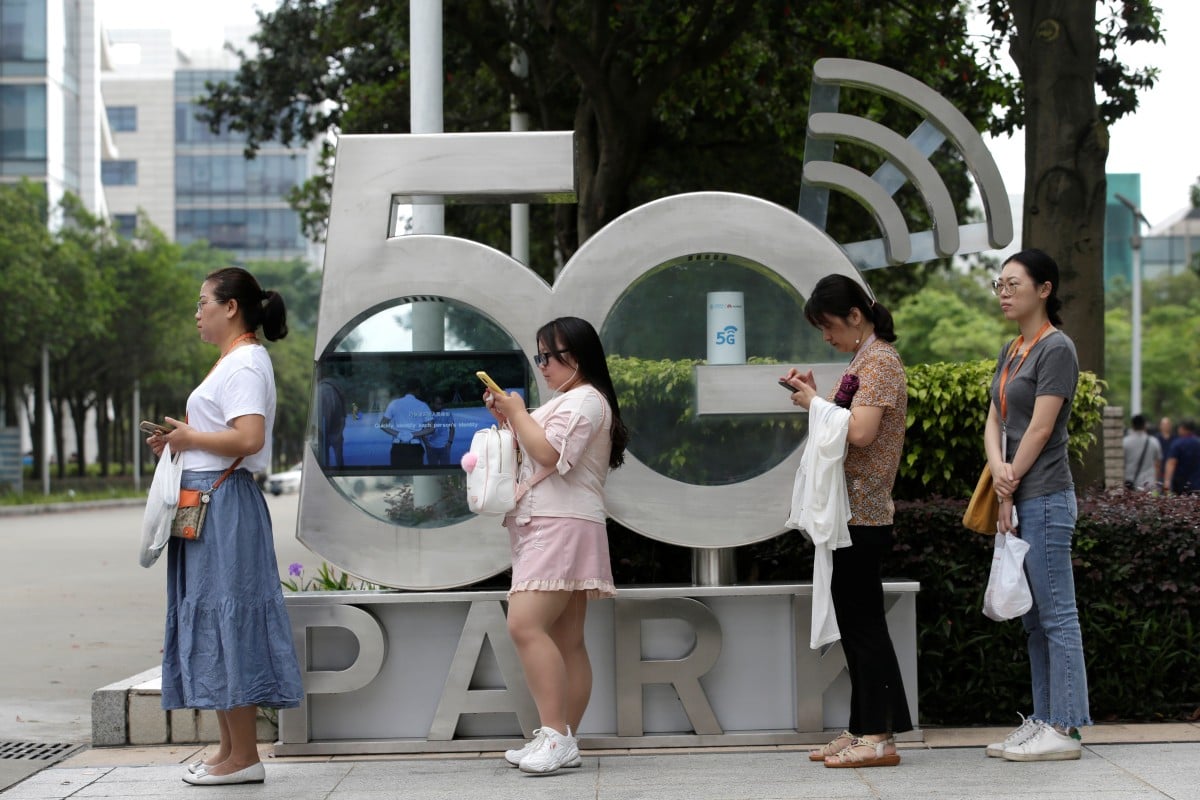 The award of commercial 5G licences may push the country's three telecoms network operators to accelerate their 5G mobile network roll-out plans, an analyst said. Photo: Reuters
China on Thursday granted commercial 5G licences to the country's three telecommunications network operators and the nation's cable network giant, signalling major new investments in the world's largest mobile market amid a raging tech war with the United States.
Hong Kong-listed carriers China Mobile, China Unicom and China Telecom, as well as China Broadcasting Network, were each awarded a licence to run commercial 5G mobile services, according to the Ministry of Industry and Information Technology (MIIT).
The award of licences is expected to enable China to move ahead in the global race to deploy telecoms infrastructure that will help power
While South Korea, the US, Australia and the UK have launched initial commercial 5G services in the second quarter, the scale of China's market is likely to dwarf the combined size of those economies, negating any first-mover advantage.
"This marks China's official entry to the 5G era," Huawei Technologies, which has up to a 50 per cent share of the country's telecoms equipment market, said in a statement on Thursday. "Huawei will fully support Chinese operators to build 5G [networks] with comprehensive end-to-end 5G capabilities. We believe that in the near future, China's 5G will lead the world."
Not all industry analysts are as optimistic as Huawei though.
"We remain concerned that if the US export ban on Huawei remains in place for some time and is even extended to other Chinese tech companies, it will be very difficult for China to build 5G in scale," said Jefferies equity analyst Edison Lee in a report on Thursday. "The action by China to accelerate 5G licensing does not remove or alleviate this risk."
The award of commercial 5G licences is "more a posture by China to make a statement that 5G will not be delayed just because of the US export ban on Huawei, giving it more bargaining power and creating stronger internal political support", Lee said earlier this week.
He acknowledged though that MIIT's announcement may push the country's three telecoms network operators to accelerate their 5G mobile network roll-out plans.
The award of 5G licences comes after Huawei, which the US government put on a trade blacklist last month,
Beijing had granted licences at the end of 2018 to China's three state-owned carriers to conduct 5G trials, but this is the first time it has given the go-ahead for full commercial deployment.
The US move to blacklist Huawei has severed the Shenzhen-based company's access to American hi-tech suppliers, including semiconductor firms Qualcomm and Intel as well as software providers Google and Microsoft. "Huawei is fully prepared" for the roll-out of commercial 5G networks in China, the company said in a statement, in an effort
"Since April last year, Huawei has carried out 5G commercial trials in more than 40 cities with China's three major operators," the company said. That included urban, indoor, highway, subway and other environments. At present, Huawei has obtained 46 5G commercial contracts in 30 countries around the world. It has also shipped more than 100,000 5G mobile base stations.
ZTE Corp, the crosstown rival of privately-held Huawei in Shenzhen, said in a statement that it was fully prepared to meet the requirements for China's commercial 5G mobile network deployment.
"ZTE has been continuously investing and innovating in 5G for many years," the Hong Kong-traded company said. "ZTE is fully prepared for the commercialisation in wireless, core network, transport, chip sets, mobile devices and industry applications."
China Telecom said in a statement it believes "that the issuance of the 5G service operation permit facilitates the construction of Digital China and social economic development, which is of great significance to the telecommunications industry and the company's achievement of high-quality development."
China Mobile said it would press ahead with its "5G+" plan. Sweden's equipment supplier Ericsson said the announcement was positive news for China and hoped that "in the process of 5G commercial implementation [in China], Ericsson can play a greater role."
Unicom said it will release a statement later on Thursday and there was no immediate response to an e-mailed request for comment from Finland's Nokia.
 China's 5G capital spending is estimated to range from 900 billion yuan to 1.5 trillion yuan (US$130.2 billion to US$217 billion) between 2020 and 2025, according to a study published in March by the China Academy of Information and Communications Technology, a research institute under the MIIT.
 The world's largest wireless network operator, China Mobile, called for a tender in March to supply 500 5G base stations, without stating the geographic coverage and timeline. The Beijing-based state-owned telecoms operator may award the bulk of the tender to Huawei and ZTE, while allocating five per cent to Ericsson and none to Nokia, according to sources.
 China Mobile, which had 722.6 million 4G subscribers at the end of April, is yet to formally announce the results of that tender. A spokesman for China Mobile said the company does not comment on market speculation.
Hong Kong-listed China Mobile, Unicom and China Telecom currently buy their network equipment from multiple suppliers, including Nokia and Ericsson. The technological advances made by Huawei and ZTE, however, have enabled them to expand their share of the Chinese carrier market over the past two generations of mobile systems.
China regards next-generation 5G mobile networks – which offer faster data rates, reduced latency, energy savings, cost reductions, higher system capacity and massive device connectivity – as a chance to get out in front of the telecoms industry for the first time.
The country's road to 5G has been well planned. In 2012, two years before China Mobile launched 4G services on the mainland, various Chinese entities joined an international initiative to research and develop 5G.
With peak data rates up to 100 times faster than 4G, 5G will serve as "the connective tissue" for new mobile applications, such as the internet of things, autonomous cars and smart cities – providing the backbone for the industrial internet, according to a Deloitte report.
This article appeared in the South China Morning Post print edition as: Beijing awards 5G licences to big four