Tencent
Get more with myNEWS
A personalised news feed of stories that matter to you
Learn more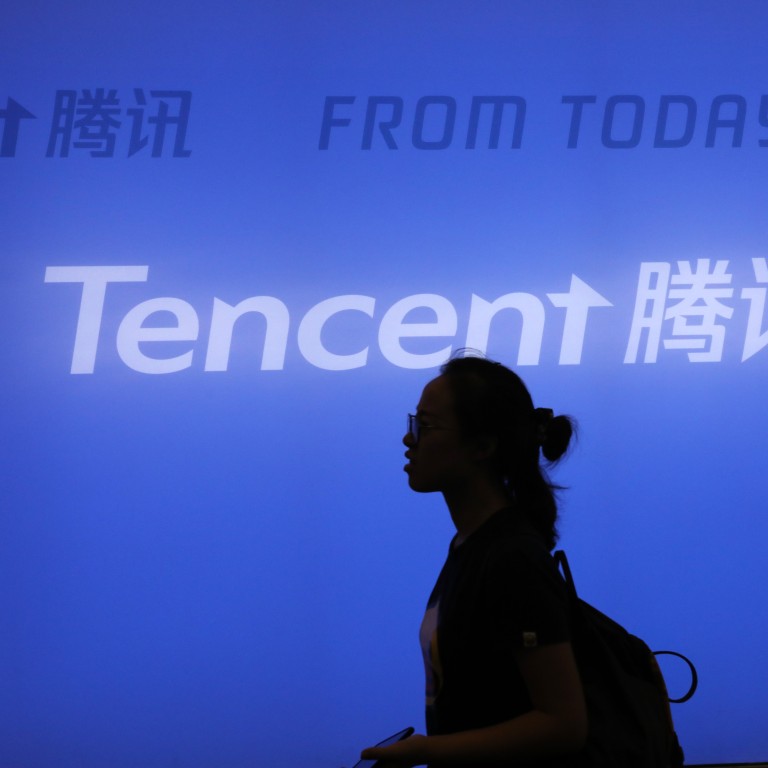 Tencent posts better-than-expected US$3.4 billion second-quarter profit on payments, games
Revenue from games and social media businesses rose 14 per cent to 48 billion yuan in the second quarter
The internet giant expects the macroeconomic environment to remain difficult for the rest of the year
Tencent Holdings, operator of China's biggest video games and social media businesses, warned that macroeconomic challenges will persist this year even as the company beat estimates to report a 35 per cent increase in quarterly profit.
The
Shenzhen-based company
reported a net profit of 24.1 billion yuan (US$3.4 billion) in the quarter ended June 30, up from 17.9 billion yuan in the same period last year, boosted by revenue growth from its payment services and hit smartphone games. That was ahead of the 21.1 billion yuan consensus estimate from 14 analysts surveyed by Bloomberg.
Revenue increased 21 per cent to 88.8 billion yuan, up from 73.7 billion yuan a year ago, but was below analysts' consensus estimate of 93.4 billion yuan.
"During the second quarter, we sustained solid user, revenue and profit growth, and executed on key initiatives amid the challenging business environment," said Pony Ma Huateng, Tencent's chairman and chief executive, in a statement on Wednesday. "We have widened merchant adoption for our mobile payment services, contributing to rapid growth in average transaction and total payment volume."
Tencent's latest quarterly financial results showed that efforts to put its video games business back on track are paying off, following a roller-coaster year for the company in 2018 that wiped out almost half of its value at one point.
Growth in China's video games industry stalled last year amid a regulatory crackdown on internet content and initiatives to stem gaming addiction, which included suspending the licensing process for new games for nine months. Licensing was restarted in December.
The macroeconomic environment, however, "will remain difficult for the rest of the year", said James Mitchell, chief strategy officer at Tencent, at the company's conference call with analysts late on Wednesday.
Although Tencent's share price has recovered in the past few months, the stock remains under pressure from gloomy market sentiment brought by an escalation of the US-China trade war.
Its Hong Kong-traded shares rose 1.8 per cent to close at HK$340 on Wednesday.
Still, most online game companies in China are growing at an average range of about 16 per cent to 25 per cent, according to a China internet industry report published last week by Jefferies.
"We view the online games sector in China to have recovered from regulatory headwinds with the resumption of games approval by the authorities now factored into the [share] price," said Jefferies equity analyst Thomas Chong, the report's main author.
"With the number of mobile gamers plateauing at over 500 million [in China}, we believe growth from here will be driven by the increase in paying ratio and average revenue per user."
Tencent has so far made the right moves since relaunching international hit mobile game PUBG Mobile, part of the popular PlayerUnknown's Battlegrounds battle royale franchise, into a patriotic version marketed as Peacekeeper Elite in China during the second quarter.
With that version's release, China now accounts for 28 per cent, or about US$241 million of the close to US$860 million that the Tencent-published PUBG Mobile has grossed worldwide as of July, according to app analytics firm Sensor Tower, which published its estimates last month.
Also known as Game for Peace, Peacekeeper Elite could potentially bring in US$1 billion by the end of this year, according to a report by Niko Partners.
Tencent's value-added services operation, which includes games and social media businesses, rose 14 per cent to 48 billion yuan in the second quarter.
Smartphone games revenue was up 26 per cent to 22.2 billion yuan in second quarter on the broad popularity of Tencent's existing blockbuster titles, such as Honour of Kings, and recent releases.
During the quarter, Tencent released 10 games compared with only one game the previous quarter. Peacekeeper Elite has already exceeded 50 million daily active users since its launch in May. Revenue from the title, however, had been deferred, so its contribution last quarter was relatively small compared with the company's other hit games, according to Mitchell.
The company's financial technology and business services operation, which include payments and cloud services, grew 37 per cent to 22.9 billion in the second quarter.
LiCaiTong, Tencent's wealth management platform, grew its customer assets to more than 800 billion yuan at the end of June, which showed that users are keeping their money within WeChat's payment system.
The monthly active users on messaging, social media and do-everything app WeChat, marketed as Weixin on the mainland, grew 7.1 per cent to 1.13 billion as of June 30.
Martin Lau Chi-ping, president at Tencent, said at the conference call that the firm's cloud business recorded strong growth after making "strong inroads" into enterprises in the financial services sector and the government.
"The last piece of the puzzle is really building more exposure to the small- and medium-sized enterprises," Lau said.
Online advertising, meanwhile, increased 16 per cent to 16.4 billion yuan, driven by Weixin Moments and QQ's entertainment news feed KanDian.
The increased ad load on WeChat Moments and Official Accounts could partly offset weaker demand expected in the second half, making social advertising a more "defensive" play than traditional media ads, according to a report by SWS Research analysts Daniel Huang and Alicia Fu released ahead of Tencent's results.
Investments, a major part of Tencent's development strategy over the past 10 years, has slowed down in the past several quarters, according to Mitchell.
That was "partly because the amount of capital we're deploying into investments has decelerated after an unusually rapid pace", he said.
"The greater change", he said, is the company becoming more active in so-called frontier opportunities, including enterprise software, financial technology, education and health-related technology opportunities. "Overall, we will continue to invest in a more measured pace," he said.
For more insights into China technology, be part of our Inside China Tech group on Facebook. Listen to our Inside China Tech podcast and subscribe via iTunes, Spotify or Stitcher. For a comprehensive survey of China's digital landscape, download the 2019 China Internet Report.
This article appeared in the South China Morning Post print edition as: Tencent reports 35pc rise in net profit