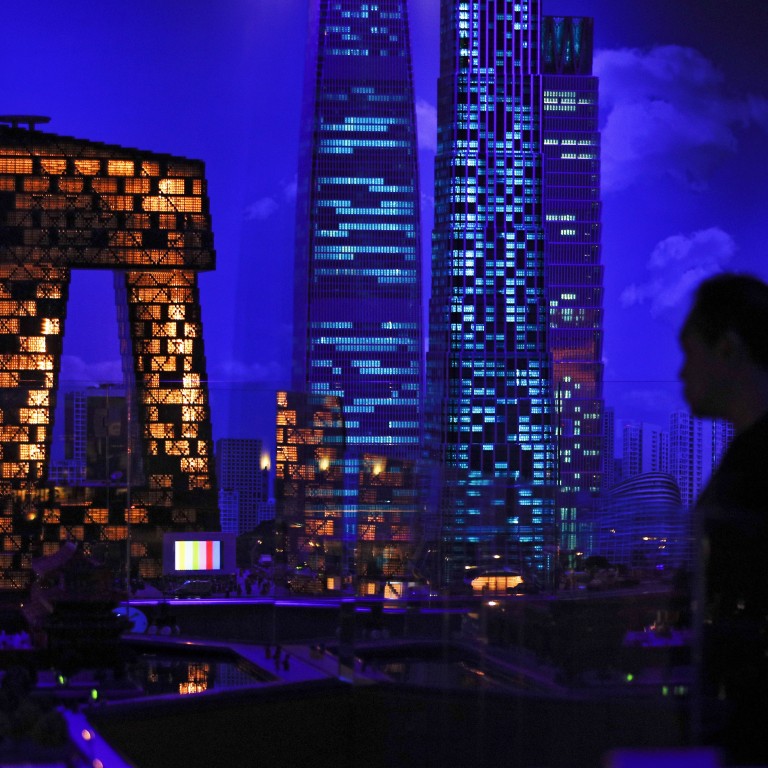 Why China needs to accelerate industrial internet efforts amid economic slowdown, trade tensions
Emerging business models require companies to embrace a range of hi-tech advances, including AI, 5G, cloud computing and IoT
China's transformation into a services-driven economy is likely to accelerate as industrial internet developments gather pace across the country, according to a senior executive at venture capital firm Gobi Partners.
Michael Zhu Lin, a managing partner at the firm, predicted that about 85 per cent of Chinese companies will establish cloud computing-based activities over time and that enterprise data generated would expand on par with the amount of information gathered from consumer-based applications. He made those projections on Wednesday during his keynote at a company event in Beijing attended mostly by start-ups.
As the next driving force in the world's second largest economy, the industrial internet involves the broader adoption across industries of advanced applications that take advantage of next-generation wireless networks, big data, artificial intelligence (AI) and the so-called Internet of Things (IoT).
It links together three key elements – intelligent machines, advanced analytics and people at work – whose data are gathered by connected IoT devices. The processed information would help companies pursue higher levels of efficiency, productivity and performance.
Data generated by connected devices is now starting to help companies run more efficiently and gain insight into business processes, while consumers' access to data is changing how they are informed about the status of households, vehicles and family members, as well as their own health and fitness.
China, which has been the world's manufacturing powerhouse for the past few decades, is determined to use the industrial internet to upgrade all its industries.
The government's "Made in China 2025" strategic plan was drawn up in 2015, to push forward the country's hi-tech leadership goals – including robotics, aerospace, new materials and new energy vehicles – as well as replace hi-tech imports with competitive local products that will help the nation foster new global champions.
Another important national strategy called Internet Plus, which was announced in the same year, was set up to help combine the mobile internet, cloud computing, big data and IoT with modern manufacturing. In 2016, Chinese Premier Li Keqiang announced the integration of those two national strategies to strengthen the move towards the industrial internet.
At the Gobi Partners' event on Wednesday, Zhu suggested that the country's edge in manufacturing is being diminished as lower-cost markets attract more companies from this sector.
"China's dividends in population [referring to its large consumer base] and costs are waning after the past two decades," Zhu said. "Labour costs have surged three times over the past 10 years and are projected to rise further."
Those developments mean changes must be made in China at both the business and investment levels, taking advantage of hi-tech advances to become globally competitive.
"Emerging business models, such as unstaffed shops, require companies to adopt the latest technologies," Zhu said.
With the latest infrastructure in place in China, he said virtual reality (VR) and augmented reality (AR) technologies would have wider applications in manufacturing, which would help move up domestic companies up the value chain and be more globally competitive.
By 2020, China wants to initially establish a basic domestic VR supply chain. The country aims to have key VR patents, industry standards and globally competitive VR companies by 2025.
That announcement came as the country started preparing for the roll-out of 5G mobile networks. With peak data rates up to 100 times faster than 4G, 5G networks will able to support the growing number of connected devices globally, as well as apps based on VR and AR technologies.
Still, Zhu expressed concerns about the state of venture capital activity in China, which he described as having "fallen off the cliff" over the past year and in recent months, as well as over the weakening demand in the world's largest car and smartphone markets in China.
The cooling down has come after years of a tech boom in China, which has been producing unicorns – private start-ups valued at US$1 billion or above – at a faster pace than the US.
Founded in 2002, Gobi Partners has been a part of that development. Headquartered in Shanghai and Kuala Lumpur, the firm has more than US$1.1 billion in assets, raised 13 funds to date and made investment in more than 250 start-ups, including Chinese digital media company 36KR and Hong Kong unicorn GoGoVan.
"Venture capitalists will have to be more rational, focusing on the analysis of business models and technology barriers across investments," Zhu said.
For more insights into China technology, be part of our Inside China Tech group on Facebook. Listen to our Inside China Tech podcast and subscribe via iTunes, Spotify or Stitcher. For a comprehensive survey of China's digital landscape, download the 2019 China Internet Report.