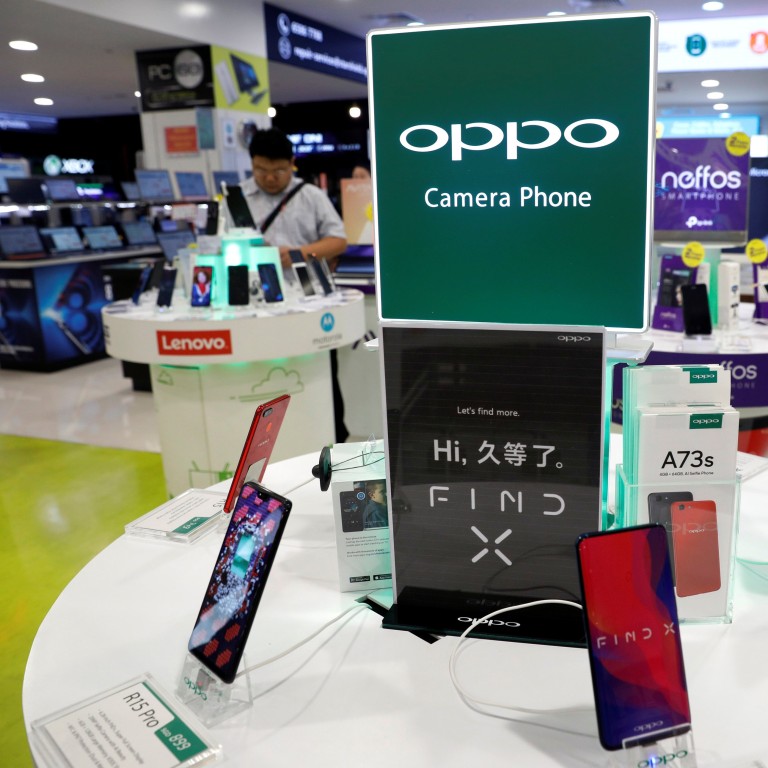 Chinese smartphone brands such as Oppo are winning in Southeast Asia despite concerns over Huawei
The rising popularity of Chinese brands in the region comes at a time when Huawei is under a cloud due to US blacklisting
Doan Kim Chi works for a local bank in Hanoi, the capital city of Vietnam, and has been a loyal iPhone user for years.
She recently received an iPhone XS Max from her husband as a gift. It is the most expensive smartphone model from Cupertino, California-based Apple and retails at around US$1,100.
Although very satisfied with her new phone, Chi says she has noticed the rising popularity of new Chinese handsets in Vietnam in recent years, marking a change from the past dominance of brands such as Samsung and Apple.
"You can see adverts from the likes of Oppo everywhere [in Hanoi]," the 31-year-old Vietnamese banker said in an interview. "They have also hired local celebrities to help promote their phones here."
The increased popularity of brands such as Oppo, Vivo and Xiaomi in Vietnam comes after the deep-pocketed Chinese smartphone players launched a drive into emerging markets, leveraging the same kind of strategies they used to gain market share at home. This includes aggressive marketing tactics and providing innovative handsets at an attractive price point.
"Oppo TV commercials are broadcast during the golden hour on TV just after the news and in between movies," said Chi. "You always see an Oppo ad when something big is on the TV."
After grabbing more than two-thirds of market share in terms of shipments in China and India, two of the world's largest smartphone markets, these three Chinese smartphone brands have turned to Southeast Asia. They garnered 62 per cent of the region's 30.7 million total handset shipments in the second quarter, up from 50 per cent in the same quarter last year, according to a note this month from industry research agency Canalys.
"New brands are popular in Southeast Asia as the chance of success is higher than in other parts of the world," said Canalys Analyst Matthew Xie in the note. "With 75 per cent of shipments consisting of sub-US$200 models, the market here is focused on mid-to-low-end smartphones, a segment where brand loyalty is low."
While South Korean market leader Samsung Electronics remains top dog in the region after growth of 5 per cent in the second quarter, following declines in the past three quarters, Chinese brands Oppo, Vivo and Xiaomi secured the second, third and fourth spots respectively. Oppo posted its biggest-ever growth of 49 per cent in the three-month period.
Realme, an India-focused brand that shares the same owner as Chinese mobile phone maker Oppo, entered the Southeast Asia top five for the first time with a shipment of 1.6 million smartphones, or a 5.2 per cent share, according to Canalys.
"They [Chinese smartphone brands] have continued their journey to not only provide cost-competitive products but also bring innovative features to market," said Kiranjeet Kaur, Singapore-based senior research manager at IDC. "This includes new charging methods and camera capabilities, which consumers find very appealing."
The rising popularity of Chinese brands in the region comes at a time when Huawei Technologies, the largest smartphone vendor in China and the world's second-largest behind Samsung, has been blacklisted by the US amid an escalating trade war between the US and China.
This has threatened to cut off Huawei's access to Google services such as Android OS [and apps such as Gmail and YouTube] and Microsoft's Windows operating system.
According to a Reuters report in June, Facebook will not allow the pre-installation of apps such as Facebook, WhatsApp and Instagram on Huawei's phones while the Chinese company remains on the blacklist.
This has cast a cloud over Huawei's overseas handset shipments, including in Southeast Asia.
In Southeast Asia, Oppo has Samsung in its sights, while Xiaomi has already displaced Huawei to take fourth place in the past quarter with the latter being edged out of the top five vendors in the region, according to Canalys, which did not specify Huawei's shipments or rank in the past quarter.
Currently, Samsung, Oppo, Vivo and Xiaomi dominate smartphone shipments in Thailand, Vietnam, Philippines, Malaysia and Indonesia – taking the top three spots across all five markets, according to Canalys.
"Any gap left by Huawei will be up for grabs for its competitors, especially in the slightly more premium segment," said IDC's Kaur.