Baidu
Get more with myNEWS
A personalised news feed of stories that matter to you
Learn more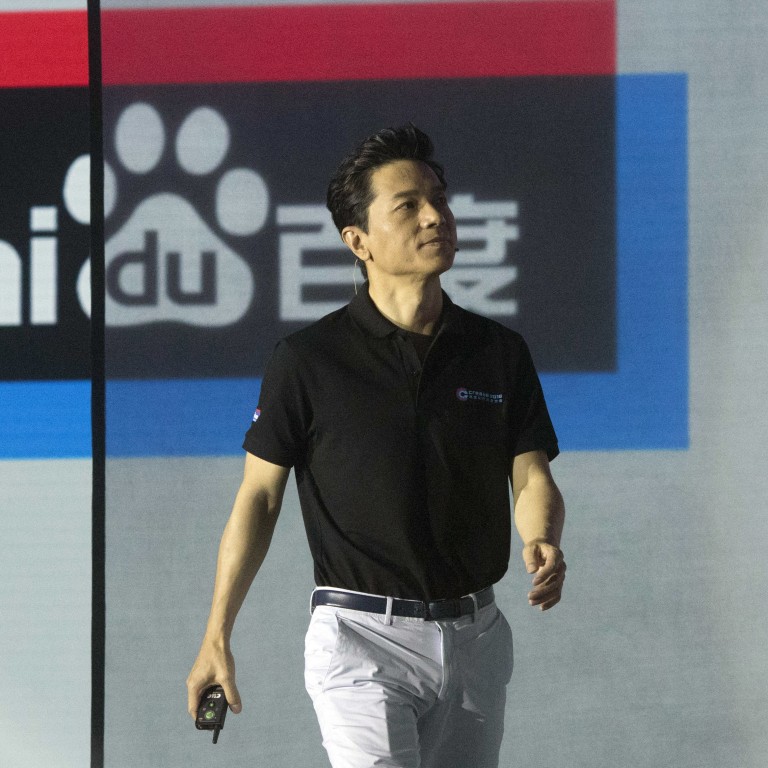 Baidu chief Robin Li calls for bold moves to 'get back on top' as it readies for AI future, fends off ByteDance in search
The company briefly slipped out of China's internet top five by market value recently amid new competition in the search business
Baidu co-founder and chief executive Robin Li Yanhong has called on his employees to make bold moves to "get back on top" as the company prepares to celebrate its 20th birthday.
The company briefly slipped out of China's internet top five by market value recently amid new competition in the search business and as the company continues its transition into strategic new areas such as artificial intelligence (AI) and autonomous driving.
"We have abundant resources and a fortified stronghold in strategic areas," he said. "What we need is more generals who dare to make bold moves and achieve victories and more soldiers who dare to win in tough battles."
"To strengthen the mobile foundation and lead in AI is our core strategy," said Li. "We have a huge opportunity to get back on top … I believe we can make Baidu a simple, vision-driven company, as it was when it was born 20 years ago."
Li's messages – delivered in an internal memo on Tuesday, a copy of which was obtained by the Post – came as the operator of China's largest search engine and a national AI champion posted better-than-expected quarterly results.
The latest call to action comes hot on the heels of a similar message to staff in May when Baidu posted its first loss since going public in 2005. At the time Li said it was not enough for senior managers to say "I have tried", instead the company must ensure no effort is spared to ensure "every task is executed flawlessly".
Revenue rose 1.4 per cent year-on-year to 26.3 billion yuan (US$3.8 billion) for the three months ended June 30, beating market consensus forecasts, while net income dropped 62 per cent to 2.4 billion yuan. Baidu posted its first loss since going public in 2005 in May as its advertising business slowed further.
In its latest results, Li noted that positive signs had emerged as the business begins to "stabilise and pick up" but added that external macro challenges remained.
Baidu is also facing new competition from ByteDance, creator of popular short-video app Douyin and news aggregator Toutiao. The Beijing-based company said recently that it was building a "general search engine for a more ideal user experience."
"Search is the foundation and the core business of Baidu," said Li in the memo. "In the past nearly 20 years, Baidu's search has been dedicated to fulfilling users' needs of accessing information in an equitable and convenient way."
Further investment in core technology will allow the Nasdaq-listed company to maintain its leading position in search, he continued.
"Baidu is a premier go-to destination in China to find knowledge-based content and long-tail information," said Li in the company's earnings call on Tuesday, saying that users spent 33 per cent longer on its information feed year-on-year in June while in-app search queries grew 20 per cent.
Alongside search and feed, Baidu reported that its smart voice-command operating system DuerOS was installed on over 400 million devices as of June, through which monthly voice queries surpassed 3.6 billion.
"Xiaodu smart display, with an average selling price of around US$50 per unit, is becoming a sweet spot for us, as it penetrates not only first and second-tier cities, but also lower-tier cities in China, becoming an important computing device for affordable internet connectivity," said Li in the call.
Baidu still has 70 per cent of the search market in China, a lead it consolidated after Google exited the country in 2010. But a shift in internet usage patterns has chipped away at its dominance, mainly due to the rise of self-contained super-app ecosystems from rivals such as Alibaba Group Holding and Tencent Holdings. Alibaba is the parent company of the Post.
Today a user can quite easily watch a movie, read news, shop online and order takeaway food without having to leave one of these walled communities or go to a traditional search engine.
Baidu shares rose 8.4 per cent in after-hours trading on Monday, narrowing its year-to-date slump to about 36 per cent.